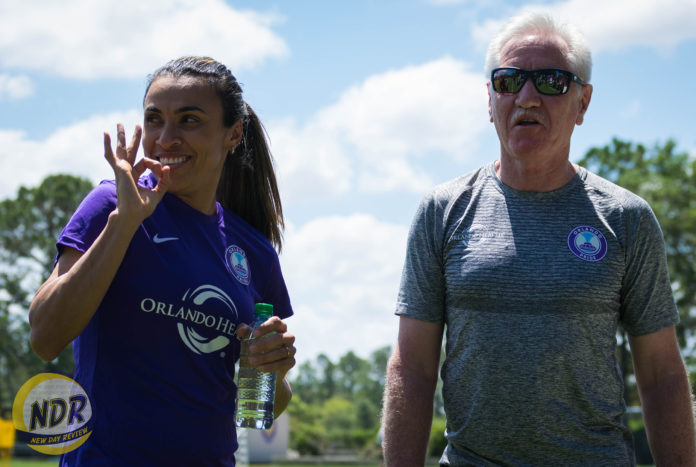 April 22, 2017 at Sylvan Lake Park
Availability: HC Tom Sermanni
Brazilian forward and newly acquired Orlando Pride player Marta Vieira da Silva arrived in Orlando Thursday night.
An exciting [day] on a lot of fronts. Obviously with Marta joining us, that's a huge boost to the team, to the players and to the club. And then getting ready for inaugural game in this brand-new stadium. So it's a, yeah, big day.
When asked about inserting her into the lineup, Sermanni said it was a matter of first discussing it with her. Before Friday's training session, Sermanni and da Silva hadn't met.
First time we'll speak is today when she manages to finish all her commitments and comes along here to training.
I think we've got a team and a style of play that will fit around her, and she's an experienced player. She's used to playing in several different clubs, different countries, international tournaments—so, I don't envisage her her having a great deal of time needed to settle herself in the team.
For Sermanni, the hope is that she'll play.
I'm hoping that she'll be on the field. When that is, I don't know just now, but, as I said, I haven't seen her, spoken to her. She's done a lot of travel over the last couple of days. She's got a huge amount of commitments today. So, we need to weigh out all those considerations. She'll be in the squad, and I'm very confident she'll be on the field tomorrow.
When asked if da Silva approaches Sermanni to play a full 90 minutes, Sermanni said it's still a matter of discussion once the two speak.
Again, it's something that I haven't thought about at this stage. I need to sit down with her, speak to her and then get a feel for basically what's right—what's right for her and what's right for the team. We want to make sure she's here for a full season. It's not like a one-off, one-game wonder that we're looking for. So we need to be really careful that we make the right decision.
In her introductory press conference on Friday, da Silva said she hopes to be available and is leaving the decision up to Sermanni.
I usually pick the team. That's what a pro player would say. And that's what I've anticipated her saying. And she's reached that stage and her age and a stage of her career that you have sort of discussions with these players rather than me dictating to her what she does and vice versa. So, as I say, we'll have a conversation and then have a better feeling for what we feel is the right and the best decision for her and the team.
Sermanni doesn't think integrating da Silva into the team will be difficult.
I think it'll be fairly straight forward. I think it'll be quite easy because she's a very good footballer. She's a terrific player. We've got two Brazilians in our team, which obviously make life a little bit easier. As I say, the style of play that we intend to initiate this season will help her. And, you know, she's the kind of player that will come in and play her game. And that's what's important.
Up-and-coming United States women's national-team player Mallory Pugh is turning pro and has the potential to play with the Washington Spirit.
Yeah, I'll be interested to see if she plays tomorrow. Obviously, she's declared her intent to come into the league at this stage. And coming into the league, she's a Washington player. And I'm not even thinking about whether she's playing or not tomorrow. That's an issue that she needs to sort out with Washington. I would say there's still some hurdles to get past before that happens from what I'm reading, but, again, I'm not completely up to date with the inside information. But regardless of who plays for Washington tomorrow, we'll be looking after our own preparation first and foremost.
Despite losing significant talent, including defender Ali Krieger to the Pride, the Spirit still pose a significant threat for Sermanni.
They've got quite a few changes from last year. They've lost several players. We've only had the luxury of seeing one game, obviously, this year. And I think it'll be competitive. I think they've lost some quality out of the team, but they've got some dynamic players. They're a very competitive team. And, I mean, they got to the final last year and were within a whisker of winning it. So, it's going to be another very tough game.
You know, obviously they lost Ali Krieger to us and lost Christine Nairn and Crystal Dunn, obviously. So they've lost some international experience in their team. But that doesn't make them any less dangerous.
For Sermanni, the goal is still to put da Silva in one of the attacking positions.
She's an attacking player. So, that would be the sensible option. It would be to play her in a role where she's familiar and a role where she's likely to cause the opposition major problems. So, that would be the plan, but, as you know, when you get into a game, plans can change quite quickly. But hopefully we're able to do that, and hopefully she's able to have an attacking impact in our game tomorrow.
Pride goalkeeper Ashlyn Harris said her team's inability to score in a 2-0 loss to the Portland Thorns was a deciding factor.
I don't think it's about putting them under more pressure. It's about having better quality in the squad and having greater competition in the squad. And if you sign a player of Marta's caliber, you're obviously getting both. You know, I think what let us down at Portland was at the quality that we showed in the final third. But that doesn't mean that the players that we have don't have that quality because they've shown that last year and shown it in the preseason. We just had a day when we didn't quite prize open the Portland defense. And obviously having someone of Marta's caliber coming into the team will certainly help that.
Sermanni said he has faced da Silva and the Brazilian women's national team before in international play.
I mean, she's an outstanding player. You have your heart and your mouth every time she has a ball and she's attacking you. And we played them several times in World Cups and friendly games. And s he's always been a very impactful player in their team.