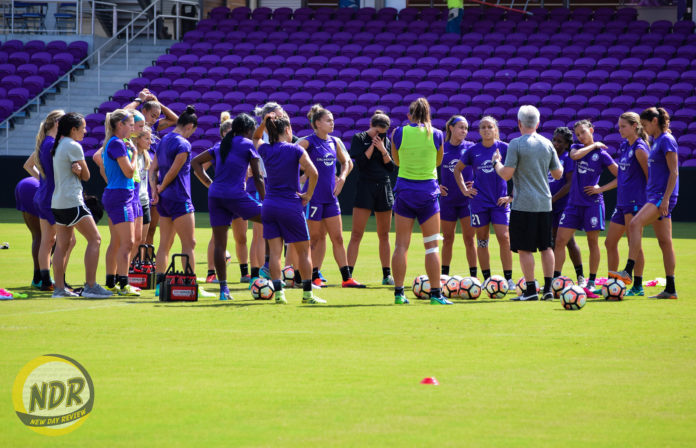 ORLANDO, Fla. – The Orlando Pride are no strangers to having national-team players on their roster. In 2016, Orlando was home to two players each from Canada, Australia and the United States and one from Brazil. This season, the Pride house three national-team players each from the United States, Brazil and Australia.
Fortunately for Orlando, the team already has experience neglecting the national divides, in a way. With Australian defenders Laura Alleway and Steph Catley being on the team last season, the transition is seamless for newcomer and fellow Aussie Alanna Kennedy. Brazilian defender Monica Hickmann Alves was also with the Pride last season, providing an easier transition for both the young, 22-year-old Camila Pereira and veteran star Marta Vieira da Silva as well.
Pride head coach Tom Sermanni sees that experience from last year as beneficial for a roster with so many new players.
"I think if you saw the Aussies last year and see them this year, for example, they fit into the community very, very easily," Sermanni said after a preseason friendly on April 7. "And I think if you look around the environment this year, Monica has gone from somebody that didn't really say very much last year, was a little bit unsure in the environment, to somebody who now speaks up, who's a leader, who other players go to for advice. So, those overseas players are really fitting into the environment easily."
Hickmann Alves has only made more of an effort to communicate with her teammates in Orlando, too. Following the 2016 NWSL season, the 29-year-old played with Australian side Adelaide United FC in the W-League, recording a goal and 798 minutes in nine matches.
One of her new teammates, Kennedy, has noticed Hickmann Alves' improved English from her time spent Down Under.
"Well, I think obviously being from different cultures and different backgrounds can be challenging at times, but football, I think, speaks its own language, and we've definitely brought that goether and trying to use each other's strengths," Kennedy said during the Pride's media day Thursday. "There is a little bit of a language barrier with the Brazilians, but Moni's English has picked up really well from what I heard, so that's great.
"She'll take Camila under her wing, and I think just the leadership within that whole group is just second to none… I think the combination of all nations, as well as the girls that we have here on the team already, is looking good and is a great chemistry in the team."
For Catley, she doesn't seed any subtle divides amongst the team. When the first whistle blows, Catley knows everyone in purple is friendly.
"Honestly, I don't really feel like there's any international barriers," Catley said during the Pride's media day Thursday. "When you put on the purple jersey, everyone's playing for the same team and working towards the same goals. So, there hasn't been anything worked towards there. It just kinda happens naturally, and we're all just excited to get going with the season."
From Sermanni's perspective as the overall leader, it comes down to producing an environment comfortable for all players, no matter their backgrounds.
"Ultimately, like any soccer team or probably any sporting team, you get a whole range and a whole mix of players," Sermanni said. "So the thing for us is what we want to create here is an environment that's high-performance, an environment that's professional, an environment where players themselves—that we put together that encourages players to perform at the best of their ability.
"And that's my job to do that. And if we do that well enough, then you tend to get the response from the players that is very positive, and I think, at the moment, we've got terrific environment in this team and all the players pulling in the same direction."
The Pride open their season with an away match against the Portland Thorns on Saturday at 3 p.m. ET. Last season, the Pride lost both matches to the Thorns 2-1.