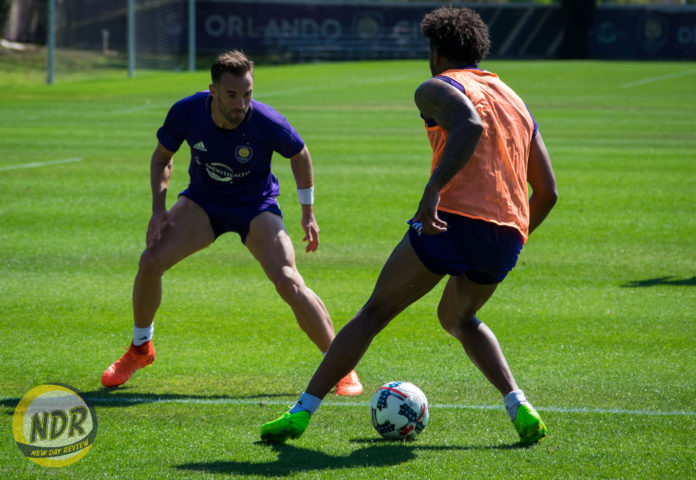 April 12, 2017 at Sylvan Lake Park
HC Jason Kreis
Orlando City SC is so far undefeated in three games at home this season.
I wouldn't say there are small things. I think they're all big things, in my opinion. The stadium, as we know, is the right size for a soccer match. The field being grass, the fans being right on top of everything, the way it was designed to hold the noise in and a little bit about our play as well as, of course, the fan support, how loud and supportive they are—I think all those things added up together turn into what we want so far, and what we need to continue to work towards is a real home-field advantage.
City midfielder Matías Pérez García was suspended for one game for an incident in the 1-0 win over the New York Red Bulls on Sunday.
Disappointed because live, during the game, I didn't think there was anything there. Really didn't. I think both players kinda went into a 50-50 challenge a little bit recklessly. Both players, I think, had a little bit of action after the play. I think if you look at that play from a different angle, you could make the same argument that he ought to be suspended for stepping on Matías' arm. But, at the end of the day, we don't get to make those decisions. We don't get to be a part of those decisions. And so we just respect them and move forward. Obviously a negative to lose an important player that I think has been playing extremely well and working extremely hard. The positive is that somebody else gets an opportunity, and we look forward to that.
Gil replaced MPG in the 82nd minute of the NYRB match.
If I think he's ready, it would mean that he would get an opportunity. If he wasn't ready, he won't get an opportunity. Or if he isn't ready, he won't get an opportunity, and I think some of that's really to be determined still, honestly.
When asked if this is what he expected four games into the season, Kreis said he looks at the season so far from a positive perspective.
For the most part, I look at it as positive. Continue to try at look things as positive to say that really, really pleased with a lot of the things about the game, most of it being on the defensive side of things. And I think it's actually a positive, as well, that we look at it and say, "We know we need to improve," and I don't think anybody's hiding from that. That's a pretty good place to be, I think, to have nine points in your pocket and say, "We need to get better, and we can get better."
On Saturday, the Lions will host the Los Angeles Galaxy at 2:30 p.m.
It's a difficult team to get a real handle on because they've had so many important players be injured over the first court of the season or wherever we're at—the first four or five games. But, in this last match, I think they played what looks like their strongest lineup, and that's the one that we'll expect for this weekend, and we know that there's some extremely dangerous players with [Gyasi] Zardes and [Giovani] dos Santos up top. And they've added [Romain] Alessandrini—attacking-minded player coming in from the wide areas. And then Jermaine Jones, we know what he's all about. So they've got quite a few players on the field that can really hurt you. So it's another team, I think, that probably their record isn't a clear indicator of how good a team it is. And so we need to be prepared for it, and we need to come into the game with the same singular focus that we've had in our three home matches prior, which is to say it's about our performance.
So far this season, Orlando City is 3-1-0 with nine points and in second place in the Eastern Conference.
I think a positive start to get some confidence under your belt and to feel like, you know, a lot of what we've done in the offseason and in the preseason is paying some dividends. I think it's important to be able to lead from a positive point of view than to be trying to lead from a "believe in what we're doing, I know we don't have the results" side of things. So, we're pleased with that, and I've seen it many times before where if you can get that confidence in your pocket early, then things can continue to be positive throughout the season.
Having wins helps Kreis' team practice better.
I've been through both sides pretty clearly, and where you've got wins in your pocket, and you're almost saying, "See, I told you so," and then the other side, when you don't have wins in your pocket, and you're trying to get people to believe. So it's always nice to have the wins and have the mood be a little bit lighter in the training sessions for sure.
Entering the match against the Red Bulls, Kreis said it was his team's first opportunity to react to adversity. 
Great reaction. Super reaction. I thought our energy in the beginning stages of the match was spot on. I thought the effort that the players put into it was spot on. It looked like a group that just had a little bit of a never-say-die attitude, which is exactly what I wanted. But we continue to look for where we can improve. And we know that there's a lot of areas that we can.
Kreis said one of the main reasons he came to Orlando is because of the stadium.
I think it's absolutely special. I think this is one of the main reasons why I came here. Very clearly that, for me, it's a special ownership group, it's a special community here, Orlando, it's a special fan base here in Orlando, and now we have a special stadium. You add up all those things, and I think we should have what we've had so far in our first three games. But we need to continue to work where we should have real home-field advantage.
Kreis is seeking unattainable perfection.
I told my parents after the game the other day that what I'm beginning to realize as a coach is that you're—I don't think I'm ever going to be happy, truly happy because of one reason. Because we are in the search for perfection. And perfection's never gonna be possible. So I believe that probably every single match that I walk out of, win lose or draw, I'm gonna be thinking about what we could've done better.
MF Luis Gil
Gil's first impressions of his new team make him feel very comfortable in Orlando.
Feels good. What a great team this is. Great facilities. Everything is just top-notch. And I feel real comfortable here. But everything's been great so far.
After making his debut against the Red Bulls, Gil said the fans and the stadium are on "another level."
It's amazing. Those fans and the stadium just on another level. It just makes you wanna be out there even more, you know, and, obviously, the little time that I got, but it just felt great being in there.
They're loud throughout the whole game, and they kinda pump you in a way. You know, you make certain plays and stuff like that, and the crowd just goes wild. It really gets you going as well.
It feels like everyone's on top of you. It feels like it's really closed in. Like I said, it makes you get that feeling inside of you to wanna work harder and wanna be out there.
The 23-year-old is still getting acclimated to some of his teammates.
Almost 100 percent. I'm still getting used to certain players' tendencies and stuff like that. But that'll come with time. The team's hungry, and it's just pushing everybody. We feel confident going ahead in this weekend.
From 2010 to 2013, Gil played under Kreis at Real Salt Lake.
Definitely a lot. I feel I've got to know his style for the few years that I've been with him, and, obviously, like I said, it's different players this time. A few different players. You know, we just gotta keep working at it, and things will look good.
Gil said hopefully his past experience with Kreis will help him get into the starting lineup.
Hopefully. We're all here to compete for that starting lineup. You know, it's not gonna be easy, especially with the style of play that we play. Everyone's working hard every single day. So, you just gotta out-work players, and you gotta train hard every single day.
When asked about what his conversations with Kreis have been like regarding his role, Gil said he could play in the 10 spot.
We've talked a little about that. Maybe playing in the 10 spot, at the top of the diamond or outside wide. But, like I said, we just gotta work hard as a team, and whatever position's there for me to take, I'll be there.
The last time Gil was in the league was in 2015 with RSL.
It's grown a lot. In the short period of time, it's only been about a year and a half since I've been gone, it's grown so fast, and it's only going to continue growing.
Gil said there are some things he's noticed that the Lions can exploit, with regard to the Galaxy.
They're a great individually. There're some things where we can exploit them, and that's where we're gonna be working really hard on this weekend.
For the diamond to work successfully, Gil said his team has to be more patient.
We gotta be little bit more patient. We still looked good at it. We're working hard, and the rhythm will come. It's a fairly simple formation, but all guys have to put in the same work.
When asked about how the team has helped him acclimate on and off the field, Gil pointed to his team's hunger.
Well, you know, the guys are all supportive. And they're a really hungry team. So I feel like it's pushing everybody. Pushing myself more to want to be out there and in the starting lineup.
In 2013, Gil scored a career-high five goals and tied his career-high for assists with three. He also played a career-high 2,060 minutes in 30 appearances with 24 starts.
Not really. Obviously, I've never been a really big stats guy. You know, I've really been that team player, and I feel like that year, as well, we had a lot of guys score a decent amount of goals, and that's what it's gonna take with this team as well, especially playing that same type of formation is hard work from everybody, and if we play as a team, it'll make everybody look good.
DF Scott Sutter
Sutter made his first start in Sunday's game against the Red Bulls.
I think it was decent. It was a solid game. It was a battle, if I'm honest, from the whole team. We fought well. We defended well. It wasn't easy at times, and it was hot. But I thought it was definitely something that, me personally, that I can build on that I felt good. Probably a bit better than I thought I would after four or five weeks without having played a competitive game. So, I'm just glad I got my first one out the way and looking forward to the next.
When asked about his team, Sutter said eeryone's positive.
Really good. We're really positive. The guys have been awesome from the get-go. Like I said before, it's been so easy for me to come in here and playing and getting to know the guys. It's been a lot of fun and just enjoying it, really. You know, just training every day, and, obviously, now having to actually play a game. It's good. I can look forward to the next ones to come. And, yeah, I'm feeling really positive at the moment.
When asked about scouting the Galaxy, Sutter said the focus is on his own team's performance.
We already looked at them today in video, so we're already kind of aware of what they want to do and how they kind of play their football. But the main thing is focusing on the way we play, and there are certain things that we need to build on from the last game. Obviously, last game was a great result. It was a win, it was three points, but there were certain things that we need to do better, and we definitely to do that against L.A. if we want to get another three points and keep this home run going.
When asked about team improvements, Sutter said it's about possession.
I think we need to be better with the ball. Like I said, defensively, the whole team put a massive shift in. It was great. It makes my life easy as a defender if I've got people in front of me that are working their butts off as well. That definitely needs to stay the same, and I think just when we have the ball, we need to be more careful with it. We can't just defend. We need to be able to do something with the ball and maybe keep possession for longer portions of the game. But I think it's good. We started today in training, and we're building on that, and the coach knows exactly what he wants from us.
Sutter is just one of many new faces on the Lions' new-look back-line.
I think you probably need to ask the other guys. I mean, I'm the new one coming in. You need to ask them how they feel when I come in. But, no, I mean, that's just part of the game. There's always gonna be rotations. There's always gonna be injuries and stuff like that. That's just the way it is. We train every day with each other. Everyone knows each other really well, so it's not really a big issue. There's some characteristics of players that may be a bit different, but, you know, we learn that day in and day out in training. So it's not a big thing. The main thing is that we know what the coach wants from us, what he expects from us and what he demands from us, and that's just the main thing. If we do that well, things will be good.
Sutter said playing at home is the "best thing in the world."
Playing at home is the best thing in the world, especially in front of a full house. Can't want anything more, and it was personally my first game at the new stadium, and I was blown away by it. It was awesome, and I'm really, really looking forward to Saturday. And speaking of the other guys, we just need to keep this going. If we want to have a good season, a successful season, then we need to be strong. We need to know that we're gonna win these games at home. The teams that get off the coach in our stadium just gotta know there's nothing for them in our stadium, and we hope to keep that going.
Apart from a quick visit to Disney World, Sutter is still getting settled into Orlando.
A little bit. Not really a lot. The last three weeks have been pretty hectic. Getting everything sorted. But now I'm pretty much settled. I've kinda got all the furniture. My girlfriend's been here, so she's giving me a big hand with that. So, it kinda starts now, really… Maybe have a couple of days to explore things. Yesterday, we were in Disney World for the first time since I was like 10 years old. It was hectic. It wasn't really a day off for me, to be honest. Won't be going back any time soon. A lot of people. But it was good fun, and it's just part of getting into it and making Orlando my new home.
As one of the first-year players for Orlando City, Sutter knows nothing is given.
There's always a certain amount of pressure because I know that coming here it doesn't matter who you are, unless you're Kaká, it doesn't matter what your background is or where you played, you need to prove yourself, and I've had a good career, a good international career. I played a lot of games, but that counts for nothing. You know, I need to go out and work hard and still improve and show the guys that I can play football. So, there's definitely a bit of pressure, but I'm used to that, and, like I said, I've just been enjoying it really.
Sutter admires Orlando City Stadium's atmosphere.
It was great. I really enjoyed it. A few weeks back when I first got here, got off the plane on Friday and came to the game against Philadelphia on Saturday, and just taking it all in was really cool. But having to be right in the mix of it, part of it, was amazing. It's just so nice. And walking out to, like I said, to a full house—it's the first time that I've heard the national anthem before the game, and it's just all these little things just made it really special, and, obviously, to get three points and keep a clean sheet is—yeah, I couldn't ask for more, really.
DF Tommy Redding
Playing in Orlando City Stadium hit Redding on a more personal level.
For me, it was an amazing day. Growing up in Orlando, being able to see soccer evolve and turn into what it is and be a part of it, being on the field was amazing, and there's other great stadiums in this league, but, I mean, this one really hits home for me just 'cus I've lived here. So, it was really big for me.
For Redding, he sees the 2017 squad as more of a team both on and off the field.
I feel like this year we're a lot more of a team on and off the field. I wasn't here during preseason, but, when I came in, I just felt a completely different vibe, and I think it's a great thing to have Will Johnson, guys like Will and Giles [Barnes] because they're leaders, and they help our team. They shape our team into what it is now.
Redding missed most of the 2017 preseason because he was playing with United States U-23 men's national team.
I think the past couple of weeks being here I've caught up with everything, and it's important for me, now that I have my opportunity to show him what I got, I gotta go in and step in and not miss a beat.
When asked about what Kreis wants to see from him, Redding said Kreis said he wants him to be confdient and vocal.
He definitely wants me to just play and be confident in my ability and just go out there, communicate and be one of the back four and just be a leader on the field.

Yeah, [being vocal is] getting much better. It's definitely much better.
Redding knows defense against the Galaxy will be key to a win.
I mean, they're a great team. They love to get numbers into attack, so it's gonna be important for us to come out again and have a strong defensive effort. It's important to me, especially everyone on the field and the club, that we don't give up any goals. So, that's our main focus.
With the U-23s, Redding said he was more of a "captain-type figure."
My time with the national team was great. On that team, I'm more of the real leader and more of a captain-type figure. So it's a different little environment for me. But getting the confidence…and playing well with all those guys is really, really important to me coming into this season.
For Redding, it's not difficult playing with new players on the back-line; it's simply different.
I wouldn't say it's difficult. I think it's just more different… For me, it's just important that I do what I need to do, and, being the center-back, I need to communicate with the guys next to me to make sure they're in the right position. So, it's not too much of a difficult thing more than it's just different.
First-year Lions center-back Jonathan Spector has helped Redding both on and off the field.
It's been really nice for me. He's played for many years and has a lot of experience. He helps me a lot on and off the field, just positioning and just certain situations. So, it's been great.
I mean, just little things within training, and, out of training, we'll just sit down for a couple minutes and talk about plays in the game or certain things that happen in training. Just little situations like that. So, yeah, it's been really helpful.
The biggest thing is just when the ball is on our side of the field how deep I have to drop in, and the big thing [is] make sure I don't switch off, and make sure I'm always in behind recovering.