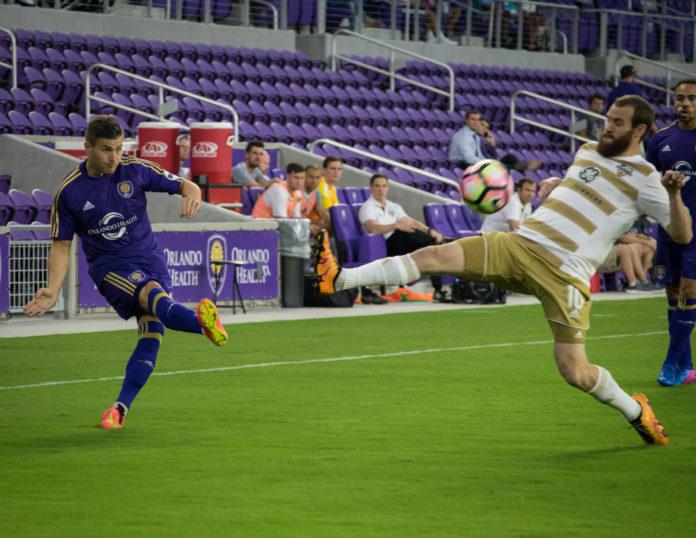 RECAP: @OrlandoCityB earns 1st draw w/o Lewis Neal and Michael Cox.#ORLvCLT #OCSC #VamosOrlando #USL https://t.co/NLj4ElqYbk

— New Day Review (@NewDayReview) April 9, 2017
FINAL: @OrlandoCityB 1, @CLTIndependence 1. @earljrucla gets the save off the header in the final seconds to save the tie.#ORLvUSL #USL

— New Day Review (@NewDayReview) April 9, 2017
90'+: Virtually a corner coming for Charlotte from the right after the late #OCB foul.#ORLvCLT #USL

— New Day Review (@NewDayReview) April 9, 2017
90'+: YELLOW. Albert Dikwa gets a yellow for time-wasting.#ORLvCLT #USL

— New Day Review (@NewDayReview) April 9, 2017
3 minutes of added time.#ORLvCLT #USL

— New Day Review (@NewDayReview) April 9, 2017
89': SUBSTITUTION. Kraft comes off for Paul Clowes. He scored #OCB' 1st non-own goal score vs. TFC II.#ORLvCLT #USL

— New Day Review (@NewDayReview) April 9, 2017
87': More chances for Charlotte inside #OCB' box, but 2 OCB deflections keep it level.#ORLvCLT #USL

— New Day Review (@NewDayReview) April 9, 2017
86': Dikwa gets a good luck inside the middle of Charlotte's box. But Mizell holds it down. Still 1-1.#ORLvCLT #USL

— New Day Review (@NewDayReview) April 9, 2017
81': Laryea gets a shot on goal, but it bounces into Mizell easily.#ORLvCLT #USL

— New Day Review (@NewDayReview) April 9, 2017
79': YELLOW. Substitute Jorge Herrera gets booked.#ORLvCLT #USL

— New Day Review (@NewDayReview) April 9, 2017
Tonight's attendance: 1,512. 🤔🤔🤔#ORLvCLT #USL

— New Day Review (@NewDayReview) April 9, 2017
78': SUBSTITUTION. David Spies comes in for David Estrada for Charlotte.#ORLvCLT #USL

— New Day Review (@NewDayReview) April 9, 2017
75': YELLOW. Jordan Schweitzer gets booked. That's the 4th #OCB player to get a card tonight.#ORLvCLT #USL

— New Day Review (@NewDayReview) April 9, 2017
74': Laryea had a great 1-on-1 look with Mizell. Laryea tried to go low and right, but Mizell deflects it.#ORLvCLT #USL

— New Day Review (@NewDayReview) April 9, 2017
73': SUBSTITUTION. Moussa Sane comes on for Martz.#ORLvCLT #USL

— New Day Review (@NewDayReview) April 9, 2017
71': SUBSTITUTION. Jorge Herrera comes in for Casey Townsend.#ORLvCLT #USL

— New Day Review (@NewDayReview) April 9, 2017
70': GOAL. Dikwa scores on the close-range shot. Scott Thomsen had the assist. 1-1 now.#ORLvCLT #USL

— New Day Review (@NewDayReview) April 9, 2017
66': YELLOW. Laryea gets booked after the foul in the corner ther forced Martinez's right cleat off.#ORLvCLT #USL

— New Day Review (@NewDayReview) April 9, 2017
63': Laryea wins the ball just outside Charlotte's box, but the ref calls for a foul. Laryea has some parting words.#ORLvCLT #USL

— New Day Review (@NewDayReview) April 9, 2017
61': SUBSTITUTION. David Loera comes on Joe Gallardo.#ORLvCLT #USL

— New Day Review (@NewDayReview) April 9, 2017
60': GOAL. Sub Lewis Hilton strikes one for a 1-0 lead. Assist by Alex Martinez.#ORLvCLT #USL

— New Day Review (@NewDayReview) April 9, 2017
59': Corner again from the left for #OCB.#ORLvCLT #USL

— New Day Review (@NewDayReview) April 9, 2017
58': Corner from the right for #OCB after Martz's shot went high over the goal.#ORLvCLT #USL

— New Day Review (@NewDayReview) April 9, 2017
57': Near-goal chance for Pereira nearly knocks in an own goal on the cross. Ekra can't finish on the rebound.#ORLvCLT #USL

— New Day Review (@NewDayReview) April 9, 2017
52': Dikwa gets a shot off that goes JUST wide right, but he's called for a foul.#ORLvCLT #USL

— New Day Review (@NewDayReview) April 9, 2017
50': YELLOW. Ellis-Hayden gets the booking almost directly after Kraft got a no-call.#ORLvCLT #USL

— New Day Review (@NewDayReview) April 9, 2017
45′: SUBSTITUTION. Lewis Hilton comes on for Callum Ross.#ORLvCLT #USL

— New Day Review (@NewDayReview) April 9, 2017
HALFTIME: @OrlandoCityB 0, @CLTIndependence 0. Chances are there for both teams, just not capitalizing.#ORLvCLT #USL

— New Day Review (@NewDayReview) April 9, 2017
1 minute of added time.#ORLvCLT #USL

— New Day Review (@NewDayReview) April 9, 2017
44′: Corner from the right again. Kraft took a half-volley shot, but it's headed out for the corner.#ORLvCLT #USL

— New Day Review (@NewDayReview) April 9, 2017
42′: A would-be shot on goal for Charlotte is deflected by one of their own. Still tied at 0-0.#ORLvCLT #USL

— New Day Review (@NewDayReview) April 9, 2017
35′: Dikwa battles for the ball down the right and crosses it hard cross field where Martz gets to it. Nothing comes of it.#ORLvCLT #USL

— New Day Review (@NewDayReview) April 9, 2017
29′: Another corner from the right coming for #OCB after the nice buildup.#ORLvCLT #USL

— New Day Review (@NewDayReview) April 9, 2017
25′: From inside #OCB's box, Townsend crosses it to Ekra for a header that goes just over Edwards' goal.#ORLvCLT #USL

— New Day Review (@NewDayReview) April 9, 2017
23′ | The Landlord out here just denying people.

0-0 | #ORLvCLT

💻 https://t.co/VzJAdKXIAe pic.twitter.com/h57rjW8tz6

— Orlando City B (@OrlandoCityB) April 8, 2017
23′: Joel Johnson crosses from the right for a back-post header by Alex Martinez. Excellent save by @earljrucla.#ORLvCLT #USL

— New Day Review (@NewDayReview) April 8, 2017
20′: YELLOW. Callum Ross gets a yellow for his foul on Laryea. Laryea's been on the ground a lot so far.#ORLvCLT #USL

— New Day Review (@NewDayReview) April 8, 2017

If I type Charleston by accident, please know that I meant Charlotte. 🙂
15′ | Albert Dikwa storming into the box serving up a ball to Martz, but the effort is blocked.

0-0 | #ORLvCLT

💻 https://t.co/VzJAdKXIAe pic.twitter.com/tg8Kpv4hGE

— Orlando City B (@OrlandoCityB) April 8, 2017
15′: Dikwa lays it off to Martz from deep inside Charlotte's box. Martz's hard shot is deflected out of bounds.#ORLvCLT #USL

— New Day Review (@NewDayReview) April 8, 2017
11′: YELLOW. Ryley Kraft draws the first booking of the match.#ORLvCLT #USL

— New Day Review (@NewDayReview) April 8, 2017
9′: 1st corner for #OCB coming from the right.#ORLvCLT #USL

— New Day Review (@NewDayReview) April 8, 2017
7′: Casey Townsend penetrates, goes 1-on-1 with Edwards Jr., but his shot goes wide left. It's offside anyway.#ORLvCLT #USL

— New Day Review (@NewDayReview) April 8, 2017
6′: Free kick coming after Laryea draws the foul. Good spot for #OCB about 20 yards outside Charlotte's box.#ORLvCLT #USL

— New Day Review (@NewDayReview) April 8, 2017
4′ | Quality recovery from Pereira to stop the threat.

0-0 | #ORLvCLT

💻 https://t.co/VzJAdKXIAe pic.twitter.com/LwGg3off9F

— Orlando City B (@OrlandoCityB) April 8, 2017
4′: Yann Ekra finds some space in the middle of #OCB's box. Ensuing corner goes for goal kick.#ORLvCLT #USL

— New Day Review (@NewDayReview) April 8, 2017

Here's what OCB head coach Anthony Pulis said during training this week on the Charlotte Independence.
A lot. They're a good side. I like the way they play. They were really impressive last year, and we've watched some tape of them in preseason and obviously the first game [with] Charleston last weekend. They got some dangerous players that they press well, they're really well organized, got good shape, and they're pretty expansive in attack as well. So, it's gonna be a really difficult test for us.
Your #ORLvCLT Starting XI is presented by @NovantHealth #WeAreCLT pic.twitter.com/hjXO2fdsDx

— Independence (@CLTIndependence) April 8, 2017

Also, Lewis Neal is not anywhere in the lineup tonight. He scored his first goal of the season in a 3-1 win over Toronto FC II.
Only 2 MLS players starting tonight for #OCB.#ORLvCLT https://t.co/gTzfMoYP1c

— New Day Review (@NewDayReview) April 8, 2017