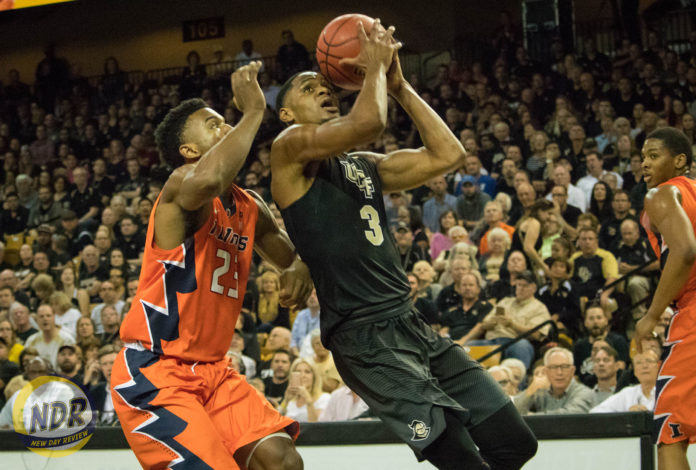 (Photo by Bryce Brimhall / New Day Review)
Game Recap
ORLANDO, Fla. – First-year University of Central Florida head coach Johnny Dawkins didn't consider his Knights to be a team even as late as November.
After a 68-58 win over the Illinois Fighting Illini on Wednesday in front of a sold-out crowd of 10,011 at CFE Arena, though, Dawkins saw the fruit of his team's labor.
"To be quite frank, we weren't a team to start off. Of course we weren't," Dawkins said after the game. "We weren't a team last April. We weren't a team in August. We weren't a team really in November. We were forming that team. We were still trying to become a team.
"And, you know, now, what you're watching is a team. Now, the guys are fighting for each other at the highest possible level."
UCF's Round 3 victory in the National Invitation Tournament over the Fighting Illini helped further the Knights' historic run in a time when the Knights would otherwise be thinking about next year. Now, the Knights are advancing to the semifinals of the NIT.
The Knights jumped out to a 34-19 lead at halftime that helped nullify the Fighting Illini's late rally. The Knights' first-half performance was anchored by its defense, as they held Illinois to just 26.9 percent from the field. Even more staggering was Illinois' completed field goals. Illinois didn't make a two-pointer or a free throw for nearly 18 minutes until Malcolm Hill scored on a put-back layup.
"Defensively, we knew they have a veteran backcourt," Dawkins said. "[Tracy] Abrams is a sixth-year senior. Very good player. We knew that [Maverick] Morgan and Hill are their two go-to guys, and we really need to focus on those guys and try to slow them down. And, fortunately, we were able to do that. Hill really got going in the second half, but he was kinda quiet in the first half, and we were able to do a fairly good job on Morgan throughout the entire game."
At halftime, Abrams (8.7 PPG), Hill (16.9 PPG) and Morgan (10.1 PPG) combined for just 10 points. In total, Illinois shot 7-for-26 from the field, 5-for-16 from three-point range in the first half.
For Illinois interim head coach Jamall Walker, playing against UCF sophomore center Tacko Fall was a challenge in itself, as it has been for most opposing coaches.
"He's such a unique player. We didn't have intentions of shooting as many threes, but I think our inside game that, one, they were trapping him," Walker said after the game. "So now you got Tacko, who's 7-foot-6, by the basket. They're trapping Maverick Morgan in and around the rim, so he's unique. I already knew that going into the game… So I knew it was going to take an adjustment for our guys. We just had to withstand the storm."
And withstand the storm the Fighting Illini almost did. With as little more than three minutes left, Illinois trailed by as little as six. That comeback effort came courtesy of Hill's 22 second-half points.
For redshirt junior forward A.J. Davis, though, the confidence that his team would win the game came from the get-go. Davis helped the Knights to victory when he knocked down two free throws to put UCF up by eight with 57 seconds left.
"I mean, I'm always confident," Davis said after the game. "From the time it starts, I think—when we do what we're supposed to do, especially on the defensive end, then we have a chance to win the game. I felt we were solid defensively all night. With a guy like this in the game (Fall), I don't really ever worry. You know, force everything to him, and we'll be successful."
Fall finished the game with 10 points, 10 rebounds and three blocks.
Player of the Game: A.J. Davis
Davis teased his fifth double-double of the season, scoring 16 points to go along with nine rebounds, three assists and two steals. He also shot 2-for-2 from three-point range and 8-for-10 from the charity stripe.
Dawkins called Davis his most versatile player before practice on Tuesday. Walker and his team experienced first-hand how difficult it was to defend such a player.
"He's a hard cover. And when he makes threes…and he bangs two threes early, it's kinda like, you know, I don't want to say what I was thinking, but it's like, 'Oh, we're in trouble,'" Walker said. "And then you throw in there that he's very skilled off the dribble… He took advantage of it, to his credit."
What's next?
UCF will travel to New York City to play Texas Christian University at Madison Square Garden in the semifinals of the NIT on March 28.
Illinois State Deficit Prepared Knights to Finish Fighting Illini
Against the Illinois State Redbirds in Round 2 of the NIT, UCF trailed by 13 points at halftime before charging to a 63-62 win. On Wednesday, UCF held a sizable 15-point lead over Illinois. For Dawkins, his team's experience of having been in that situation helped the Knights beat Illinois.
"You look at the teams we've played," Dawkins said. "Whether it's Colorado, whether it's Illinois State and now Illinois—I mean, we beat some good basketball teams, and we beat teams that are playing at a high level. So when we're up at halftime, my reminder was we were in the position that they were in.
"And I wanted to make sure our guys, when we came out, that we reestablished how we were going to keep playing. Because I know how easy this game can turn, especially with the three-point shot now. It changes so fast that I wanted to make sure our guys kept stayed focused. And they did."
Sold-out CFE Arena Affected Both UCF and Illinois
Wednesday night was the first time that the Knights had sold out CFE Arena. Walker and his team knew entering Wednesday's game that the arena would be sold out. His parting words were ones of appreciation, hoping UCF players would appreciate the atmosphere at CFE Arena.
"We ran into an emotional, highly energetic group of people and fans," Walker said. "I hope the guys take note of the fun that this place can be for Coach Dawkins in that environment because the environment was instrumental in how we played today."
In front of a court-storming crowd, Dawkins thanked the crowd for their support all season after what will truly be the Knights' final game at CFE Arena this season. Heeven led the Knights fan base in "UCF" chants.
"I was just amazed at CFE today, just how incredible our environment was," Dawkins said. "Student section was off the charts. Our community, everyone came out. And we couldn't have done it without 'em. I mean, really, that energy that they gave us was amazing. I could see our players feeding off of it. So, what a special atmosphere, what a special night for our entire Orlando community and UCF. Just really, really happy."
Knights fans stormed the court for the second time this season after having done so after UCF defeated the then-No. 15 Cincinnati Bearcats 53-49 on Feb. 26. Fall wasn't expecting it to happen again.
"I mean, it was great. I didn't expect them to do the same thing they did at Cincinnati, but they did," Fall said after the game. "As soon as the game was over, everybody was on the court. Everybody was jumping around, happy. Just make us feel good to see all those people come here, supporting us and be happy."
Tacko Fall Has Been Patiently Waiting to Show His Moves
While it wasn't anywhere near his season-high, Fall's 10 points included some impressive, almost never-before-seen moves. Early in the first half, Fall found himself with the ball in good low-post position. Instead of passing out to the wing or corner, Fall backed his man down and spun baseline for a crisp hook shot.
"I mean, the coaches talk to me about it every time, but it's just something that I thought about," Fall said. "I can just do more than stay in the paint and wait for the guys to lob me the ball. Those are things I've been working on since last summer, so I can definitely do it. I just try not to force a lot of things, but sometimes I can be more aggressive, so I just try to do those things when I came into the court.
"Just stay poised and just attack every time."
Highlights
Matt fights his way to 3! pic.twitter.com/i8xA7UPs4a

— UCF Men's Basketball (@UCF_MBB) March 22, 2017
BJ. Buckets! pic.twitter.com/IENykky1Ss

— UCF Men's Basketball (@UCF_MBB) March 22, 2017
Can you feel it? We can 🤗#ChargeOn pic.twitter.com/wcZVwq22v9

— UCF Knights (@UCFKnights) March 23, 2017
Tacko dunks. It's what the fans want! pic.twitter.com/XyfzakbNAQ

— UCF Men's Basketball (@UCF_MBB) March 23, 2017
Leaving the home court one last time with the W!! #ChargeOn pic.twitter.com/dTSkzxE6Tp

— UCF Men's Basketball (@UCF_MBB) March 23, 2017
"Oh my gosh, are they in there?"

LOOKOUT @Coach_Dawkins!! 💦💦#ChargeOn 🍎 pic.twitter.com/S2E25GSioG

— UCF Men's Basketball (@UCF_MBB) March 23, 2017
Let's go Chaddy Brown! pic.twitter.com/tuNxZucmwI

— UCF Men's Basketball (@UCF_MBB) March 23, 2017
HOW BOUT THAT @UCFDannyWhite?!#ChargeOn 🍎 pic.twitter.com/UiWRs2Fayc

— UCF Knights (@UCFKnights) March 23, 2017
"We couldn't have done it without (the fans)." – Johnny Dawkins

Hear more from Coach, A.J. and Tacko after tonight's incredible win! pic.twitter.com/R9LanxqvJI

— UCF Men's Basketball (@UCF_MBB) March 23, 2017
NDR Notes
UCF advances to its first-ever semifinals in the NIT following Wednesday's win.
Fall notched his 12th double-double of the season.
The Knights held Illinois to 30.6 percent shooting. That's 6.5 percent better than UCF's season opposing field-goal average of 36.4 percent.
Scoring
| | | | |
| --- | --- | --- | --- |
| | 1st Half | 2nd Half | Final |
| University of Central Florida | 39 | 34 | 68 |
| University Illinois at Urbana-Champaign | 19 | 39 | 58 |
Statistics and Starting Lineups
Team Leaders
| | | |
| --- | --- | --- |
| | University of Central Florida | University of Illinois at Urbana-Champaign |
| Points | B.J. Taylor (17) | Malcolm Hill (29) |
| Rebounds | Tacko Fall, Nick Banyard (10) | Leron Black (7) |
| Assists | A.J. Davis, Nick Banyard (3) | Te'Jon Lucas (6) |
| Blocks | Tacko Fall (3) | n/a |
| Steals | A.J. Davis (2) | Malcolm Hill, Leron Black (3) |
| Turnovers | Nick Banyard (6) | Te'Jon Lucas, Tracy Abrams (3) |
| Minutes | Matt Williams (40) | Malcolm Hill, Tracy Abrams (34) |
Team Statistics
| | | | | | |
| --- | --- | --- | --- | --- | --- |
| | Rebounds | Assists | Blocks | Steals | Turnovers |
| University of Central Florida | 43 | 11 | 4 | 5 | 21 |
| University of Illinois at Urbana-Champaign | 26 | 12 | 0 | 10 | 11 |
Shooting Percentages
| | | |
| --- | --- | --- |
| | University of Central Florida | University of Illinois at Urbana-Champaign |
| FG% | 44.9% | 30.6% |
| 3FG% | 35.0% | 31.6% |
| FT% | 81.0% | 66.7% |
UCF starting lineup: B.J. Taylor (G), Matt Williams (G), Nick Banyard (F), A.J. Davis (F), Tacko Fall (C)
Illinois starting lineup: Te'Jon Lucas (G), Tracy Abrams (G), Malcolm Hill (G), Leron Black (F), Maverick Morgan (C)