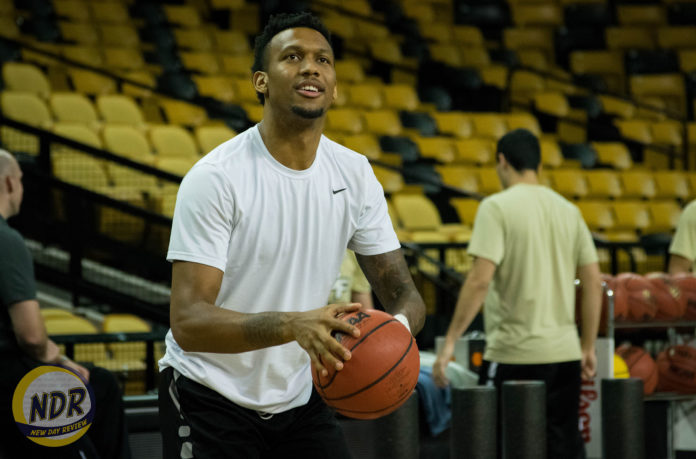 Against Illinois State University, the University of Central Florida experienced what Knights head coach Johnny Dawkins said was the most hostile environment his team played in all season.
"I think this entire season, an away game, that was probably the best environment we've been in, the most hostile environment we've been in," Dawkins said before practice Tuesday. "And I thought our guys really responded. I challenged them about being in that type of game and what we have to do to be successful."
On Wednesday, when UCF plays the Illinois Fighting Illini in Round 3 of the National Invitation Tournament, UCF will have a chance to emulate or improve on the Redbirds' crowd of 7,984. The Knights didn't muster nearly as many in their Round 1 hosting of the Colorado Buffaloes. In the 79-74 win, UCF amassed just 3,675.
But that game was held during UCF's spring break. Spring break ended on Monday.
For redshirt sophomore B.J. Taylor, he relishes those opportunities to not just play in front of his fellow students but also the Central Florida community.
"I mean, it's going to be huge for us," Taylor said before practice Tuesday. "The student section been great for us all season. All of our fans, UCF's been great to us all season. Like I've been saying, this is the best school in the country, and I love the city of Orlando, just the support we get and the community been great to us all season.
"And I think we're becoming something that people can be proud of around here in this community, and that's what we want to be. I mean, we want to make Orlando proud, and we want the city to come out and support us."
Fifth-year senior Matt Williams feels fortunate. He gets to play a second senior-night game in one season. His first senior-night game this season was a 53-49 win over the then-No. 15 Cincinnati Bearcats.
"Looking forward to the crowd [Wednesday]. Looking forward to all the fans coming out and support," Williams said before practice Tuesday. "It means a lot to me to be able to get another game here. I realized that this will be my last game here, really my last game here now. It'll be pretty good. I'm looking forward to it."
One challenge the Knights are facing ahead of their third-round matchup against Illinois is a quick turnaround. After their win Monday, the Knights returned to Orlando late Monday night before practicing on Tuesday and playing on Wednesday. Taylor is focused on preparing the same way he and his teammates have all season.
"Just prepare like we always do," Taylor said. "It's going to be key for us just 'cus Coach always says, 'It's not just about having the will to win. You gotta have the will to prepare to win.' So we gotta come in here today, have a good focus and get focused, and that should carry over to [Wednesday]."
Dawkins wishes he could have an extra day or two, but he said he'd rather play sooner than later.
"I prefer a day or two or more preparation but not too long. This is a quick turnaround, I think, for both teams," Dawkins said. "But you have to be prepared. It's a tournament atmosphere, and, typically in tournaments, you're gonna play every other day. And we're in that situation now, so we have to do a quick job of turning around and scouting and prepping our team.
"But I'd rather be playing while we're in rhythm than sitting out too long."
Beginning with Illinois, Taylor recognizes that there are, at most, three games left in the 2016-17 season. He recalled when the Knights played in the Gildan Charleston Classic—an early-season, three-game tournament that pitted the Knights against the then-No. 1 Villanova Wildcats—for perspective. For Taylor, that and his team's mindset make it easy to focus on just the game ahead.
"I think it would be [hard] for most teams [to not look ahead], but…it's not hard," Taylor said. "We just had film for like an hour, and [Dawkins] always does a good job of keeping us grounded and keeping us focused on the task at hand 'cus he always tells us, 'If you don't handle business [Wednesday] night, none of the stuff in the future matters.'
"So, we gotta look at it the way we looked at it all season. At most, we got three games left, and that's what we had in the Charleston Classic, so we gotta look at it as the first game moving forward, and that's all we've been worrying about is Illinois tomorrow."
The four-seeded Knights host the No. 2 seed Illinois on Wednesday at CFE Arena at 7 p.m.