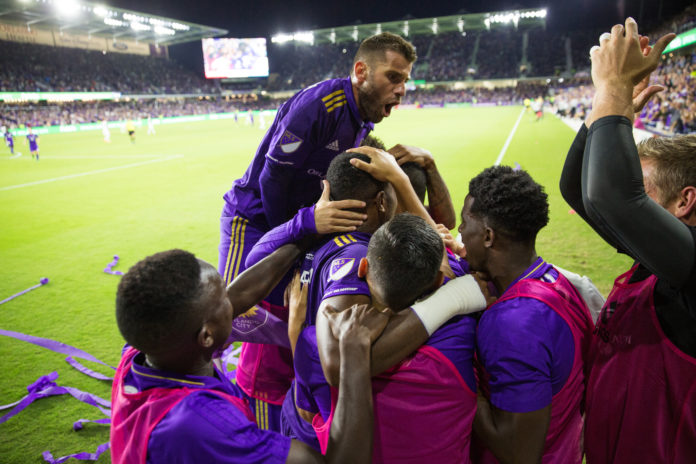 Live Blog: Orlando City vs. Philadelphia
Match Recap
ORLANDO, Fla. – An extra week of only training proved to be effective for Orlando City SC in its second match of the season. On Saturday, the Lions (2-0-0, 6 points) defeated the Philadelphia Union (0-1-2, 2 points) 2-1 in front of an announced crowd of 25,527 at Orlando City Stadium.
Tied at 1-1, the Lions looked for another go-ahead score. In the 73rd minute, it came off the foot of third-year forward Cyle Larin. Midfielder Matías Pérez García received a back-heel pass from Colombian forward Carlos Rivas about 20 yards outside Philadelphia's box. MPG then led Larin into Philadelphia's box where Union goalkeeper Andre Blake came off his line to no avail.
"I think, first and foremost, it's about the work rate and the commitment that Cyle has put in to take himself to a new fitness level," Orlando City head coach Jason Kreis said after the game. "He's able to play a little bit different way than he did last year. And I think, as I've always said, I enjoy seeing people that work hard get some success, and it's really pleasing to see Cyle get a couple goals.
"His partner up there, he deserves a couple as well. So, I wouldn't want to make any comments about the forwards without saying how important Carlos Rivas was to his performance as well."
Philadelphia nearly equalized in stoppage time, though. A deep throw-in found its way into City's box where it was eventually passed to Ilsinho near the top-middle part of the box. Ilsinho grounded his shot to the left, just out of the reach of City goalkeeper Joe Bendik, where it bounced off the far post. Philadelphia retained possession on the rebound, and Fabrice-Jean Picault crossed it far post again to Union captain Alejandro Bedoya for a header that was met by an outstretched, jumping Bendik.
"Honestly, I had no idea," Bendik said after the match. "It was like Cyle was down over on the left. [Oguchi Onyewu] and [Jonathan] Spector were on the ground. I don't know what they were doing. There was a slew of bodies over at the right, and it just kinda bounced of me. So, it's just kinda how the night went, I think."
The Lions dominated possession for all of the first half. Part of that effort had to do with Rivas' work down the flanks, which helped City to its first goal.
In the 39th minute, Rivas found space down the left side off a long ball by Spector. Rivas then angled himself past two defenders as he penetrated the left part of Philadelphia's box before grounding the cross to Larin on the far post.
"[Rivas] opens the space, and he's very, very strong and very quick and very good with the ball," Larin said after the game. "He attacks defenders, and so when he got the ball on the wing, he was able to go down the line and cross the ball."
Philadelphia equalized in the 52nd minute. Bedoya received a cross in the front-right part of Orlando City's net. Bedoya chipped the cross backward to an open C.J. Sapong, who headed it toward the left post past Bendik.
Larin nearly recorded a hat-trick in the 76th minute when he found himself in a near one-on-one situation with Blake. Instead of scoring, he rocketed the ball into the stands.
Man of the Match: Cyle Larin
Larin scored his third goal in two matches in the early 2017 season. All three of his goals have been go-ahead scores. Larin finished with four shots (three on target) and created two chances. He also completed 83.3 percent of his passes.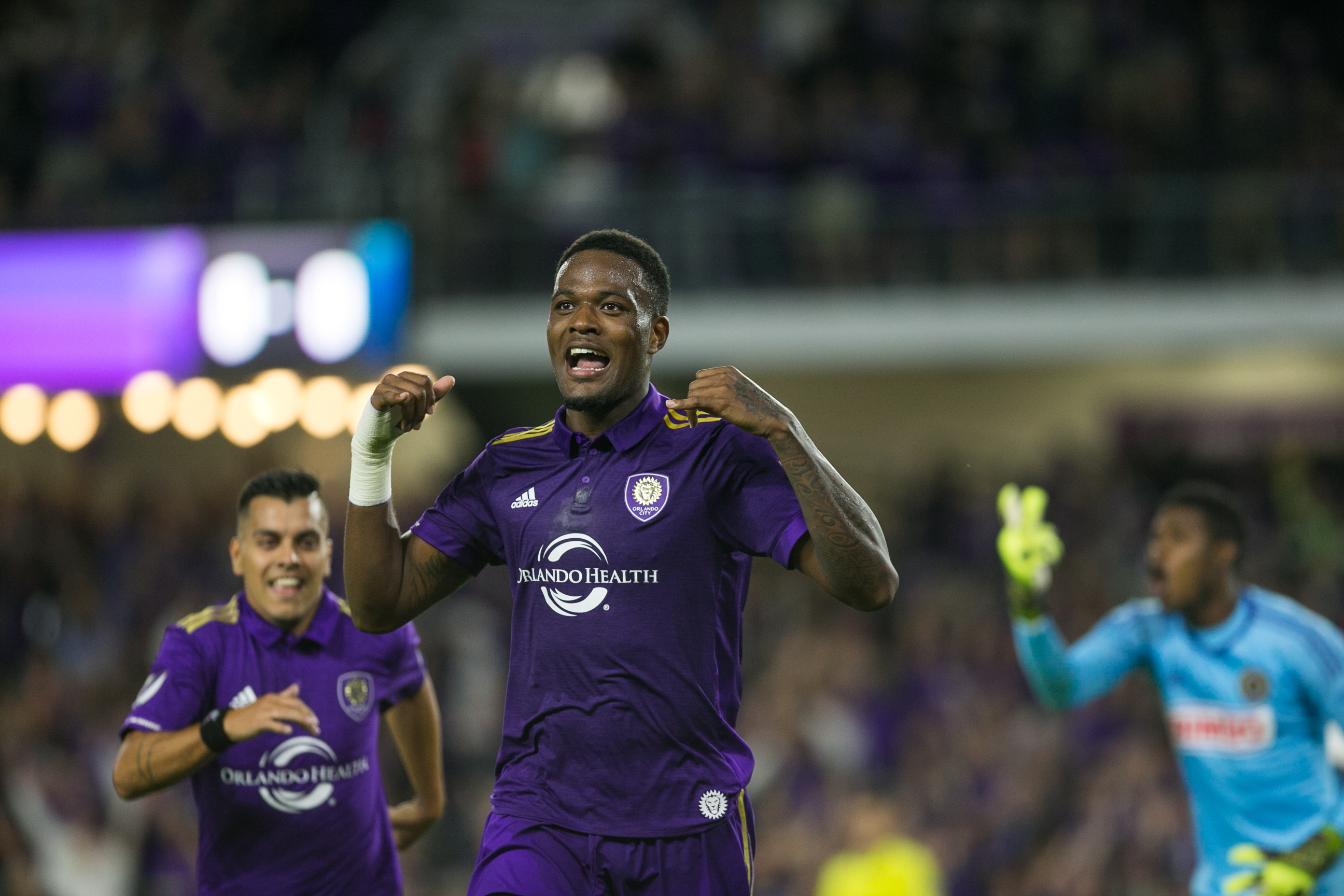 What's next?
Orlando City will travel to Columbus, Ohio, for its first away match of the season on April 1 at 4 p.m.
Cyle Larin-Carlos Rivas Relationship Is Flourishing
Throughout the 2017 Major League Soccer preseason, it was evident Larin and Rivas were developing a relationship that had previously not existed. That was highlighted by Rivas' two assists on two Larin goals in a 3-1 friendly win over Saint Louis FC.
For Kreis, it wasn't something he planned. It was something that manifested during the preseason largely due to Rivas' efforts.
"I wouldn't say so, really. Wouldn't try to pat myself on the back too much," Kreis said. "I think it's something that really has come about in the preseason and mostly due to Carlos' willingness to work extremely hard and give us something different with his running in behind defenders. And because he's done that—and he did it at the end of last season, as well, right—he's really earned us thinking that we want to play that way."
Said Rivas after the match on his relationship with Larin: "I feel really good with him by my side. Sometimes he goes to receive the ball, and I'm on the side and vice versa. And I think it works well."
Possession Was a Focus for Jason Kreis After NYCFC Match
In a 1-0 win over New York City FC on March 5, Orlando City finished the match holding only 31.6 percent of possession. For Kreis, holding onto the ball was a focus, as evident by the Lions' effort especially in the first half. By halftime, Orlando City had 59 percent of the possession.
"We talked about it after the last game that we thought the effort and the defensive work were fantastic, but what we did with the ball wasn't good enough," Kreis said. "And so it was a focus for us this week to talk about different ways that we might be able to possess the ball better, and I think we accomplished it to a certain degree.
"I still think that we have quite some room to go with what we're doing with the ball."
Highlights
5′ | Nifty stuff out on the left side from Donny.

0-0 | #NeverHuntAlone pic.twitter.com/zw2C4hHg9Y

— Orlando City SC (@OrlandoCitySC) March 18, 2017
11′ | Specs just trying to take it the whole way.

0-0 | #NeverHuntAlone pic.twitter.com/7EqtHMNIet

— Orlando City SC (@OrlandoCitySC) March 18, 2017
20′ | Union struggle to clear a ball out of their zone from an Onyewu header and it clangs off the bar…close.

0-0 | #NeverHuntAlone pic.twitter.com/zqYO6UWgN5

— Orlando City SC (@OrlandoCitySC) March 19, 2017
That's number ✌️ of the season for Cyle! Easy stuff. #NeverHuntAlone pic.twitter.com/msutimNJuQ

— Orlando City SC (@OrlandoCitySC) March 19, 2017
54′ | Strong play from Specs in response to the goal given up.

1-1 | #NeverHuntAlone pic.twitter.com/62NwoibT7e

— Orlando City SC (@OrlandoCitySC) March 19, 2017
Scenes for Cyle's brace! A third in two games.

2-1 | #NeverHuntAlone pic.twitter.com/DOD1RXDhuA

— Orlando City SC (@OrlandoCitySC) March 19, 2017
Big time stop from Joe… potential Save of the Week? 😏 #JoeKnows pic.twitter.com/dfuKY9AKh1

— Orlando City SC (@OrlandoCitySC) March 19, 2017
NDR Notes
Larin scored his third goal in two matches.
Orlando City conceded its first goal of the season in the 52nd minute.
City defender Will Johnson finished with five tackles and completed 82.1 percent of his 28 passes.
Scoring
| | | | |
| --- | --- | --- | --- |
| Time | Team | Goal-scorer | Assisted by |
| 39' | Orlando City SC | Cyle Larin | Carlos Rivas, Jonathan Spector |
| 52' | Philadelphia Union | C.J. Sapong | n/a |
| 73' | Orlando City SC | Cyle Larin | Matías Pérez García |
Statistics and Starting Lineups
| | | | | | |
| --- | --- | --- | --- | --- | --- |
| | Goals | Assists | Shots | Shots on Goal | Possession % |
| Orlando City SC | 2 | 2 | 10 | 5 | 51.5% |
| Philadelphia Union | 1 | 0 | 12 | 2 | 48.5% |
Orlando City SC starting XI (4-4-2): Joe Bendik (GK); Donny Toia, Jonathan Spector, José Aja, Will Johnson (C); Giles Barnes, Antonio Nocerino, Servando Carrasco, Matías Pérez García; Cyle Larin, Carlos Rivas
Philadelphia Union starting XI (4-2-3-1): Andre Blake (GK); Fabinho, Richie Marquez, Oguchi Onyewu, Keegan Rosenberry; Derrick Jones, Haris Medunjanin; Chris Pontius, Alejandro Bedoya (C), Fabian Herbers; C.J. Sapong