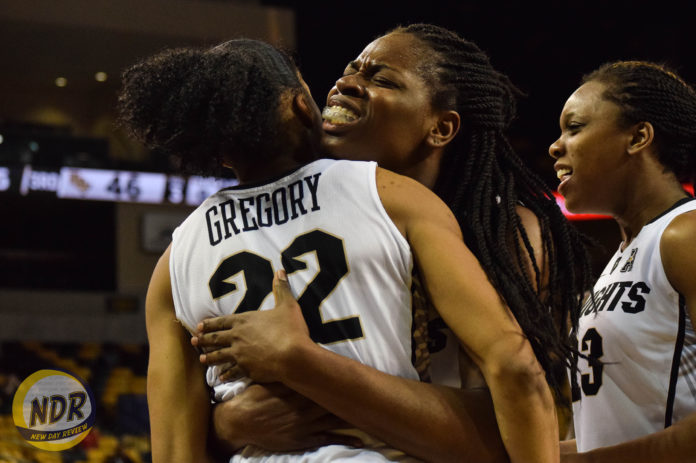 (Photo by Victor Tan / New Day Review)
Live Blog: UCF vs. Stetson, Round 1
Game Recap
ORLANDO, Fla. – First-year University of Central Florida head coach Katie Abrahamson-Henderson has turned the Knights program around to say the least.
In her first season, she led the Knights to their first winning record since the 2010-11 season and their first winning season in the American Athletic Conference. Now, UCF has achieved another major milestone under Abrahamson-Henderson with its most recent win. The Knights defeated the Stetson Hatters 73-53 at CFE Arena for their first-ever postseason victory Thursday night.
"Me, I'm just happy for the seniors because they continue to make memories, and they're always gonna remember these things," Abrahamson-Henderson said after the game. "I don't think you remember your freshman, sophomore or junior years ever. I mean, I don't. I remember my senior years in high school and my senior years in college. I'm really excited for [Zykira Lewis] and [Joslyn Massey]."
With the Knights leading 38-22 midway through the third quarter, Stetson's Brianti Saunders knocked down consecutive threes, her first two baskets, to cut UCF's lead to just 10. After the ensuing timeout, the Knights erupted for a quarter-closing 18-6 run, entering the fourth quarter with a 56-34 lead.
"We can't give up threes. A lot of 'em just came off of miscommunications, not knowing who's guarding the ball," junior guard Aliyah Gregory said after the game. "So, of course, we didn't know who had the next pass. And also just not stopping the ball in transition. So, [Abrahamson-Henderson] just kinda brought us back focused and brought us back to our defensive principles, and we were able to go out and execute that."
Stetson started the fourth quarter with a quick 7-2 run, but the Knights maintained their double-digit lead for the win. Two of Lewis' five three-pointers came in the final period. Overall, she shot 5-for-15 from deep. For Abrahamson-Henderson, that's too much.
"When Zy starts hitting her threes like that, to me she took way too many of them," Abrahamson-Henderson said. "Fifteen is a lot, for me. But, you know, we were up, and her teammates really wanted her to shoot them. You could tell they were getting her the ball, and the bench was saying stuff. And I was like, 'Stop saying stuff,' because she misses when you say stuff."
UCF broke an 8-8 tie after the first quarter, outscoring Stetson by seven in the second quarter and 15 in the third. Abrahamson-Henderson noted the team's time off as being a key factor in the Knights' slow start. Before Thursday's game, UCF last played the UConn Huskies to a 78-56 loss on March 5.
"It was a long time off," Abrahamson-Henderson said. "When I was at Albany, we played our conference tournament, and, boom, we found out where we were playing and didn't have so much time off. It's a long break for us. And so we gave them three days off, and then we started to get back into it… That's a long time. And I think that's really what it had to do with."
The Knights' defense was a driving force in their victory, too. UCF forced 20 turnovers with a lot of them coming from half-court traps.
"That's what we do all the time. When [Korneila Wright] came in, like Aliyah said, her energy was really—she came out, and she was jumping in the air, getting tips," Abrahamson-Henderson said. "[Assistant coach Tahnee Balerio] does a good job with the press. But we did a good job of closing up the middle. We were getting a little anxious and opening up the middle, and it was going to the middle. So Zy and Aliyah had to stay in the middle, stay in the middle, and then, in the third quarter and the fourth quarter, that's when everybody's tired. And this is where our fitness comes in. So that's when we really try to get after people in the press is in the third and fourth quarter."
Player of the Game: Aliyah Gregory
Gregory finished with a game-high 23 points, scoring 14 of her total in the third quarter. She finished 9-for-16 from the field, including 5-for-6 from the free-throw line. Gregory added four assists and three steals.
What's next?
UCF will travel to face the Georgia Tech Yellow Jackets in Atlanta, Ga., on March 19 at 5 p.m.
Emotion of Katie Abrahamson-Henderson Stems from Expectations
During games, Abrahamson-Henderson is stomping her feet and yelling at players. It's a stark difference from her light-hearted, post-game demeanor. For Abrahamson-Henderson, that flipped-switch attitude is rooted in knowing her players can do better.
"Because I want them to look great no matter what the score is," she said. "I think they're better players than sometimes they play, and so I do get mad because I'm a stickler of the little things. Oh, the little things bug me that they do. And so that's why I'm always stomping my feet. And they're doing things that they shouldn't be doing because we practice those things, and so then I get mad at the things that they do."
Aliyah Gregory's Pull-up Jumper Is Encouraged by New Coaching Staff
All season long, Abrahamson-Henderson has praised first-team All-AAC guard Gregory for her pull-up jumper. Gregory said that's something she's always been good at and a move the new coaching staff has encouraged her to use.
"It's kinda something I've always been good at and something I've always worked on," Gregory said. "But this coaching staff has really made me in confident in being able to shoot that and knowing that that's my shot and me being confident and taking it every game."
Abrahamson-Henderson didn't watch much of last year's film, but she said after watching less than half of a game, she saw them shoot floaters.
"I watched not even a half of a game, and I watched them all shoot floaters, and I was like, 'That's not happening.' And I watched them not go in," she said. "I watched everybody in practice, and we work a lot of guard work and position shoot… And so just by me watching [Gregory] and just working on her footwork—and I could tell she had a great upper body. Her shot's nice. Next year she's gonna shoot some threes.
"She's just so tall and elevates so well that we've just really been working on her pulling up. It's just impossible to guard, a pull-up jumper like that, especially in women's basketball."
Tolulope 'The Beast' Omokore Is Energy for Knights
Tolulope Omokore finished the game with 12 points and six rebounds, including four offensive rebounds. Coincidentally, perhaps, Abrahamson-Henderson epitomized Omokore's performance with the same word she used: beast.
"Tonight I just let everything go," Omokore said after the game. "I was just trying to be a beast. Like she said, it's the first postseason game, so I was just trying to be a beast, get everybody pumped up and just do me."
Said Abrahamson-Henderson on Omokore: "We got 12 [offensive rebounds] 'cus [Omokore's] a beast. She's just a beast. And she's impossible to guard, and she's just so strong."
Highlights
The pregame hype from Tolu! Let's go! #ChargeOn pic.twitter.com/bNhdeFEv1d

— UCF Women's Hoops (@UCF_WBB) March 16, 2017
Zy showing off her range to put us up by 8!#ChargeOn pic.twitter.com/OYf2DGzfXl

— UCF Women's Hoops (@UCF_WBB) March 16, 2017
Tolu showing off her 💪 pic.twitter.com/woxBQ5v9cp

— UCF Women's Hoops (@UCF_WBB) March 17, 2017
Doing what we do best 🙌#ChargeOn pic.twitter.com/oXabnfi0c3

— UCF Women's Hoops (@UCF_WBB) March 17, 2017
These two combined for 35 points tonight and now they're moving on to round ✌️! #ChargeOn | #MissionInSight pic.twitter.com/vvDyl5Ftah

— UCF Women's Hoops (@UCF_WBB) March 17, 2017

NDR Notes
Thursday night's victory is UCF's first-ever postseason win.
Gregory and Lewis each recorded their eighth 20-point games of the season.
Scoring
| | | | |
| --- | --- | --- | --- |
| | 1st Half | 2nd Half | Final |
| University of Central Florida | 38 | 41 | 79 |
| University of Colorado Boulder | 334 | 40 | 74 |
Statistics and Starting Lineups
Team Leaders
| | | |
| --- | --- | --- |
| | University of Central Florida | Stetson University |
| Points | Aliyah Gregory (23) | Brittney Chambers (15) |
| Rebounds | Joslyn Massey (7) | Sarah Sagerer (5) |
| Assists | Aliyah Gregory, Zykira Lewis (4) | McKenna Beach (5) |
| Blocks | n/a | Sarah Sagerer, McKenna Beach, Kennedi Colclough (1) |
| Steals | Aliyah Gregory, Zykira Lewis (3) | Brittney Chambers (3) |
| Turnovers | Korneila Wright (4) | McKenna Beach (4) |
| Minutes | Zykira Lewis (39) | Brianti Saunders (37) |
Team Statistics
| | | | | | |
| --- | --- | --- | --- | --- | --- |
| | Rebounds | Assists | Blocks | Steals | Turnovers |
| University of Central Florida | 32 | 15 | 0 | 10 | 12 |
| Stetson University | 24 | 11 | 3 | 8 | 20 |
Shooting Percentages
| | | |
| --- | --- | --- |
| | University of Central Florida | Stetson University |
| FG% | 49.2% | 40.0% |
| 3FG% | 31.3% | 31.3% |
| FT% | 55.6% | 75.0% |
UCF starting lineup: Ashley Polacek (G), Zykira Lewis (G), Aliyah Gregory (G), Tolulope Omokore (F), Joslyn Massey (F)
Stetson starting lineup: McKenna Beach (G), Brianti Saunders (G), DeAsia Beal (G), Sarah Sagerer (F), Breana Bey (F)