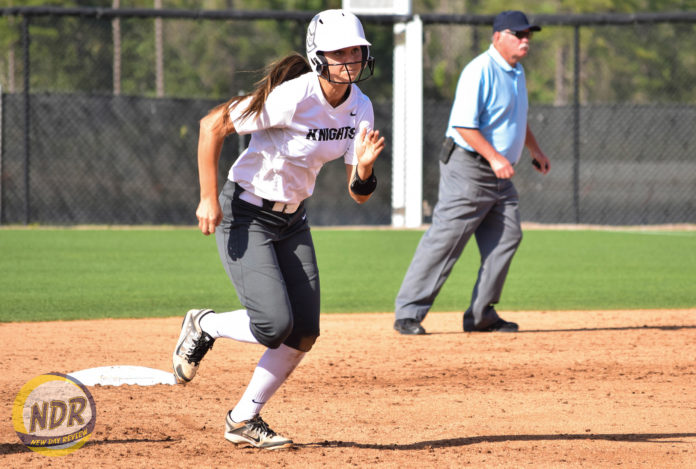 (Photo by Victor Tan / New Day Review)
Live Blog: UCF vs. No. 16 Georgia
Game Recap
ORLANDO, Fla. – It looked like the University of Central Florida might capture its first win against a ranked opponent of the season. But a late rally by the No. 16 Georgia Bulldogs helped the Southeastern Conference team to victory. UCF (11-9) fell 6-5 to the Bulldogs (23-3) at the UCF Softball Complex in front of an announced crowd of 456.
Freshman Alea White (6-6) pitched a complete game, allowing six runs (five earned) on 12 hits and three walks with one strikeout. Mary Wilson Avant (4-2) got the win, pitching 4.0 innings, allowing two runs (two earned) on four hits and a walk with three strikeouts.
"[White] pitched a great game," UCF head coach Renee Luers-Gillispie said after the game. "She was hitting her spots and having good movement on it. You could tell she was getting a little tired toward the middle of that game… But she fought through it, and I thought she did a really good job of keeping [Georgia] at bay."
The Knights took a narrow 5-4 lead in the bottom half of the sixth when Willow Kalinen found her way home on a wild pitch.
With the score tied at 4-4, courtesy of Courtney Rotton's RBI double to right-center field, Kalinen dashed home on a wild pitch with two outs. Kalinen only had the opportunity to come home after Kyra Klarkowski contained her check swing on a two-strike, two-out pitch.
"I definitely take pride in representing UCF," Kalinen said after the game. "And going up against these SEC teams or Power 5 conference teams, it doesn't matter who's on the field. Anybody can beat anybody at any one time. So I was really excited to come across and come through."
Georgia retaliated, though, with two runs in the final inning that solidified the final score. Alyssa DiCarlo hit a lead-off double, and Lacey Summerlin would fly out to center field to let pinch-runner Tyra Holliday tie the game. Then, Maeve McGuire smashed her first home run of the season over the center-field wall to give the Bulldogs the lead.
The Knights almost completed a comeback in the bottom of the seventh. With two outs, Linnea Goodman singled on a 3-1 count, and Megan Greenwell was hit by a pitch. The effort was ultimately undone when Rotton grounded out to third base to end the game.
UCF went down early, giving up three runs on four hits in the top of the first inning. White would respond by pitching four-straight scoreless innings.
"She's pitching with an injury right now, and she's doing a good job fighting through," Luers-Gillispie said. "It was just a matter of finding kinda how to grip the ball the way she needed to for, one, not to hurt, and, two, to be able to still get the spins on it.
"She settled in after the first inning. Was kinda feeling what she needed to do and did a great job of finishing that game."
Player of the Game: Maeve McGuire
McGuire helped Georgia start its scoring and end it. In the first, McGuire hit a two-RBI double to left field to give the Bulldogs a 3-0 lead. She finished the game 2-for-4 with a run and three RBIs.
What's next?
The Knights will next play the Mercer Bears at 5:30 as part of a double-header at the UCF Wilson/Demarini Tournament.
Breaking Through to Beat Ranked Teams
The Knights are now 0-6 against ranked teams this season following the loss to No. 16 Georgia. For Kalinen, turning the corner against ranked teams is about team expectations.
"We keep believing more and more, and you can see us growing into our own," Kalinen said. "And I think that the team is starting to believe that we can be in the top 25. We can beat these SEC, Power 5 teams. And it's really cool to see everyone coming together and finally be able to almost beat teams like this.
"I think it's an expectation—going into the games knowing that we're expected to win, not, 'I hope we win,' or, 'I think we can put up a good fight against them, but, 'We're gonna beat these teams.' It doesn't matter if they're ranked, if they're not ranked, where they come from—we're gonna come through."
Highlights
What a Play! We turn a DOUBLE PLAY on a bunt and get an out at home. #ChargeOn #PlayGold pic.twitter.com/yBXsLHFoXO

— UCF Softball (@UCF_Softball) March 11, 2017
SEE YA! @cassady_brewer crushes the first pitch over the fence in center to cut the deficit to 3-2 in B2 #ChargeOn pic.twitter.com/OyArTrdIVp

— UCF Softball (@UCF_Softball) March 11, 2017
Behind this K by White, we send the Bulldogs down in order. @young_auddy leads off B3 for us down 3-2 #ChargeOn pic.twitter.com/1bwOEYIWn6

— UCF Softball (@UCF_Softball) March 11, 2017
OUT! @CourtneyRotton saves a run from scoring by diving, keeping the ball in the infield and making the toss to first, 3-3 B4 #ChargeOn pic.twitter.com/CakrVLFSME

— UCF Softball (@UCF_Softball) March 11, 2017
WILD PITCH! We take a 5-4 lead vs Georgia as @WillowKayy crosses the plate #ChargeOn pic.twitter.com/ef22oXJfJp

— UCF Softball (@UCF_Softball) March 11, 2017
NDR Notes
Brewer hit her first home run of the season on Saturday.
UCF is now 0-6 against ranked opponents this season.
Scoring
| | | |
| --- | --- | --- |
| | University of Central Florida | University of Georgia |
| Runs | 5 | 6 |
| Hits | 7 | 12 |
| Errors | 1 | 1 |
| Left on Base | 4 | 8 |
| | | | |
| --- | --- | --- | --- |
| Inning | Team | Play | Score |
| T1 | University of Georgia | Alyssa DiCarlo singled to right-center field, RBI; Sydni Emanuel scored | 1-0, UGA |
| T1 | University of Georgia | Maeve McGuire doubled to left field, 2 RBIs; Ciara Bryan advanced to third; Lacey Sumerlin scored; Alyssa DiCarlo scored | 3-0, UGA |
| B2 | University of Central Florida | Cassady Brewer home run to center field, 2 RBIs; Tamesha Glover scored | 3-2, UGA |
| B3 | University of Central Florida | Megan Greenwell grounded out to second base, RBI; Autumn Gillespie scored, unearned | 3-3, T |
| T6 | University of Georgia | Sydni Emanuel singled to shortstop, RBI; Brea Dickey scored, unearned | 4-3, UGA |
| B6 | University of Central Florida | Courtney Rotton doubled to right-center field, RBI; Megan Greenwell scored | 4-4, T |
| B6 | University of Central Florida | Cassady Brewer advanced to third on wild pitch; Willow Kalinen scored on wild pitch | 5-4, UCF |
| T7 | University of Georgia | Lacey Sumerlin flew out to center field, sacrifice fly, RBI; Tyra Holliday scored | 5-5, T |
| T7 | University of Georgia | Maeve McGuire home run to center field, RBI | 6-5, UGA |
Statistics and Starting Lineup
Pitching
| | | | | | | | |
| --- | --- | --- | --- | --- | --- | --- | --- |
| Player | Team | IP | R | ER | H | BB | SO |
| Alea White (6-6) | University of Central Florida | 7.0 | 6 | 5 | 12 | 3 | 1 |
| Mary Wilson Avant (4-2) | University of Georgia | 4.0 | 2 | 2 | 4 | 1 | 3 |
| Brittany Gray | University of Georgia | 3.0 | 3 | 2 | 3 | 0 | 3 |
Hitting
| | | | | | | | | | |
| --- | --- | --- | --- | --- | --- | --- | --- | --- | --- |
| Player | Team | AB | H | R | HR | RBI | SB | BB | SO |
| Maeve McGuire | University of Georgia | 4 | 2 | 1 | 1 | 3 | 0 | 0 | 0 |
| Sydni Emanuel | University of Georgia | 3 | 3 | 1 | 0 | 1 | 1 | 0 | 0 |
| Cassady Brewer | University of Central Florida | 2 | 2 | 1 | 1 | 2 | 1 | 1 | 0 |
UCF starting lineup: 1. Linnea Goodman (7) 2. Megan Greenwell (8) 3. Courtney Rotton (4) 4. Tamesha Glover (5) 5. Cassady Brewer (3) 6. Aubrey Johnson (DP) 7. Kyra Klarkowski (9) 8. Brittany Solis (6) 9. Autumn Gillespie (2)
UCF starting pitcher: Alea White (6-5)
Georgia starting lineup: 1. Cortni Emanuel (8) 2. Sydni Emanuel (9) 3. Kendall Burton (7) 4. Alyssa DiCarlo (5) 5. Lacey Sumerlin (6) 6. Ciara Bryan (4) 7. Maeve McGuire (2) 8. Alysen Febrey (3) 9. Brea Dickey (DP)
Georgia starting pitcher: Brittany Gray (14-1)