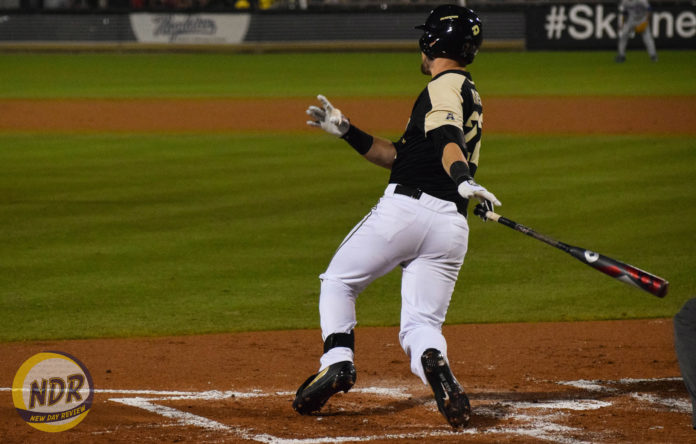 Game Recap
ORLANDO, Fla. – On the bus ride home from Gainesville, University of Central Florida players were visibly distraught. First-year UCF head coach Greg Lovelady said his team played like they were unsure if they belonged on the same field as the No. 2 Florida Gators after a 4-3 loss on the road.
In Wednesday's home matchup against the Gators, though, the Knights proved they do in fact belong on the same field and more. UCF (8-1) beat the Gators (7-2) 11-2 on 15 hits at Jay Bergman Field.
"After the game [Tuesday], I told the guys, 'We blew that game last night, and we had a chance to win it. We need to come out tomorrow a little more confident. Understand that we had the ability to win this game,' and we did exactly that," Lovelady said after the game. "Offensively, we just did a way better job. Best offensive night we've had in terms of just taking good swings—controlled, violent swings. When they made mistakes, we hammered it."
True freshman Joe Sheridan (2-0) got the win in his first career start, allowing four hits, an earned run and a walk in 5.0 innings while striking out four. UF's Michael Byrne (1-1) recorded the loss, allowing six hits and five runs and striking out three.
"Joe Sheridan, a freshman—to come out in this environment against the No. 2 team in the country and pitch the way he did—I can't say enough about him," Lovelady said. "He's done it all fall and all winter, and that's why we put him in the game."
UCF opened the scoring with five unanswered runs by the end of the third inning. Redshirt sophomore Kyle Marsh, who finished the game 3-for-5 with six RBIs, a home run and a run, notched his first RBI with a double in the bottom of the first to score Luke Hamblin and hit a two-run bomb over the left-field wall in the bottom of the third.
"I was seeing the ball very well," Marsh said after the game. "I just wanted to go up there, have a team at-bat and help my team out. Overall, I was seeing the ball really well, and it was great."
The Knights continued their scoring onslaught when second baseman Ryan Crile homered over the right-field wall to give UCF a 6-1 lead. Marsh capped his best game of the season so far with a three-RBI, bases-clearing double down the right-field line to give the Knights a 9-1 lead in the sixth.
Marsh's double was set up by consecutive base hits by Kam Gellinger and Eli Putnam with one out. Hamblin then drew a walk, and Matthew Mika popped one up behind home plate to set the stage for Marsh's two-out double.
"I think it's just a mindset. We cleared it from last night, and it was a brand new day," Marsh said. "We wanted to come out, like I said, and prove ourselves. And I think we did a pretty good job of doing that."
Florida scored its first run off a balk that allowed center fielder Nick Horvath walk in from third. In the top of the seventh, Blake Reese's groundout to second base drove in Keenan Bell.
Player of the Game: Kyle Marsh
Marsh hit his first home run of the season. He also moved into double-digit RBIs (11) after his six-RBI performance Wednesday. Crile currently leads the Knights with 13 RBIs.
What's next?
The Knights host the Stony Brook Seawolves on Friday at 6:30 p.m. That will be the start of a three-game weekend series with Stony Brook.
Like a Freshman Kyle Marsh, True Freshman Joe Sheridan Beats the Gators
In Marsh's true freshman season in 2015, he started on the mound against the Gators in a 4-3 win in Orlando. That game, he struck out two, walked two and allowed two hits and an earned run in 4.0 innings. Harrison Hukari got the win for Knights that night.
As for Sheridan, he recorded his second win of the season in his first start. After the game, the two players exchanged words.
"It was awesome tonight. I actually just told him that my freshman year I beat them too," Marsh said. "So, we have something in common. But, yeah, he was phenomenal tonight. He's going to do great things for us."
Said Sheridan on his win and relationship with Marsh: "He actually just said something to me… It's a big confidence booster. We try to play every team the same, so we don't look at the opponent as much. We just look at how we played tonight, and it was a big win for us. So we're gonna look to build on it in the future."
Players Left on Base 'Not a Concern' in Wednesday's Win
The Knights left a season-high 13 runners on base in the 4-3 loss to Florida Tuesday night. On Wednesday, UCF left nine runners on base. For Lovelady, when his team is scoring as much as it was, it's not a concern.
"I'm not worried about tonight," Lovelady said. "Tonight, when you knock out as many hits as we did, you're gonna have guys left on base. It's an opportunity. Last night's a little bit different. When you got runners on base, and you don't capitalize, those types of things will come back to haunt you, which it did… [Tonight], I thought we did a great job with runners in scoring position. Had some big two-out hits, some big RBIs.
"We addressed it after the game last night, and I thought we did exactly what we planned on doing."
Highlights
Kam!! What a scoop! 🔥🔥🔥#ChargeOn pic.twitter.com/WhkhiMiRfY

— UCF Baseball (@UCF_Baseball) March 1, 2017
Check out Putnam's 3-bagger! pic.twitter.com/fVqP93onus

— UCF Baseball (@UCF_Baseball) March 1, 2017
Hamblin steals second #UCFast and then Marsh.. Yep, we're up 2-0! pic.twitter.com/XkEAPhZqGj

— UCF Baseball (@UCF_Baseball) March 1, 2017
Joe Sheridan is a dude!! Works out of a jam fanning the No. 3 hitter!#ChargeOn pic.twitter.com/IJQ2DHRCYM

— UCF Baseball (@UCF_Baseball) March 2, 2017
Hamblin reaches first, steals second before Marsh is like, "I got you"

Florida 0 UCF 4 pic.twitter.com/dBDtnz0tIo

— UCF Baseball (@UCF_Baseball) March 2, 2017
B3 – RT shoots the gap, Crile gets on his horse and scores from first!!

Florida 0 UCF 5#ChargeOn pic.twitter.com/cla41NCpxS

— UCF Baseball (@UCF_Baseball) March 2, 2017
A 2-out blast from @Rcrile!! The second of the night for us!

Florida 1 UCF 6#ChargeOn pic.twitter.com/hg4tdOUwNz

— UCF Baseball (@UCF_Baseball) March 2, 2017
T6 – Putnam with a nice little snare in right field before Scheftz gets a strikeout to end the inning! #ChargeOn pic.twitter.com/gw8yeWVoHc

— UCF Baseball (@UCF_Baseball) March 2, 2017
B6 – Bases clearing double by Marsh with 2 outs and runners everywhere!!

RBI✅
RBI✅
RBI✅

Florida 1 UCF 9 pic.twitter.com/a5TTcnSLrj

— UCF Baseball (@UCF_Baseball) March 2, 2017
B7 – @KameronJay adds a few more!! pic.twitter.com/fPQuzyzywi

— UCF Baseball (@UCF_Baseball) March 2, 2017
Benny from the Sandlot? Anyone? pic.twitter.com/g2pj7Vr8Bp

— UCF Baseball (@UCF_Baseball) March 2, 2017
NDR Notes
Putnam extended his hitting streak to nine. He finished 2-for-5 with a triple and two runs.
Marsh hit his first home run of the season.
Scoring
| | | |
| --- | --- | --- |
| | University of Central Florida | University of Florida |
| Runs | 11 | 2 |
| Hits | 15 | 6 |
| Errors | 1 | 3 |
| Left on Base | 9 | 5 |
| | | | |
| --- | --- | --- | --- |
| Inning | Team | Play | Score |
| B1 | University of Central Florida | Luke Hamblin singled to second base, RBI; Eli Putnam scored | 1-0, UCF |
| B1 | University of Central Florida | Kyle Marsh doubled to left field, RBI; Luke Hamblin scored | 2-0, UCF |
| B3 | University of Central Florida | Kyle Marsh home run to left field, 2 RBIs; Luke Hamblin scored, unearned | 4-0, UCF |
| B3 | University of Central Florida | Rylan Thomas doubled to left-center field, RBI; Ryan Crile scored, unearned | 5-0, UCF |
| T5 | University of Florida | Nick Horvath scored on balk | 5-1, UCF |
| B5 | University of Central Florida | Ryan Crile home run to right-center field | 6-1, UCF |
| B6 | University of Central Florida | Kyle Marsh doubled down right-field line, 3 RBIs; Luke Hamblin scored; Eli Putnam scored; Kam Gellinger scored | 9-1, UCF |
| T7 | University of Florida | Blake Reese grounded out to second base, RBI; Keenan Bell scored, advanced to home on fielder's choice | 9-2, UCF |
| B7 | University of Central Florida | Kam Gellinger singled down left-field line, 2 RBIs; Logan Heiser scored; Bryce Peterson scored | 11-2, UCF |
Statistics and Starting Lineup
Pitching
| | | | | | | | |
| --- | --- | --- | --- | --- | --- | --- | --- |
| Player | Team | IP | R | ER | H | BB | SO |
| Joe Sheridan (2-0) | University of Central Florida | 5.0 | 1 | 1 | 4 | 1 | 4 |
| Thaddeus Ward | University of Central Florida | 1.2 | 0 | 0 | 1 | 0 | 0 |
| Jordan Scheftz | University of Central Florida | 1.1 | 1 | 1 | 1 | 1 | 2 |
| Michael Byrne (1-1) | University of Florida | 3.0 | 5 | 3 | 6 | 0 | 3 |
Hitting
| | | | | | | | | | |
| --- | --- | --- | --- | --- | --- | --- | --- | --- | --- |
| Player | Team | AB | H | R | HR | RBI | SB | BB | SO |
| Kyle Marsh | University of Central Florida | 5 | 3 | 1 | 1 | 6 | 0 | 0 | 0 |
| Kam Gellinger | University of Central Florida | 4 | 3 | 1 | 0 | 2 | 0 | 0 | 1 |
| Ryan Crile | University of Central Florida | 5 | 1 | 2 | 1 | 1 | 0 | 0 | 1 |
| Luke Hamblin | University of Central Florida | 4 | 1 | 3 | 0 | 1 | 2 | 1 | 0 |
| Blake Reese | University of Florida | 1 | 0 | 0 | 0 | 1 | 0 | 0 | 0 |
| Nick Horvath | University of Florida | 2 | 1 | 1 | 0 | 0 | 0 | 0 | 1 |
UCF starting lineup: 1. Eli Putnam (9) 2. Luke Hamblin (8) 3. Brennan Bozeman (6) 4. Kyle Marsh (7) 5. Ryan Crile (4) 6. Rylan Thomas (3) 7. Bryce Peterson (DH) 8. Logan Heiser (2) 9. Kam Gellinger (5)
UCF starting pitcher: Joseph Sheridan (1-0)
UF starting lineup: 1. Dalton Guthrie (6) 2. Austin Langworthy (7) 3. Jonathan India (5) 4. JJ Schwarz (2) 5. Mike Rivera (3) 6. Mark Kolozsvary (DH) 7. Ryan Larson (9) 8. Deacon Liput (4) 9. Nick Horvath (8)
UF starting pitcher: Michael Byrne (1-0)