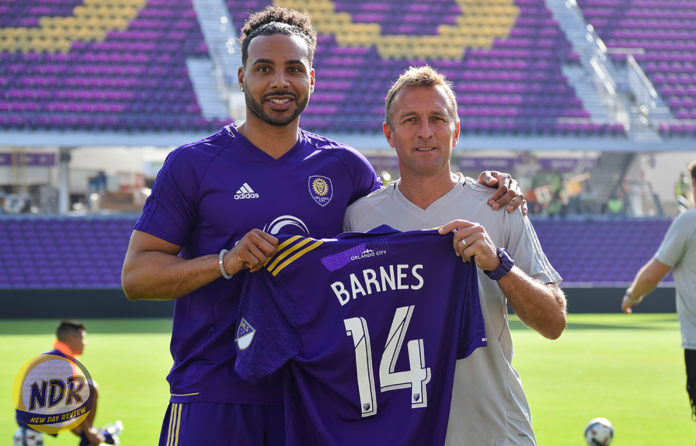 ORLANDO, Fla. – Orlando City SC strikers Cyle Larin and Carlos Rivas have developed an on-field relationship that is translating into productivity on the field. In Saturday's closed-door friendly with Saint Louis FC, Rivas assisted on two Larin goals to help the Lions win 3-1.
But just hours after the final whistle, the club announced the addition of forward Giles Barnes through a trade that sent Brek Shea to the Vancouver Whitecaps.
For second-year City head coach Jason Kreis, Barnes is a player that will compete "right away" for a starting job.
"I do see Giles Barnes competing right away," Kreis said during the team's media-day press conference Tuesday. "For me, there are starters and non-starters, and there's a bunch of team members that are in contention to be starting on the weekend, and that changes week by week."
While Kreis has made no guarantees that Barnes will start, the No. 6 all-time goal-scorer did have high praise for the London, England, native.
"Giles is a very exciting player. I will tell you that a couple of years ago that I felt he was easily, for me, one of the best players in the league," Kreis said. "He is an attacking, gifted player. Has great pace, great strength on the ball and typically makes really good decisions with it.
"These are the type of players that we're looking to add to Orlando City, the type of players who are always comfortable on the ball but are also willing to work for them."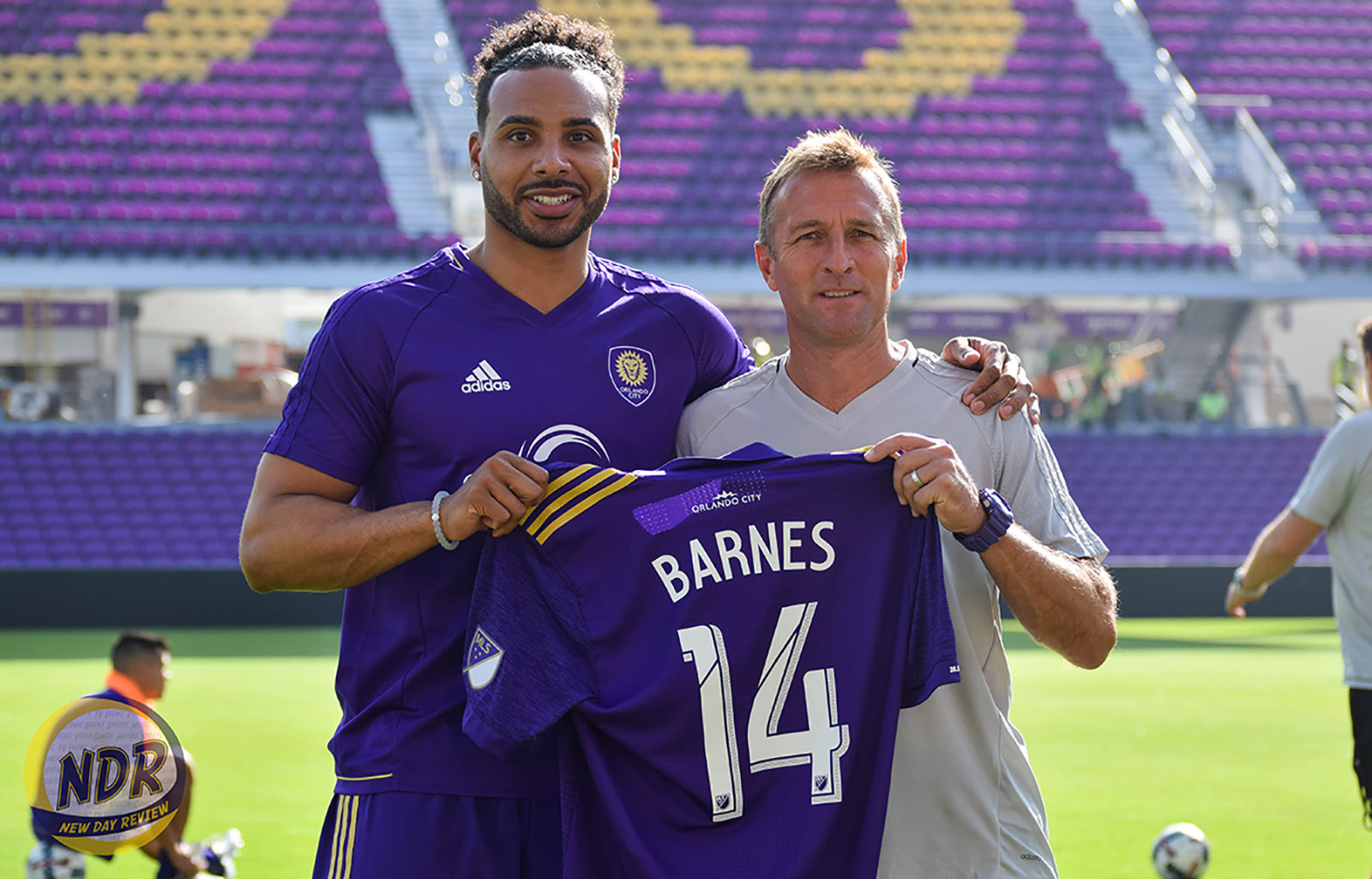 And it appears Barnes will be a perfect fit under Kreis. The 28-year-old iterated similar qualities in one-on-one player rotations at media day.
"I like to think that I'm the dynamic, attacking, free-spirited player but also will work hard for the team," Barnes said. "They'll see that I'm not just about going forward. I'll muck in with my share of the jobs as well. Plus, I'm a big boy. I'm good on set pieces too."
With the possibility that Kreis might call Barnes' number on Sunday, though, there is an immediate concern of whether team chemistry, or lack thereof, will be an issue. For Barnes, he doesn't see that as being an issue.
"I think the way the boss plays suits me as a player as well. High-pressing, counter-attacking, very organized," Barnes said. "Everyone knows exactly where they're meant to be at specific times… So players like to go out there and play. That's our job. So I wouldn't expect there to be too much of a settling-in period.
"As soon as I laced up my boots to go to training, I was ready to compete."
As it has been since the club's first Major League Soccer days, the goal for Orlando City is to make the playoffs. Barnes, who made appearances in the playoffs with the Houston Dynamo in the 2012 and 2013 seasons, believes City has only missed the playoffs because of a little bad luck.
"Do you know what I think was lacking? Was just a little bit of luck actually," Barnes said. "Some of the results last year—I'd see them on MLS Soccer, ESPN, those kinds of things—and you see the highlights, and it's kind of a bit of Lady Luck. The odd goal, the own goal, that kind of thing there. But, at the end of the day, it's a new season; it's a new start in a new stadium. It's gonna be exciting. And everyone's got the same end goal.
"Everyone in the locker room is a winner, and we want to get to the cup. We don't just want to get to the playoffs. We want to be lifting the cup at the end of it. The end goal is to be lifting the cup."
For Barnes, going into Sunday's season-opening matchup against New York City FC will be both exciting and a relief. This time, he doesn't have to worry about City's fans heckling him.
"The fans are incredible here. Thank God, this time, they'll be on my side," Barnes said laughing. "As I walk out the tunnel, they're gonna be cheering for me instead of jeering me. So that'll be good. It's gonna be packed Sunday too—brand-new stadium, so everything to be excited about."
Orlando plays NYCFC on Sunday at 5 p.m. in Orlando City Stadium.