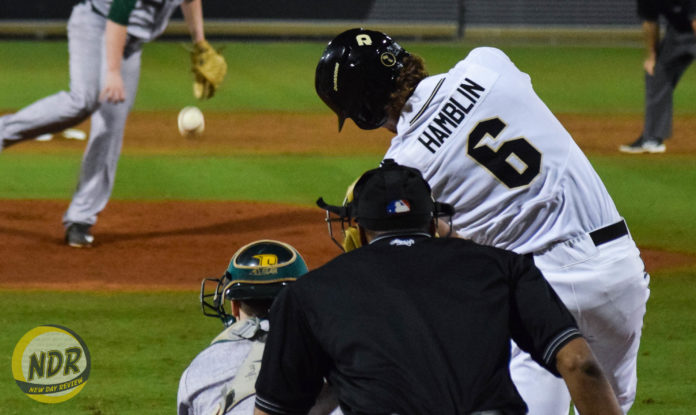 Game Recap
Another save opportunity provided left-handed pitcher Bryce Tucker another chance to win the game. The University of Central Florida (4-0) won 3-2 after the sophomore struck out the University of North Florida (2-2) side at Jay Bergman Field Tuesday night.
"After the fact, it's great. To get the save and get the win for our team, it's unreal," Tucker said after the game. "I mean, going into it, there's a little bit of nerves there, being a little anxious and jittery. But I think that helps a lot when you have to do something like that. You gotta really bunker down and go one-on-one with the hitter, and I think I did a pretty good job of that tonight."
Redshirt junior Jordan Scheftz (1-0) got the win, pitching 0.2 innings with one earned run, two hits and a strikeout.
After UNF tied the game at 2-2, UCF retaliated with its second and final go-ahead run of the night. Senior center fielder Luke Hamblin set himself up to score the game-winning run when he hit a lead-off single and stole second in the bottom of the seventh. An Eli Putnam single advanced Hamblin to third before designated hitter Ryan Crile hit a sacrifice fly to center field to let Hamblin dart home.
"Just a phenomenal job. He got two singles out of balls that were, you know, I could've thrown harder to first base," first-year UCF head coach Greg Lovelady said after the game. "He's just an unbelievable leader. Just plays the game the right way. And I told him and told the team. I said, 'When you do those types of things, you get rewarded.'"
Putnam's lead-off hit in the bottom of the first inning was the Knights' only base hit until the fourth inning. Down 1-0, the Knights began scoring.
After Crile began the bottom of the fourth with a lead-off walk, redshirt sophomore Kyle Marsh and senior Brennan Bozeman followed with consecutive singles to load the bases. After Kam Gellinger flew out to shallow left field, Rylan Thomas' base hit to left field drove in Crile from third to tie the game.
Marsh would send a fly ball to right field to let Hamblin score his first go-ahead run in the fifth.
"It's tough when a team staffs the game, and they're throwing a new pitcher pretty much every inning," Lovelady said. "It's not easy. You can't get in a rhythm. But I told the guys, 'It's good practice.' If we're playing a team like us, we're going six, seven, eight, nine with four different relievers, and so it's a good opportunity for us to practice, trying to be able to understand that late in the game, you're gonna have to do that.
"I thought once we kinda got our feet under us, we put some better at-bats together. Some guys just wanting to do a lot, trying to do too much. So, we just keep working in the cages, in the practice, and we'll get 'em. We're talented, so we'll be okay."
Player of the Game: Luke Hamblin
Hamblin scored both the Knights' go-ahead runs. He set up the second go-ahead run by stealing second. The Rowlett, Texas, native finished the game 2-for-3 with two runs.
What's next?
The Knights start a three-game weekend series with the Manhattan Jaspers on Friday at 6:30 p.m.
Highlights
Nice double play before @ChrisWilliams_3 gets his first strikeout to retire the side!#ChargeOn pic.twitter.com/zlkCpvQYAI

— UCF Baseball (@UCF_Baseball) February 21, 2017
B4- @rylan_thomas with a clutch RBI single to tie the game! The Osprey make a call to the bullpen.
UNF 1 UCF 1 pic.twitter.com/8vIVg3JaxK

— UCF Baseball (@UCF_Baseball) February 22, 2017
B5 – Marsh with a sacrifice fly to give us the lead!

UNF 1 UCF 2 pic.twitter.com/ygzVtw69rE

— UCF Baseball (@UCF_Baseball) February 22, 2017
2 strikeouts & a fly ball and @Tward_12 leads us through the 6th still up 2-1 over UNF!#ChargeOn pic.twitter.com/UsnRzYN0xy

— UCF Baseball (@UCF_Baseball) February 22, 2017
B7- Hamblin leads off with a single, steals second & is moved to 3rd on sacrifice before @Rcrile brings him home!

Osprey 2 Knights 3 pic.twitter.com/uR66Dhk9Yr

— UCF Baseball (@UCF_Baseball) February 22, 2017
Hey coach, how about that finish!?#ChargeOn pic.twitter.com/EHJBhUMLKg

— UCF Baseball (@UCF_Baseball) February 22, 2017
NDR Notes
After starting the Knights' first two games at third base, Marsh has started the last two games at left field.
Putnam and Marsh are both on four-game hitting streaks. After Tuesday night's win, Putnam is hitting 9-for-17 with five RBIs, and Marsh is hitting 6-for-16 with two RBIs.
No. 2 University of Florida lost to Jacksonville University 3-2 Saturday night. The Knights play the Gators in back-to-back nights on Feb. 28 and March 1.
Tucker earned his second save of the season Saturday night. He earned a save in a 3-0 win against Siena College, the Knights' second game of the season, on Saturday.
Scoring
| | | |
| --- | --- | --- |
| | University of Central Florida | University of North Florida |
| Runs | 3 | 2 |
| Hits | 10 | 8 |
| Errors | 0 | 0 |
| Left on Base | 8 | 9 |
| | | | |
| --- | --- | --- | --- |
| Inning | Team | Play | Score |
| T2 | University of North Florida | Joe Boyle singled up the middle, RBI; Wesley Weeks advanced to second; Yahir Gurrola scored | 1-0, UNF |
| B4 | University of Central Florida | Rylan Thomas singled to left field, RBI; Brennan Bozeman advanced to second; Kyle Marsh advanced to third; Ryan Crile scored | 1-1, T |
| B5 | University of Central Florida | Kyle Marsh flew out to right field, sacrifice fly, RBI; Luke Hamblin scored | 2-1, UCF |
| T7 | University of North Florida | Yahir Gurrola grounded out to third base, RBI; Chris Thibideau advanced to third; Alex Merritt scored | 2-2, T |
| B7 | University of Central Florida | Ryan Crile flew out to center field, sacrifice fly, RBI; Luke Hamblin scored | 3-2, UCF |
Statistics and Starting Lineup
Pitching
| | | | | | | | |
| --- | --- | --- | --- | --- | --- | --- | --- |
| Player | Team | IP | R | ER | H | BB | SO |
| Chris Williams | University of Central Florida | 4.0 | 1 | 1 | 5 | 1 | 3 |
| Jordan Scheftz (1-0) | University of Central Florida | 0.2 | 1 | 1 | 2 | 0 | 1 |
| Bryce Tucker | University of Central Florida | 1.0 | 0 | 0 | 0 | 0 | 3 |
| Adam Polansky | University of North Florida | 2.0 | 0 | 0 | 0 | 0 | 1 |
| Matthew Naylor (0-1) | University of North Florida | 1.0 | 1 | 1 | 2 | 0 | 1 |
Hitting
| | | | | | | | | | |
| --- | --- | --- | --- | --- | --- | --- | --- | --- | --- |
| Player | Team | AB | H | R | HR | RBI | SB | BB | SO |
| Luke Hamblin | University of Central Florida | 3 | 2 | 2 | 0 | 0 | 1 | 0 | 0 |
| Eli Putnam | University of Central Florida | 4 | 3 | 0 | 0 | 0 | 1 | 0 | 0 |
| Rylan Thomas | University of Central Florida | 4 | 2 | 0 | 0 | 1 | 0 | 0 | 2 |
| Yahir Gurrola | University of North Florida | 3 | 1 | 1 | 0 | 1 | 0 | 1 | 0 |
UCF starting lineup: 1. Eli Putnam (9) 2. Ryan Crile (DH) 3. Ryan Marsh (7) 4. Brennan Bozeman (6) 5. Kam Gellinger (5) 6. Rylan Thomas (3) 7. Matthew Mika (4) 8. Logan Heiser (2) 9. Luke Hamblin (8)
UCF starting pitcher: Chris Williams
UNF starting lineup: 1. Patrick Ervin (6) 2. Alex Merritt (3) 3. Chris Thibideau (8) 4. Yahir Gurrola (9) 5. Blake Vyles (2) 6. Christian Diaz (DH) 7. Wesley Weeks (7) 8. Joe Boyle (5) 9. Chris Berry (4)
UNF starting pitcher: Matt Vaka