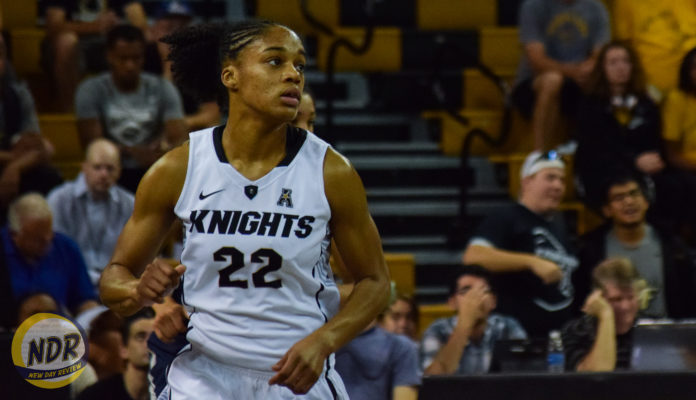 University of Central Florida junior Aliyah Gregory earned her first American Athletic Conference Player of the Week honor on Monday.
"I'm really proud of the way we played as a team. We landed two big wins last week," Gregory said, per UCF Communications. "To top it off, being named Player of the Week is a great feeling. We have a lot of elite players in our conference. It is an honor to be named Player of the Week in such a talented conference."
Gregory posted 30.5 points per game in a 2-0 week with wins coming against No. 22 USF Bulls and the East Carolina Pirates. The win over the Bulls was the Knights' first-ever win over a ranked opponent. In that game, Gregory scored a career-high 34 points in the Knights' sixth-overall victory against USF.
In addition to leading her team to a win over USF, Gregory also joined the 1,000 career-points club. She shot 59 percent from the field (26-for-44) in the two-game span. The Knights junior has scored at least 20 or more points in seven of the past eight games.
Now, the Tampa, Fla., native has climbed to No. 1 in scoring in the AAC, scoring 21.6 points per game. She becomes the second player ever for the Knights' women's program to win Player of the Week honors. Senior guard Zykira Lewis earned the award on Nov. 17, 2014.
The Knights will look to play off of their four-game winning streak when they travel to New Orleans to take on the Tulane Green Wave at 8 p.m. ET.