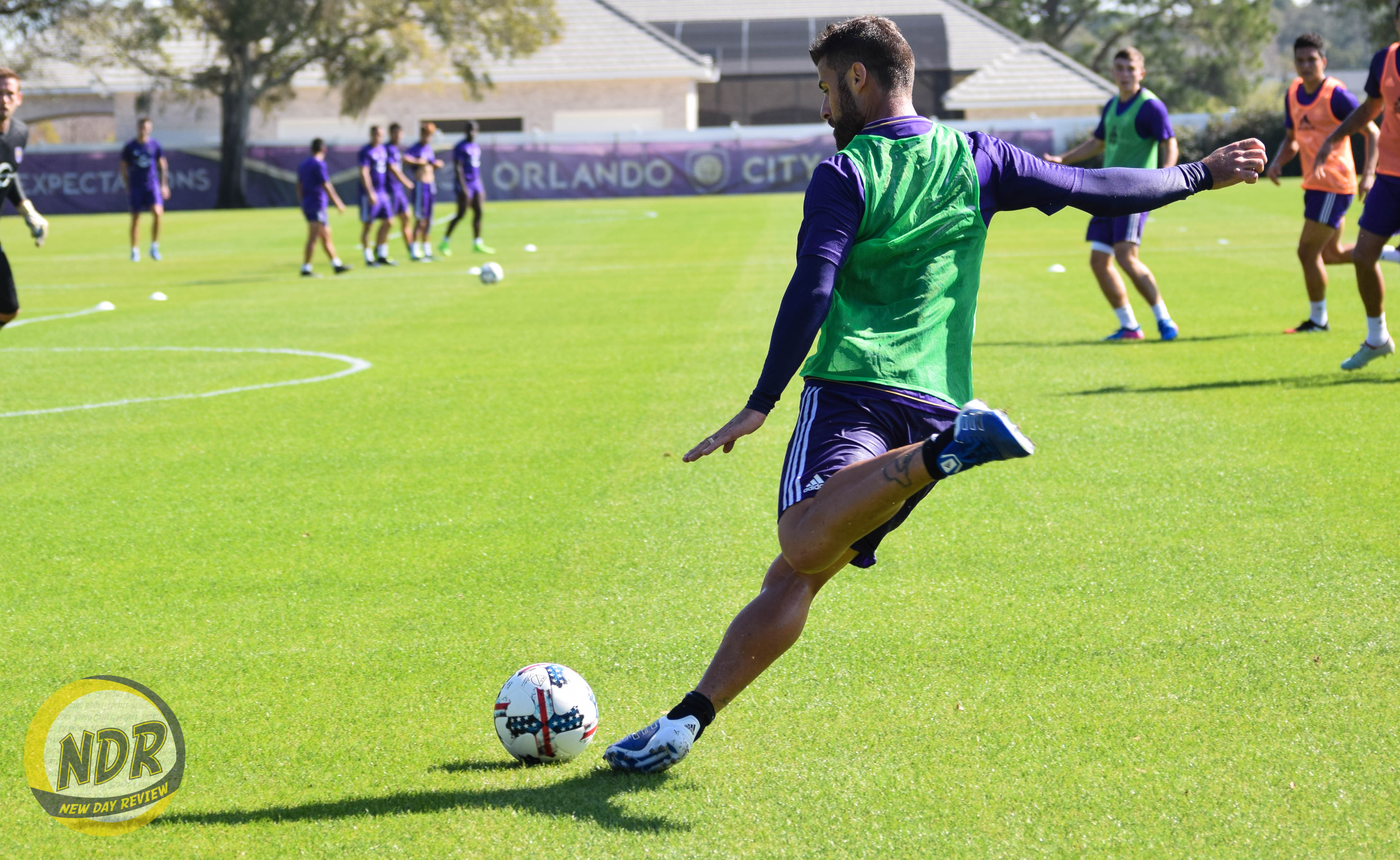 ORLANDO, Fla. – At the end of the 2016 Major League Soccer season, Orlando City SC midfielder Antonio Nocerino didn't return to his native Italy. Instead, he stayed in his new home: Orlando.
"I stayed in Orlando because I have a son in the school," Nocerino said after training Wednesday. "New season is very, very important for everyone. For new stadium, for people, for country, for fan, for you. I work hard with the team for very, very good season because it's very important."
The Lions midfielder enters his second season as a Lion and his first preseason with the club. Last year, he was introduced to fans during halftime of the team's season-opening draw against Real Salt Lake.
But upon his arrival to the City Beautiful, Nocerino appeared timid and conserved, rarely cracking a smile. The 31-year-old now seems to be finding comfort in Central Florida with his the club and the city. Second-year Lion Richie Laryea has experienced firsthand the seemingly newfound extroverted nature of the veteran Italian.
"He's always bothering people, especially me," Laryea said half-jokingly after training Wednesday. "No, no, he's a good guy, though. He's always bringing character to the team and obviously for himself."
Nocerino's experience as a footballer with clubs like A.C. Milan, Juventus and Palermo has also proven to be a worthwhile connection between the younger players and himself.
"He helps me a lot. He helps a lot of guys on the team," Laryea said. "So, just listening to him—obviously he has experience in places that he's played over the years, so he's a good guy to listen to, and he's growing as a leader on this team."
From his perspective, though, Nocerino won't call himself a leader, nor is he too concerned about it. Though, he doesn't mind if others refer to him as such.
"Well I don't know. Maybe it's just because of my age and my experience," Nocerino said through his translator. "I'm not too concerned with calling myself a leader. I'll just let facts speak for themselves. If others want to say it, that's great, but my focus is on having a great season."
His willingness to assist the younger players is perhaps the most explicit way Nocerino can show his successful adaptation to a new home on the pitch. Off the pitch, though, it is perhaps in his vocal chords.
On Feb. 3, the club released a video of Nocerino, team captain Ricardo Kaká and other teammates singing in the car. Eventually, the video went viral, as singer Enrique Iglesias would repost Kaká's Instagram post. Nocerino sees these off-the-pitch moments as important opportunities for team bonding.
Who did it better? @KAKA and Noce or @NickyJamPR and @enriqueiglesias? pic.twitter.com/nht1ySU8D9

— Orlando City SC (@OrlandoCitySC) February 3, 2017
"This moment for me is very, very important because work together," Nocerino said. "Yeah, in the pitch, it is normal. In the dinner, in the lounge, it's very important… It's important change the moment because you run every day, you work hard every day… It's great moment because it's good for team, for together. For me, this is moment to help the season… Group bonding, for me is important. It's important for stay good after in the season."
As Nocerino has already hinted at, though, his happiness, his comfort resides in knowing his family is happy in a place he hopes to finish his career in.
"My family is very happy. My son stay good. My wife is like," Nocerino said. "Orlando is nice… I have the fortune to play in the good team, good club. It's a club family. For me, it's perfect. I speak with the club. I don't know if I have opportunity for finish the career in Orlando. I hope.
"Me and my family is very, very happy stay in Orlando."
Orlando City opens its 2017 MLS campaign on Sunday, March 5 at 5 p.m. against New York City FC in the Lions' new soccer-specific stadium in downtown Orlando.