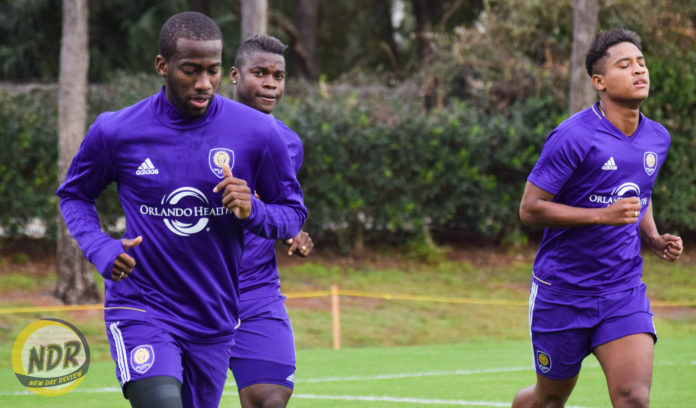 Jan. 23, 2017 at Sylvan Lake Park
HC Jason Kreis
Orlando City SC held its first training session of the preseason on Monday.
It looked a lot like a first day of preseason training. Very rough around the edges.

I think it's important that the group recognizes right away that we need to raise the level of intensity, the level of competitiveness and the level of our fitness. I think all three of those things will adjust in a very short time.
Kreis was hired by City during the middle of the 2016 Major League Soccer season.
I believe the preseason is a critical time for any coach and any team to put in the work both from a physical stand point but also very much so from a tactical standpoint. And we know that we got a lot of work in front of us, and I believe that we're all very eager to get to it.
Lions forward Cyle Larin said he is more fit entering the 2017 season than in previous seasons.
We know that he's been putting in quite a bit of work. We had a handful of players that stayed here the entire offseason and worked with Dave McKay, our fitness coach. And those players have shown that they're trim right now and fit and strong. And so we're looking for some of that to show itself over the next couple of days. We have fitness tests in front of us on Thursday. And so that's where people can start to put their money where their mouth is.
From draft picks to trades and re-signings, Orlando City has made a lot of offseason moves.
We had a group today that's still getting physicals, medical testing done. So I would expect just over the coming days we're going to get fuller and fuller. Obviously, we had Will Johnson away with Canada. He flies back tonight. Tommy Redding was away with the U-20 national team. He should around here today and starting to get involved tomorrow as well. As the next couple days progress, we believe we'll be getting closer and closer to a full squad.
During the back end of training on Monday, Carlos Rivas, Cristian Higuita, Donny Toia and Kevin Molino were running laps and not participating in the team's scrimmage.
That's a bit of an in-house matter that we prefer not to speak about.
When asked how his team will start during this preseason, Kreis said that it's a matter of starting over.
We'll start over. I don't think you can be off for the amount of time we've been off, which is several months and really pick up right where you left off. So we'll have some reviews of what we're looking for as well as a training sessions, how we'll address those tactically so that we all have a very clear idea of what we're attempting to do.
City general manager Niki Budalic was promoted from assistant general manager during this offseason.
[The offseason] was extremely busy. I think one of the unfortunate things about being a coach and part of a technical staff that is addressing, making changes and turning over a team a little bit is often times you do 100-ex the work for one-ex that you can show people. And I think that's probably a fair description of our case this offseason. We've done a ton of work even though it may not look like we've done a ton of work, we've done a ton of work.
When asked if finding a center-back was still a high priority for his team, Kreis said that it's still something the team needs to address.
[Finding a center-back] was really our main objective going into the offseason was to try to strengthen our back-line. We feel we've done it in the left-back position, we've addressed that. We think we have some young very, very exciting potential, strong defenders. We've decided that our right-back situation we actually quite like. So we're still missing one central defender, and everybody should probably stay tuned.
Pierre da Silva joins the first team after having progressed through the club's academy and Orlando City B.
We expect that he puts in his work every single day. We expect that he wants his development as much as we want it for him. He will be a major focus of ours. We take a lot of pride in the fact that he's been around this club and kind of developed towards the latter stages of his career in this club and will continue that pathway forward as we believe his potential is sky-high, and now it's about putting the work in to reach that potential. And that's not gonna be a short-term game. For us, that's a long-term project. If he surprises all of us and comes good in a very short term, then we're in an extremely positive situation. But if he doesn't, that's just as we expected.

I think the goal for me is long-term—what Pierre da Silva can provide to this team over a long term rather than this week, this month or this year even.
In Kreis' second season as the Real Salt lake head coach, the club began playing in Rio Tinto Stadium, the club's soccer-specific stadium. Now, in the 44-year-old head coach's second season with the Lions, he will do the same.
To be coaching in a football stadium on an artificial stadium kinda brought me back to the early days of Real Salt Lake and looking at the team and trying to identify strengths and weaknesses and trying to establish what we think is a core group of players to build around. We're doing a lot of the same things that we did in those early years of Salt Lake, and we believe, as it was there, that the opening of the stadium and playing on a real grass field could be a real game-changer for us and expected to be so.
The Lions finished the 2016 season two spots and one point out of the MLS playoffs.
First and foremost, I believe that we're gonna be a fitter, stronger and more tactically astute team. It's establishing an identity of who Orlando City wants to be. And those are the sorts of things that you get when you ask your players to work extremely hard in an offseason, those are the things we'll get when we all work together, collectively, extremely hard in the preseason.
Larin scored 14 goals on 73 shots (33 on goal) last season.
I think we want a lot of improvement for Cyle. From my point of view, it's every facet of his game. Now it's his third year as a pro, and he needs to move forward. He's had a little bit of a stalling period last season, which you can expect from a young player. And now it's about how you react to that, how you improve after that. And so we're looking for a lot of improvement in every aspect of Cyle's game.
F Cyle Larin
Larin spent the offseason leading up to the 2017 MLS season training in Orlando.
It feels good to be back with the team, see all the guys again. It was a good session today too.

[The offseason break] was the perfect amount of time, the perfect amount of time for me, and I got a lot of break, rested, got my feet up, and now it's time to get to work again.

For the most part, I stayed in Orlando. I was training here and just to get my body work down and get back fit again from a little break.
The 2017 MLS season will be Kreis' first full season as head coach of the Lions.
It was a lot of football today and high-intense football. And I think it was good today. Everyone was getting their feet back, and I think over the next couple of days, it'll be a lot sharper.

[Kreis emphasized keeping] the tempo up in training and high-intensity training and then keep our fitness up. I think what we do now, it's good. It's good for every player. Keep the ball moving fast and gets our fitness up at the same time.
When asked about how he felt everyone's fitness was on the first day, Larin said it was good.
It was good. A lot of people were working out during the offseason, so it's higher than it was last year.
Like Larin, new teammate Johnson is a member of the Canadian men's national team. The 30-year-old joined the team this offseason.
It's another Canadian here. Will's a good player, a really good player. He works hard. He works very good. Just happy he's here, and I know how he plays, and I think he can help us a lot. He's been in the league for a long time.
According to a report by MLSSoccer.com's Marc Serber, City team captain Ricardo Kaká said Larin is good enough to "play in a big team in Europe."
It makes me feel proud. It makes me feel good that someone at that level has been places and been through Europe and played at that level thinks I can do that. I just have to keep working to get there.

I want to play in the best league in the world. There's a couple of leagues in Europe I want to play in. I think I have to work hard there to get there, and I think if I have good year this year, I'll get there.
When asked about his personal goals, Larin said he is focused more on team goals.
I have more team goals than I have personal, but I still have my personal goals that—obviously score; score a lot goals, more than I did last year and the year before that. But I think I have more team goals than personal goals.
This is Larin's third year in MLS.
A lot fitter. A lot fitter than I was at the beginning of preseason last year. I think I know what to expect now more. Last year, I knew what to expect, but now…[it's] my third year in the league now, and I think I can score a lot more goals, and I know how defenders play.
The Lions with a 9-11-14 (41 points) record and was one of five teams to not finish with double-digit wins.
During the later half of the season, we had a coaching change, we started playing different. So, I had to get used to it. Now I am, and now I know what to expect from my coach and my team. And now I can go into this year and score a lot more goals consistently throughout the year.
When asked about his technical approach this season, Larin said he needs to shoot more.
When I get in the box, just get my head up and shoot more. I know I can shoot more during the game. I don't think I shoot enough, so I think I should shoot more.
Orlando City will play the 2017 season in a new soccer-specific stadium in downtown Orlando.
I've been there, I've seen it. I haven't been in a while. I think we shouldn't lose any home games. It's a nice stadium, and…we deserve to play there. I think it'll be a great atmosphere there when we play there.

[Playing on grass] takes more off your body. I know playing on turf was hard on your body for a lot of our players here, and some of them got injured playing on it. But, in the grass, it's a lot better, and the ball moves better on the field. And I think our style of play fits for the grass so we can play more.

Yeah I do [think the new stadium will be an advantage]. I know that one section is going to be great. It's going to be loud, and that'll help us a lot. I think it'll be very loud in the stadium, so I think it's gonna be fun to play in the stadium. It's going to be good.
F Matías Pérez García
Pérez García joined the Lions in the middle of last season via a trade for Darwin Cerén. He finished the season with City with two assists and 12 shots (four on goal) in 883 minutes of play.
I have the best expectations, trying to have a good preseason. It's going to be important to arrive well to the championship, and, with regards with the team, we're trying to look for a strategy in the game, and moderating…the season is going to be very important, so we're going to get ready for it.
The Argentinian started 10 of his 13 appearances last season.
We want to start the way we finished. Played with intensity…which is what the coach is looking for—narrowing down equally with all the occasions, it's going to be very important. So, primarily trying to begin the tournament the way we finished it.
When asked about his offseason, Pérez García said he was eager to get back to playing.
Personally, I wanted to start. I'm not used to having these long vacations. In a way, you miss it. We've had our vacation time, we had a good time with the family, and today we're happy to be back.
At 5-foot-5, Pérez García is the shortest player on the Lions' squad.
[I feel] very well…because I started training on Jan. 9 with the physical trainer, and we've worked a lot on the physical side. So, today I feel better. I feel well physically. It's not like when you first arrived, that it takes a lot of work. So, I'm glad with that and being able to handle the ball. It's important, and we're all happy.
Before joining MLS and the San Jose Earthquakes, the 31-year-old played in Club Atlético Tigre in the Primera División from 2012 to 2014. There, he notched 13 goals in 63 games.
Well, [people back home are] saying good things, and, like I said, the league is growing a lot, year after year. I've noticed, and this being my third season over here, it has improved greatly every year. So that's what they're saying in South America. Players are wanting to come here, and they ask each one of us, for example, in Argentina. We play here, and, obviously, we say that the league is very pleasant, that you live well and that everything is ok. So that's what soccer players are looking for.
F Pierre da Silva
da Silva is the first player from Orlando City's academy to go through the club's entire system and make it to an MLS team.
It's been great. I worked hard since the academy all the way up to OCB, and now I've reached my goal. My goal was to make the MLS team.
For da Silva, getting called up to the MLS team was monumental. Now, he said it's about continuing his work ethic.
When I got the call, I would say it was the best feeling ever because I had been working hard for so long, and now I reached my goal. And now I have to keep working hard and keep developing as a player.
When asked about the conversations he's had with Kreis and potentially playing, da Silva said they haven't talked much.
He hasn't talked to me yet.
As a member of Orlando City B last season, da Silva trained frequently with the first team.
I've been hanging around with them a lot, so I know them—I call them my family now. The transition from playing is different. The pace, from development all the way to OCB and to MLS, so I have to keep working adapting to that.