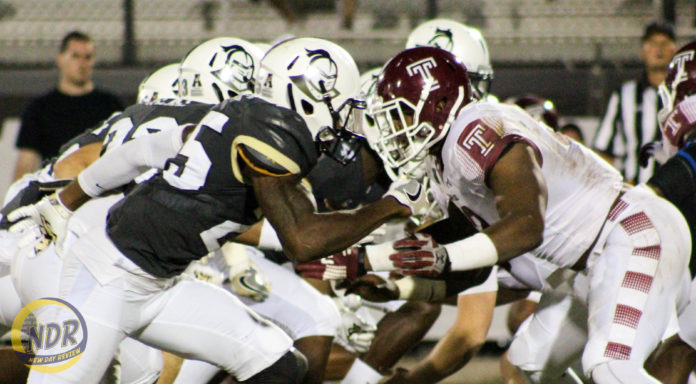 As the University of Central Florida (4-4, 2-2 in American Athletic Conference) embarks on its final four-game stretch, one area to focus on is its difficulties in finishing close games.
It's been a part of the growing pains that a young Knights team under first-year head coach Scott Frost has had to overcome. Through eight games, four have ended within a touchdown score or less with three resulting in losses, including a loss to Houston where UCF gave up a 21-3 halftime lead.
"Our biggest [message] is just being able to finish," sophomore receiver Tre'Quan Smith said at Monday's game-week presser. "Not being able to settle for what we did in the first half, but to come out and keep our foot on the gas.
"Even with teams that we probably know that we're better than… If we keep our foot on the gas, it can be a different outcome."
That mentality will be tested during a three-game homestand, which begins with a rescheduled meeting against Tulane University (3-5, 0-4 in AAC) at Bright House Networks Stadium on Saturday.
Prior to the postponement of their Week 6 matchup in the wake of Hurricane Matthew, UCF had totaled 100 points in back-to-back road victories. The Knights were turning the corner with a winning record. ,
But since losing to both the University of Temple and the Cougars after holding double-digit halftime leads in both games, a recurring theme that's been noticeable is the offense's sputters after jumping out to early scores. Consequently, UCF has failed to score more than 25 points in any of its last three games.
At Houston, the Knights tallied three rushing touchdowns in the first half off of four Cougars turnovers before derailing after the break. UCF was outgained 398 total yards to 195 and was held to 29 yards in the second half.
"We've gotta be detailed all four quarters, not just the first two quarters," redshirt senior receiver Taylor Oldham said. "Like Coach Frost has said before, we're young besides me and two other [senior starters on offense]… I think when you get up by the amount we did, maybe people tend to lay off the gas a little bit. We can't have four turnovers in 12 minutes."
In Monday's game-week press conference, Frost described the team's preservation of leads as unnatural but slightly typical for the makeup of a young roster.
"It's not really in our nature just to start grinding out and preserving a win with 12 minutes left in the third quarter," he said. "We definitely want to be smart. I don't think our offense is mature enough yet to think we're going to score 50 points against a team like Houston, so we need to balance out being smart with what we do and also doing what has worked to get us into those situations."
Despite the losses, offensive coordinator Troy Walters is confident the Knights' offense will circumvent those mistakes with another bounce-back performance against Tulane.
"We played the 23rd-ranked team in the country," Walters said. "We played a Temple team that's No. 1 in our conference right now, and we battled them—should have beat them. Just that fact, we're one of the better teams in the conference. When we've had a setback, we've had a tough game, we've always bounced back… We're not going to let one game get us down and carry over to the next game. That's encouraging, especially how young we are, that we keep bouncing back and finding ways to be successful."
But it hasn't just been the Knights who have dealt with their own growing pains. Tulane has dropped three in a row after winning two straight since Hurricane Matthew swept up the Florida coast.
Despite boasting the No. 37 defense in the country (368.6 yards per game), the Green Wave's defense has begun to regress, allowing a total of 85 points in their last two games. Tulane is also finding trouble trying to close out tight games.
In Saturday's 35-31 loss to Southern Methodist University, the Green Wave held a 10-point lead in the fourth quarter before giving up two late touchdowns.
"I'm sure they're going to come in upset about the way they lost last week, just like us, so I expect it to be a battle," Frost said. "We've got to continue to be creative on offense to move the ball… A lot of the detail and effort that was missing at times on Saturday, we need to find that again to make sure we can be more consistent on offense."
UCF leads the all-time series 5-2, including a 3-0 mark at home. The Knights have lost both games by scores of 10-9 and 45-31.
"I think it's big for us that we're not leaving the state of Florida for our last four games," true freshman quarterback McKenzie Milton said. "It's going to benefit us a lot, not being jetlagged and stuff like that. We're ready to get after the teams we play."
Kickoff is slated for 5 p.m. on Saturday at Bright House Networks Stadium and will be broadcast on ESPN3.