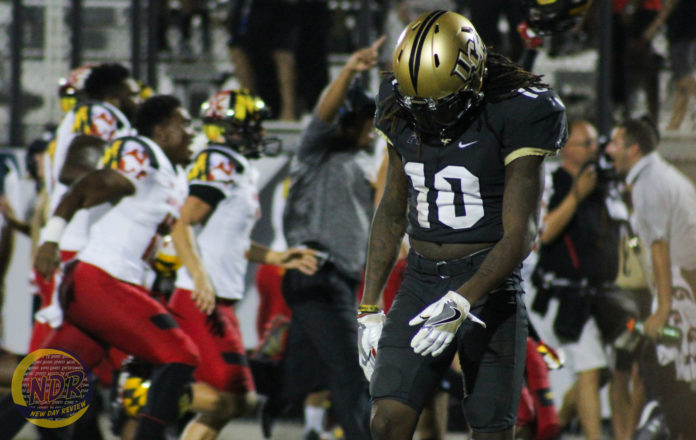 Game Recap
It was a tale tale of two halves for the University of Central Florida. The Knights (4-4, 2-2 in American Athletic Conference) held a 21-3 halftime lead, but UCF ultimately suffered a 31-24 loss to the University of Houston (7-2, 2-4 in AAC) at TDECU Stadium Saturday afternoon.
"We had them where we wanted them at halftime," UCF head coach Scott after the game. "Every message every guy was talking about was finish them off. We just didn't do it… I thought they made a bunch of mistakes in the first half… The last thing you want to do against a good team is return the favor."
It was the second time in three weeks that the Knights surrendered a sizable halftime lead before deteriorating in defeat. Against the University of Temple, the Knights were stunned by a last-second touchdown.
UCF began with a revival of their running game that had been idle over their last two contests, totaling only 169 yards. True freshmen Adrian Killins and Jawon Hamilton and senior Dontravious Wilson accounted for one rushing touchdown each in the first half, giving UCF the 21-3 halftime lead.
The Knights defense forced Houston into four turnovers, but Cougars quarterback Greg Ward Jr. would spring his team back into contention in the second half. The senior quarterback finished with 240 yards, a touchdown and three interceptions on 26-for-37 passing, including two rushing touchdowns.
After scoring three touchdowns in the first half, it was the Knights' offense that faltered in the second half, recording only 29 total yards after the break. For sophomore receiver Tre'Quan Smith, these types of games are about finishing.
"I'd say that's all on us," Smith said after the game. "We have to be able to finish no matter what Houst do. We have our game plan, and we have to stick to our game plan, and, you know, we have to finish."
Ward's resurgence in the second half was capped off by a go-ahead, 14-yard scramble for a touchdown with 7:27 left in the fourth quarter.
Meanwhile, Smith (13 receptions for 137 yards), senior cornerback D.J. Killings (two interceptions) and redshirt junior linebacker Shaquem Griffin (14 tackles, three tackles for loss, 2.5 sacks, an interception and a fumble recovery) all had career days.
As for the true freshman quarterback McKenzie Milton, he threw for 155 yards Saturday but turned the ball over three times, including two interceptions and a lost fumble that led to Houston's game-tying drive in the fourth quarter.
"Turnovers killed four drives," Frost said. "It seemed like we had a negative play on first down a lot in the second half."
The Knights also failed to convert on two of their 14 third-down attempts while they allowed Houston to convert 11 of their 20.
UCF falls back to .500, which remains an improvement, considering where UCF was last year. For Frost, Saturday's game is still something to be proud of.
"I don't want anybody on our team hanging their head," Frost said. "If you look at these two teams we've played the last two weeks and the scores and where they were in comparison to UCF's program last year, it wasn't even close. We beat UConn on the road and come down here and have Houston on the ropes. These guys can't forget what they've accomplished."
Player of the Game: Greg Ward Jr.
The Cougars senior quarterback reversed his three-interception, first-half performance to rally Houston to erase a 21-point deficit. He accounted for three of the Cougars' four touchdowns during their second-half comeback off four UCF turnovers. Ward delivered touchdown runs for one and 14 yards, as well as a six-yard pass to sophomore receiver Romello Brooker.
What's next?
UCF returns home to host Tulane University (3-4, 0-3) Saturday at 5 p.m. for their fifth AAC game of the season, which was rescheduled due to Hurricane Matthew. The Green Wave lost to the University of Tulsa 50-27 on Oct. 22.
Scoring
| | | | | |
| --- | --- | --- | --- | --- |
| Time | Team | Play | PAT | Score |
| Q1, 9:16 | University of Central Florida | Adrian Killins, 6-yard run | GOOD | 7-0, UCF |
| Q2, 9:20 | University of Houston | Ty Cummings, 31-yard FG | n/a | 7-3, UCF |
| Q2, 3:06 | University of Central Florida | Dontravious Wilson, 1-yard run | GOOD | 14-3, UCF |
| Q2, 1:14 | University of Central Florida | Jawon Hamilton, 28-yard run | GOOD | 21-3, UCF |
| Q3, 13:05 | University of Central Florida | Matthew Wright, 41-yard FG | n/a | 24-3, UCF |
| Q3, 9:49 | University of Houston | Greg Ward Jr., 1-yard run | GOOD | 24-10, UCF |
| Q3, 5:40 | University of Houston | Greg Ward Jr. to Romello Brooker, 6-yard pass | GOOD | 24-17, UCF |
| Q4, 12:55 | University of Houston | Duke Catalon, 12-yard run | GOOD | 24-24, T |
| Q4, 7:27 | University of Houston | Greg Ward Jr., 14-yard run | GOOD | 31-24, HOU |
Statistics
Passing
| | | | | | | |
| --- | --- | --- | --- | --- | --- | --- |
| Player | Team | Completed | Attempts | Yards | TDs | INTs |
| McKenzie Milton | University of Central Florida | 19 | 33 | 155 | 0 | 2 |
| Greg Ward Jr. | University of Houston | 26 | 37 | 240 | 1 | 3 |
Rushing
| | | | | | | |
| --- | --- | --- | --- | --- | --- | --- |
| Player | Team | Carries | Yards | Average | TDs | Long |
| Jawon Hamilton | University of Central Florida | 8 | 23 | 2.9 | 1 | 28 |
| Adrian Killins | University of Central Florida | 3 | 6 | 1.6 | 1 | 6 |
| Dontravious Wilson | University of Central Florida | 7 | 4 | 0.6 | 1 | 5 |
| Duke Catalon | University of Houston | 19 | 82 | 4.3 | 1 | 19 |
| Dillon Birden | University of Houston | 11 | 76 | 6.9 | 0 | 46 |
| Greg Ward Jr. | University of Houston | 17 | 15 | 0.9 | 2 | 14 |
Receiving
| | | | | | | |
| --- | --- | --- | --- | --- | --- | --- |
| Player | Team | Receptions | Yards | Average | TDs | Long |
| Tre'Quan Smith | University of Central Florida | 13 | 137 | 10.5 | 0 | 25 |
| D'Eriq King | University of Houston | 4 | 55 | 13.8 | 0 | 20 |
| Steven Dunbar | University of Houston | 5 | 52 | 10.4 | 0 | 20 |
| Romello Brooker | University of Houston | 1 | 6 | 6.0 | 1 | 6 |