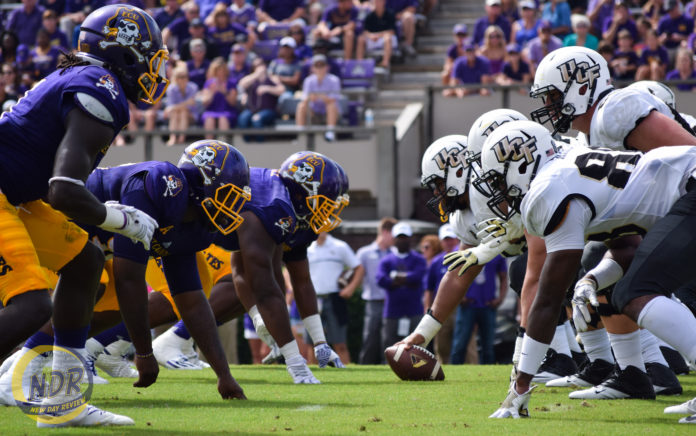 ORLANDO, Fla. – The University of Central Florida's offensive line was a weak link on a Knights team that plummeted to a winless campaign in 2015. This season, that inexperienced, freshmen-led unit has turned the corner, invigorating new life for a new, high-powered Knights' offense. That line is coached by new offensive-line coach Greg Austin.
"Everyone is buying in, honestly," senior offensive lineman Jason Rae said. "They don't want to go through what they went through last year. That feeling wasn't good for us, so I think with this new coaching staff, especially Coach Austin, [we've] learned so much from him. You can see the difference from last year to this year."
That difference has shown in multiple ways, but the most significant impact has been seen in the team's revival of the rushing attack. Through eight weeks, UCF is ranked No. 51 in the nation, averaging 321 rushing yards per game—a steep climb from last season where the Knights ranked 126th out of 127 FBS teams in yards per game (81.25).
Austin said the success of his unit can be attributed to the challenge the Knights defense provides in practice. For him, his offensive-line unit is facing the best defense at stopping the run. UCF's run defense is currently ranked No. 36 in the nation, allowing 133 yards rushing yards per game.
"Our defense is one of the best defenses we go against," Austin said. "Any success that we have can be traced back to the fact that our defense gives us as good a luck as anybody."
That improvement in the run game is evident with the Knights rushing for five touchdowns against Florida International University, more than they had all of last season (four). And one week later, the Knights broke the 1,000 rushing-yards mark, which they couldn't eclipse last season. UCF was the only Division I program not to do so.
However, it's been a challenge keeping up with the defense's intensity at times. If anything, Austin thinks that's been beneficial.
"They are a strong unit on this team right now," he said. "It happens like that on every team… There's one unit that's gonna edge the other unit in terms of productivity."
For Austin, the ideal practice comes when both units are trading blows.
"To me, that's a pretty damn good practice," Austin said. "It's been like that since I've been here."
Rae, the only senior starter on the Knights' offensive line, emphasized that none of his teammates have dreaded practice the way they did last year.
"Austin brings a different perspective to the game that I like a lot," Rae said. "It's not just about football. He'll start meeting off doing something totally off-topic to get our minds going. A lot of guys like that stuff. We just feed off of it."
As a former understudy of Philadelphia Eagles offensive-line coach Jeff Stoutland and University of Oregon offensive-line coach Steve Greatwood, Austin has used his past experiences to become what UCF head coach Scott Frost has called "the best offensive-line coach for the Knights' new scheme.
Although, there have been some struggles along the way. In Week 8 against the University of Temple, UCF gave up seven sacks en route to a 26-25 homecoming loss.
But it's not just the run game that's been a success. When it comes to throwing the ball, the Knights are just as capable of putting up big numbers too. That's what they did most recently in a 24-16 win over the University of Connecticut in Week 8, as true freshman quarterback McKenzie Milton threw for 317 yards and three touchdowns.
"When we get this thing looking the way we want it to look offensively, then hopefully we can consistently match [the defense's] intensity and get this thing going the right way," Austin said. "Our intention is a balanced offense… I want both of them to be competitive advantages for us. I want them to be just as scared of us in the pass as they are on the run."
UCF travels to face the University of Houston for a game on Saturday at noon.