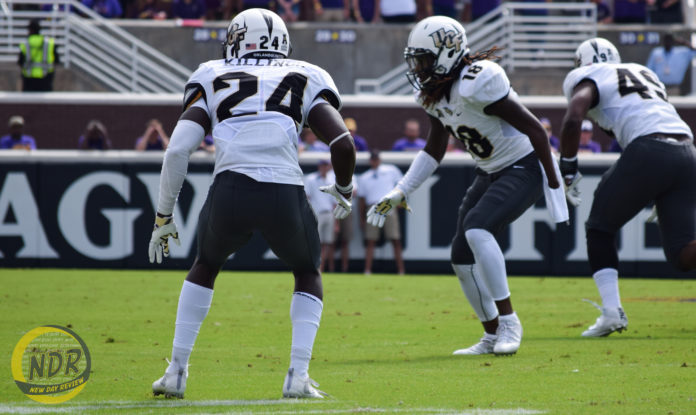 1. D.J. the Drawer
As a little kid, senior cornerback D.J. Killings grew up watching some of his favorite cartoon shows like Scooby-Doo, Rugrats and Rocket Power. He also admired watching his grandfather paint and draw. When he first attempted a sketch during the middle of a class lecture, he was pretty amazed by his own standards.
"I think it was just inherited in me," Killings said. "I was supposed to be paying attention to the teacher. But I got a little bored, and I just started drawing. And I was like, 'Oh, I can draw.' I just kept it going."
Today, Killings has focused on drawing portraits of his favorite musicians; though, he says he's been horrible at it so far.
"I'm really bad with faces, so I can't really do people yet," said a laughing Killings, who recently challenged himself to draw Bob Marley. "It didn't come out how I wanted it to. It looked like just a plain face."
However, Killings maintains he's going to continue to practice so that one day you might find him outside drawing portraits of people just for fun.
2. Following Darrelle Revis, Larry Fitzgerald
Killings admires the technique of New York Jets cornerback Darrelle Revis' techniques.
"[Revis] is not a 4.3, 4.2 guy, but [his] technique keeps him in receivers' faces," Killings said. "It keeps him in the game and makes him the player that he is."
Beyond his skill position, Killings recently began to admire Arizona Cardinals receiver Larry Fitzgerald. Killings tries to pick up Fitzgerald's habits of being detail-oriented.
"He's very precise with everything he does," Killings said. "He already knows he's a future Hall of Famer and [has] plenty of records, but he still plays and practices like he just got in the league."
3. A Scripture for the Game
Since high school, Killings and his cousin used to read a scripture from the Bible and jot it down on a sheet of paper before folding it and sticking it inside their pads.
"Some days, I just open it, and then boom. Just write," Killings said. "Whatever I feel like touches my spirit and touches my soul for that day."
Nowadays at the University of Central Florida, especially when the Knights are traveling on the road, Killings will have them ready right before he gets to the stadium when he's at the team's hotel. Senior quarterback Justin Holman and redshirt senior defensive back Drico Johnson have also followed suit. Killings' favorite scripture is Psalms 51.
4. Future in Football
As a human communications graduate, Killings hopes after his NCAA eligibility is over that he can pursue a career somewhere in the game of football. While his dream job and goal is to make it into the National Football League, Killings intends to find a career that allows him to visit new places.
"I definitely wanna stay in football," Killings said. "Even if it's just being a sports analyst catching the stories, even being a scout for a team. I think I gotta stay [in it] just to keep my day going."
Killings would also be open to the idea of coming back to UCF later in his career to give back to the place that gave him the best four years of his life.
5. Hopeful Traveler
From walking across a bridge in Minnesota where he encountered foxes, bison and snakes to visiting metropolitan cities like Philadelphia, New York City and Washington D.C., it's apparent Killings has a passion for traveling.
Although he gets to be on the road during the season, Killings likes to call those his business trips, including the trip to Dublin, Ireland, in 2014 for the Croke Park Classic. For his "real trips," Killings is a wildlife enthusiast, who has a bucket list in which he plans on venturing out to the Galapagos Islands, Madagascar and South America. Killings wants to spot a lion.
"That's my symbol. I'm a Leo," Killings said. "They represent courage, heart, strength, protectiveness and family."