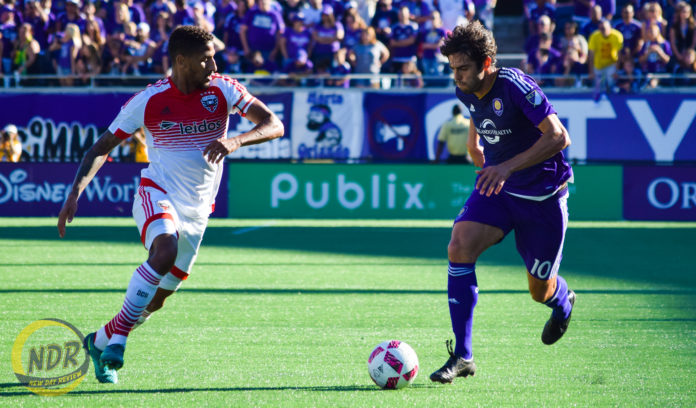 Match Recap
Orlando City SC head coach Jason Kreis opened his team's post-game press conference with a smile because his family said he doesn't smile enough. Of course, a 4-2 win over D.C. United (11-10-13, 46 points) in the Lions' (9-11-14, 41 points) season-finale and last game in Camping World Stadium helps, too.
"First I need to say something. A lot of people in my family have now told me that I never smile, so I went everyone to get cameras out and take a picture of this smile," Kreis said after the game. "Obviously very, very pleased with the performance."
No less than five minutes after halftime did Orlando City take a commanding 3-1 lead. In the 50th minute, Cristian Higuita initiated the two-man game between himself and team captain Ricardo Kaká. A pass-and-cut move freed up the Colombian for Kaká to lead Higuita down inside the right part of United's box. Higuita took one touch and finished past the outstretched hand of D.C. goalkeeper Travis Worra.
Did that go in? I wasn't watching, did it go in? I didn't see it, could you tell me if it went in? pic.twitter.com/bdmT7jzTvJ

— Orlando City SC (@OrlandoCitySC) October 23, 2016
Scoring came quickly and early for the Lions. In the 13th minute, City right-back Rafael Ramos made an onside, cutting effort toward D.C.'s goal. Kaká launched a perfectly placed ball into the box for the Portuguese baller, who then found a middle-cutting Kevin Molino for the tapped-in goal.
Kaká continued the scoring run with a his solo goal in the 22nd minute when he one-touched the ball past United defender Sean Franklin and lightly chipped the ball past Worra. That gave the Lions the 2-0 lead.
Late-game substitute Júlio Baptista capped the scoring in the 89th minute when he was left unmarked at the top of the D.C. box. Higuita recorded the assist.
89′ GOOOAAAL! Baptista ends the season with a bang! What a day. #ORLvDC | 4-2 pic.twitter.com/btQtJXRLE6

— Orlando City SC (@OrlandoCitySC) October 23, 2016
But D.C. wasn't going away. After the Lions took a 2-0 and 3-1 lead, United scored to keep the game within reach. Álvaro Saborío and Kennedy Igboananike scored goals in the 43rd and 78th minutes for United, respectively.
Kreis attributed the two D.C. goals to complacency.
"We are still not a team that can handle any sense of complacency," Kreis said. "As you saw in the game today, we got to 2-0, and then there was a little bit of a sense of complacency. And then we got to 3-1, and there was a little sense of complacency.
"There's nobody will becoming back next year that can afford any sense of complacency."
Man of the Match: Ricardo Kaká
The Captain showed out in his final game at Camping World Stadium. His ball control throughout the game helped the Lions possess the ball for 60 percent of the match. The Brazilian finished with two shots (one on goal), a goal and an assist in 90 minutes of play.
.@KAKA with the chip, it's all in the hips. pic.twitter.com/WBn3UnTcrC

— Orlando City SC (@OrlandoCitySC) October 23, 2016
What's next?
The Future of Carlos Rivas
City midfielder Carlos Rivas started in the team's final two games. In the win over D.C., he found himself in top position in the 4-2-3-1 formation. Kreis thinks Rivas' efforts in training has earned him more opportunities than has been given this season.
"Carlos, for us, has had a really good mentality since we've gotten here," Kreis said. "He's a happy kid that is willing to work hard in the training sessions, is willing to try to do whatever we ask of him… So, really pleased to be able to give him these last two matches, and I think he's taken these chances quite well."
In the 2-0 win over Philadelphia and the 4-2 win over D.C., Rivas recorded 156 total minutes, six shots (one on goal) and a goal. As for the incalculable, Rivas has provided many opportunities with his rarely challenged speed and strength on the ball.
Since being eliminated from playoff contention after a 1-0 loss to the Montreal Impact on Oct. 2, Kaká has talked about the need for an overall mentality change with the team. In the team's final weeks of the 2016 season, Kaká saw that desired mentality in Rivas.
"I saw [the desired mentality] in the last games that Carlos played," Kaká said after the game. "He played very, very good, and he showed us that he wants to stay here, and he can be a very important player for Orlando City. Now he needs to understand that he can't this just for a period of the season. We need him for the whole season, and I hope this [offseason], he can be ready for the next season because he's an important player. He can help us next season a lot."
So, essentially, expect Rivas to be in purple in 2017.
Cristian Higuita Records 1st Goal, 1st Assist of Season
Higuita scored his first goal and recorded his first assist of the 2016 season in Sunday's win.
"I was like to get loose in the attack, and I appreciate that Coach lets me go in and step in and place us with my teammates, as well, like Nocerino," Higuita said after the game. "Coach had a really great conversation with me. He said that he really thinks I'm gonna be looking at getting more minutes."
About the desired mentality Kaká has emphasized: "I think you've seen a change in mentality across the board. It was a little too late, so at this point, we're just going to look at next season."
Though he played in significantly less minutes—approximately 800 minutes less than in 2015—Higuita says he thought he improved throughout the 2016 season.
"I think I go out there and really listen to the players and the coaches when I'm on the field, and it's just a matter of continuing that."
Scoring
| | | | |
| --- | --- | --- | --- |
| Time | Team | Goal-scorer | Assisted by |
| 13' | Orlando City SC | Kevin Molino | Rafael Ramos, Ricardo Kaká |
| 21' | Orlando City SC | Ricardo Kaká | Kevin Molino |
| 43' | D.C. United | Álvaro Saborío | Julian Büescher |
| 50' | Orlando City SC | Cristian Higuita | Ricardo Kaká |
| 78' | D.C. United | Kennedy Igboananike | Julian Büescher |
| 89' | Orlando City SC | Júlio Baptista | Cristian Higuita |
Statistics and Starting Lineups
| | | | | |
| --- | --- | --- | --- | --- |
| | Goals | Assists | Shots | Shots on Goal |
| Orlando City SC | 4 | 4 | 18 | 5 |
| D.C. United | 2 | 2 | 10 | 3 |
Orlando City SC starting XI (4-2-3-1): Joe Bendik (GK); Mikey Ambrose, Seb Hines, José Aja, Rafael Ramos; Antonio Nocerino, Cristian Higuita; Ricardo Kaká (C), Kevin Molino, Matías Pérez García; Carlos Rivas
D.C. United starting XI (4-1-4-1): Travis Worra (GK); Luke Mishu, Jalen Robinson, Kofi Opare, Sean Franklin; Rob Vincent; Lamar Neagle, Collin Martin, Julian Büscher, Kennedy Igboananike; Alhaji Kamara