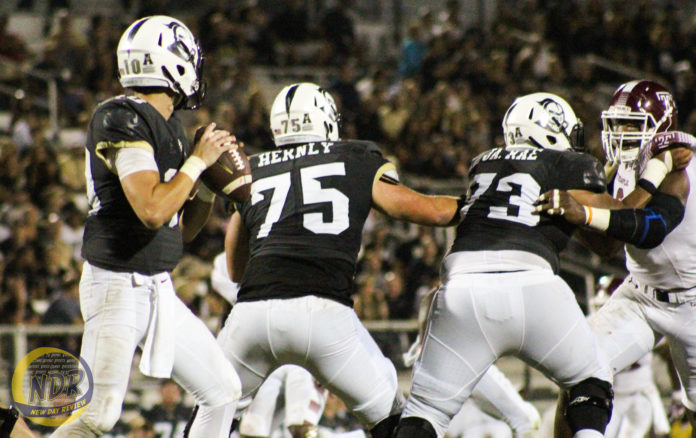 Game Recap
The University of Central Florida didn't let a surprise ending stun them again on Saturday in the second chapter of the Civil Conflict.
The Knights (4-3, 2-1 in American Athletic Conference) held on to win 24-16 over the University of Connecticut (3-5, 1-4 in AAC) on Saturday for their second conference victory at Pratt & Whitney Stadium.
"We were right there on the edge," redshirt senior linebacker Errol Clarke said. "I think we really wanted this one. We didn't want that sour taste in our mouth again from last week. I think that's what pushed us over the top."
UCF lost to Temple on a last-second touchdown 26-25 in Week 7.
UConn had two chances to send UCF into overtime within the game's final minutes. With just over three minutes remaining, senior receiver Noel Thomas dropped a pass in the right corner of the end zone on third down. Then, redshirt junior quarterback Bryant Shirreffs came up a yard shy on a fourth-down scramble.
After the Knights went three and out, the Huskies retained possession with a little over two minutes near midfield. Shirreffs connected quickly on a 31-yard pass to Thomas to put the Huskies back in scoring range. Four consecutive incompletions in the end zone thwarted any chance of a UConn comeback.
"Our whole thing was finish strong," junior linebacker Shaquem Griffin said. "Our problem was going out there and not being contempt… Instead of being in the sideline celebrating when the game is not over, we stayed ready, stayed striped up and answered the challenge."
But it was a sluggish start for UCF, which fell to an early 13-0 deficit in the beginning of the second quarter.
After junior running back Arkeel Newsome plowed through the end zone for a three-yard rush to give the Huskies their only touchdown of the day, it was then that UCF's offense responded with two scoring drives to tighten the Huskies lead to 16-14 by halftime.
The Knights came alive in the second quarter under true freshman quarterback McKenzie Milton. The 19-year-old found true freshman receiver Dredrick Snelson for his first-career touchdown grab.
The Hawaii native followed it up with his second score, marching 93 yards to strike redshirt sophomore tight end Jordan Akins in the right corner of the end zone corner on a 19-yard pass.
"It was big… Jordan Akins made a fantastic play," UCF head coach Scott Frost said. "He's a big-time athlete and as good of a guy with a ball in the air and going up and getting it as I've ever known… That really set us up for the second [half]."
On the first drive of the second half, Milton continued the Knights' scoring run with a 39-yard touchdown pass to true freshman running back Adrian Killins. That was UCF's third-consecutive scoring drive of more than 70 yards for UCF in their 21-3 run.
"[Milton's] a guy that's not afraid to take risks, and a guy that wants to win," Clarke said. "That's McKenzie. We got our own little Johnny Manziel."
UCF added to their lead on redshirt sophomore kicker Matthew Wright's career-long 50-yard field goal early in the fourth quarter to give UCF an eight-point lead. Griffin led the Knights with 10 total tackles with ten total tackles, and Clarke added nine tackles of his own while notching the only sack for UCF.
The Huskies' final points came on a 35-yard field goal by redshirt senior kicker Bobby Puyol.
Newsome rushed for 101 yards on 21 carries, and Thomas had his fifth straight 100-yard receiving game for UConn while catching nine passes for 165 yards.
"I think our players have been through a lot after the past week, after how the last game ended, and I can't say enough about their character," Frost said.
Player of the Game: McKenzie Milton
The true freshman quarterback's three-touchdown performance was his third triple-touchdown game in four starts this season. Milton fought through the Knights' early struggles in the first quarter, cutting UConn's early 13-0 lead with two scoring touchdown drives before heading into the half. The Hawaii native gave UCF its first lead of the game to open up the second half with his third passing touchdown. Milton finished with a career-high 317 yards on 29-for-43 passing while adding another 25 yards rushing on Saturday. His 317 passing yards were also the most since senior quarterback Justin Holman threw for 336 yards against Temple in 2014.
What's next?
UCF will visit the No. 11 University of Houston Cougars (6-1, 3-1 in AAC) for their fourth AAC game of the season. The Cougars defeated Tulane University 38-31 on Oct. 15.
Next Man Up
Taking advantage of an increased role due to sophomore receiver Tristan Payton's one-week suspension, Snelson had a breakout game in which he recorded first-career touchdown reception.
The 6-foot-1, 195-pound receiver finished with a season-high five catches for 63 yards after leading up to Saturday's game just totaling just three receptions for 44 yards.
"We've been kind of waiting for Dredrick to put it all together and have his big day," Frost said. "I hope this carries him forward."
A 2015 Under Armour All-American and four-star recruit (ESPN and Rivals) coming out of Flanagan High School, Snelson led his high school to the 2015 FHSAA Class 8A state title before committing to UCF.
"I was trying to prove to myself that I can come in and play as a true freshman," Snelson said. "They gave me the opportunity, and I took advantage of it… It was a joy."
The Miami native became one of three true freshmen on the Knights offense to record touchdowns, a trend he believes will only continue over the years with increased chemistry.
"This program is going straight to the top," Snelson said. "McKenzie is a great quarterback and gets the ball into playmakers' hands. And as a team overall, we're gonna keep building."
Scoring
| | | | | |
| --- | --- | --- | --- | --- |
| Time | Team | Play | PAT | Score |
| Q1, 9:01 | University of Connecticut | Bobby Puyol, 22-yard FG | n/a | 3-0, UConn |
| Q1, 3:29 | University of Connecticut | Bobby Puyol, 33-yard FG | n/a | 6-0, UConn |
| Q2, 9:41 | University of Connecticut | Arkeel Newsome, 3-yard run | GOOD | 13-0, UConn |
| Q2, 6:50 | University of Central Florida | McKenzie Milton to Dredrick Snelson, 22-yard pass | GOOD | 13-7, UConn |
| Q2, 1:25 | University of Connecticut | Bobby Puyol, 35-yard FG | n/a | 16-7, UConn |
| Q2, 0:01 | University of Central Florida | McKenzie Milton to Jordan Akins, 19-yard pass | GOOD | 16-14, UConn |
| Q3, 12:27 | University of Central Florida | McKenzie Milton to Adrian Killins, 39-yard pass | GOOD | 21-16, UCF |
| Q4, 14:15 | University of Central Florida | Matthew Wright, 50-yard FG | n/a | 24-16, UCF |
Statistics
Passing
| | | | | | | |
| --- | --- | --- | --- | --- | --- | --- |
| Player | Team | Completed | Attempts | Yards | TDs | INTs |
| McKenzie Milton | University of Central Florida | 29 | 45 | 317 | 3 | 0 |
| Bryant Shirreffs | University of Connecticut | 18 | 34 | 242 | 0 | 0 |
Rushing
| | | | | | | |
| --- | --- | --- | --- | --- | --- | --- |
| Player | Team | Carries | Yards | Average | TDs | Long |
| Dontravious Wilson | University of Central Florida | 11 | 57 | 5.2 | 0 | 30 |
| McKenzie Milton | University of Central Florida | 8 | 25 | 3.1 | 0 | 10 |
| Arkeel Newsome | University of Connecticut | 21 | 101 | 4.8 | 1 | 21 |
| Bryant Shirreffs | University of Connecticut | 13 | 49 | 3.8 | 0 | 11 |
Receiving
| | | | | | | |
| --- | --- | --- | --- | --- | --- | --- |
| Player | Team | Receptions | Yards | Average | TDs | Long |
| Taylor Oldham | University of Central Florida | 4 | 72 | 18.0 | 0 | 40 |
| Dredrick Snelson | University of Central Florida | 5 | 63 | 12.6 | 1 | 22 |
| Jordan Akins | University of Central Florida | 5 | 54 | 10.8 | 1 | 21 |
| Adrian Killins | University of Central Florida | 3 | 36 | 12.0 | 1 | 39 |
| Noel Thomas | University of Connecticut | 9 | 165 | 18.3 | 0 | 33 |