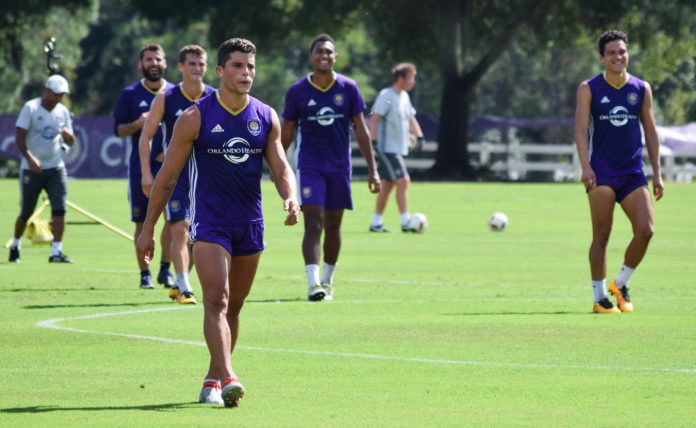 Oct. 20, 2016 at Camping World Stadium
Availability: HC Jason Kreis, MF Ricardo Kaká
HC Jason Kreis
Kreis was the head coach of New York City FC in Orlando City SC's inaugural Major League Soccer game and the club's first game in Camping World Stadium on March 8. That game ended in a 1-1 draw on a late, match tying goal by Ricardo Kaká. Kreis will now be the coach for the Lions in their last game in Camping World Stadium.
To me, I think this stadium has a little bit more stadium than [the two Major League Soccer years], as well as this club has a little more history than just the beginning of last year. I think what's interesting is what I've been thinking about is I think there's a lot more that's gone on here and been built here than even I know about. And so I'm looking for being a part of and watching some of the stuff that happens before the match on Sunday about the history of this club. I'm honored to be continuing on that history.
On Thursday, the Lions practiced inside Camping World Stadium for the first time since March.
I think we wanted to have an event here to finish off the year and show that this place has been important for this club and to show our appreciation to some sponsorship. Both those things came together, and we would train here. It's always nice to train in the stadium. You get a little bit of a different vibe here.
Orlando City will host No. 4 D.C. United on Sunday at 4 p.m.
It's a good team. When we played them last time, they were in a little bit of a tough patch, coming out of it to now a team that's got a ton of momentum. I think they've won their last four matches in a row—something like this. So, it'll be a big challenge for us. But to me, it's important, the opponent. What's important is how we finish. What's important is how we represent ourselves, and what's important is how we represent this club and these fans. These fantastic fans and this community deserve better from us. I hope to give them that on Sunday.
Kreis said after his team's 1-0 loss to the Montreal Impact that he wanted to make sure he and his staff gave every player an opportunity to be critically evaluated heading into the offseason.
Pretty good starting point last week and now needs to be continued this week. It's one thing to have a good game. It's another thing to start to put games together. It's the best teams in our league that can go on runs. It's the teams that are at the top of the table that collect up points week in and week out. They're able to put together stretches of good performances and stretches of wins in a row. So we'll see if our group can do the same this weekend.

I think I've got a real firm evaluation on all the players. I don't think there's any player in the first team that hasn't played a first-team match, been involved in an A-team [game] or played full matches for the B team. So we use all of those things, as well as the training sessions to evaluate the players. It's not always about the starting lineup or coming into an MLS game. It's what you do every single day that matters.
The Lions defeated the Philadelphia Union 2-0 in their final away game of the season.
I won't talk about individual players. As I said, last weekend's performance, I was pleased with everybody that contributed, whether they started the match, whether they came off the bench, or whether they just contributed to the training sessions during the two weeks leading up to that match. Everybody on this team, every member of this team is equally as important in my mind.
This season, Carlos Rivas played 724 minutes, scoring three times and recording four assists in 20 games (seven starts).
We shall see [if Rivas will have an expanded role in the 2017 season]. First we have to answer the question of whether Carlos Rivas will be back with us next year, and then we'll answer the question about whether or not he'll be in the starting lineup or not. For me, those types of decisions are made on a week in, week out basis about starting lineups. So I would never say right now this player's a starting player next year or not a starting player. For me, they're just a member of our Orlando City Soccer Club.
City midfielder Ricardo Kaká said after his team's 1-0 loss to the Montreal Impact on Oct. 2 that the biggest change needs to be with regard to the team's mentality.
Well I think first and foremost you have to have a large of group players that are willing to give anything, that appreciate winning more and that really get angry about losing. When we have a higher number of those types of players that are extremely competitive or take a ton of pride in what they do every single day, then you have real competition for starting positions every single weekend.
Orlando City hired Kreis on July 19.
I don't think there'll be much time off [during the offseason]. The best part of that is that this coaching staff, myself and [assistant coaches] C.J. [Brown] and Miles [Joseph], had time off before. So I don't think we'll need too much time off at the end of the season. We're going to go right to work and see about making these decisions and see about how we move forward.
Kaká is 34 years old.
Ricky's talent, I think he must be an extremely hungry player right now. I've spoken to him, I know that for a fact that he would never want to finish his career on this type of note, on being part of a team, a big part of a team, that would miss the playoffs next year. So it will be a big objective for his, as it will be for every member that's here next year.

I'm not really too concerned about extra pressure or extra motivation. Like I said, if that sort of motivation isn't intrinsic in the player, then we need to remove them. We need to be looking for other players that have that motivation intrinsically in them. We shouldn't be looking to Ricky to say, "Oh, I want to do something extra because this might be Ricky's last year," or what have you. They should have the motivation within them to be hungry and to improve their career themselves and to be part of a winning team. That should mean something, especially going next year into what's going to be an absolutely fantastic stadium with an, as we know, absolutely fantastic crowd. We need to begin to represent ourselves and give the fans what they deserve here.
On Friday, Oct. 14, the Lions played mini-games during training.
For me, it's also important to keep the right mood around the group, to keep people happy. I truly believe that happiness means something. I think people perform at their best when they have a certain level of comfort and a certain level of enjoyment about what they're doing. So there are days over the year we'll always look to have a little bit of fun mixed in with a little bit of competition as well.
Sunday's match against D.C. United will be the final time Orlando City SC plays in Camping World Stadium before moving to its own soccer-specific stadium for the 2017 MLS season.
I think it's very important for us finish the game, finish the season winning. So we played last game, we won. So we have the opportunity to finish the [season] in a good way, at home. So, thank you for everybody who support us this year here in the Citrus Bowl, and next year we have our stadium. Our supporters are gonna have this opportunity to have our own stadium. So thank you very much for everybody, and, for the team, good luck, and we need this win.

I think every game is a special memory, but I have a very good memory against [the Los Angeles] Galaxy when we won. They won, I think, the championship that year, so that team was here. It was very good. And the first game of this team in MLS was very, very good. Full stadium, and everybody was here supporting us. That's two memories [that are] very special for me in this stadium.
The Lions have only played D.C. United once this season, losing 4-1 on Sept. 24 in D.C.
We are good. We are confident after our last game against Philadelphia. So I think we deserve this win and also our supporters deserve this win.
After the team's 1-0 loss to the Montreal Impact on Oct. 2 that effectively eliminated the Lions from playoff contention, Kaká said the biggest change needed to be in the team's mentality.
I think the most important change that we need for the next season is our mentality. So we need to have a winning mentality, and this changes a lot of things. It's different when I want to just win, and when I want to sacrifice something for winning. So this is what I expect for the next season—for the players, for the staff—that we really want to sacrifice something for our targets.

In my opinion, the club needs to put some targets, some goals for the team. And the coach to put some goals, put some inside competition. I think it's fair, and when it's fair competition, it's very good for everybody. Put some pressure on us, and I think this is something that we need to improve to get better for the next season. And when we are ready to challenge our selves, we are good and ready to challenge the others.

[Seeing how the team will look on the roster and tactically] is something that we have to wait. This period now, offseason, the coach is going to work on that—the club. The players, who's gonna leave, the players, who's gonna come. So we will see that, but I think the last games, Jason showed us a little bit what he wants and what he expect for the next season.
Kaká is now 34 years old, nearly nine years older than the average MLS player. This season, the Captain has played 1,865 minutes, recording eight goals and eight assists in 23 appearances (22 starts).
I'm ready, and I wanna win every game. Unfortunately this season, I had a few injuries. Small injuries, that took me some games, and I had to stay away from few periods, but it's part of the game. This is something that I can't control. But for the next season, I'll try to get better and better and try to get the playoffs next season because stay out and watching the teams playing—in this moment, it's very hard for me.
This is the second-consecutive year that the Lions have missed the playoffs.
Let's think about the next year, and we will see after that whether I can go. So, next year [is important], I think, for this club, this stadium. So we are going to play in our own stadium. It's important for the players, for the supporters to feel that it's our home. And know that here, we feel that, but when the thing is yours, it's different than when you rent something. So, this is very good, and I'm happy to be part of this and happy to be here one more year, and we will see if I can play more than one.
Oct. 19, 2016 at Sylvan Lake Park
Availability: MF Antonio Nocerino, DF Rafael Ramos, F Carlos Rivas
Orlando City SC won its second-to-last game of the season and its final away game with a 2-0 victory over the Philadelphia Union.
Feeling good. It's a good feeling. It's a shame that we're not able to be celebrating entering the playoffs or anything like that, but we feel good, and it's gonna be nice to have our last game at home in front of our own fans.
City head coach Jason Kreis said he would give everyone a chance on his team to be critically evaluated heading into the offseason, following 1-0 loss to the Montreal Impact on Oct. 2.
Next year's going to be even better. Personally, I feel a lot better. I understand the culture here. I understand how things work, and I've got the coach's confidence and his belief. So I understand exactly what I need to do, what I need to be doing, and next year will be a better year.
Nocerino has played 1,419 minutes in 20 appearances (18 starts) for the Lions this season.
The first six months, horrible. Horrible because…my position. The confidence is important for players. The second time is better because I have confidence. It's very important for me because you have confidence [of] the club, the coach, the players. You look on the pitch, it's a total different player, no? For me, it's very important. The first six months is experience. I look [at it positively] because it's, for me, new experience. Six months before, I'm happy. I am very happy. Next season, you look [at] another player.
Following a 2-1 win over New York City FC on Aug. 28, Kreis said Nocerino and David Mateos rose as veteran voices on the team.
I have experience because I play big game. For me, [being a leader] not as important. My question: Is important to help the player, help the club, help the staff, help Jason? This is my priority. After, I don't know if leader or no leader. [Me helping] everyone is important.
This is the second-consecutive season the Lions have missed Major League Soccer playoffs.
The biggest thing is we have an incredibly opportunity playing in a brand new stadium. I think that's going to play a key role in this. We need a massive mentality change, which has been happening, in fact. Something big we're going to look at is these home games where we can't afford to drop points. We need to win at home. As I said, the opportunity with a new stadium will provide us the platform for that. We need to make our home ground essentially a fort. It needs to be a fort for us.
The Lions will play their home games in a new soccer-specific stadium beginning in the 2017 season.
[The new stadium is] looking beautiful. In fact, this is why I'm saying, for other teams, they need to come here with a fear factor. They need to come here and see that it's a hot stadium. This is our home. This is where we win where teams are afraid to approach, and that's why I said we need to change our mentalities and all of this, and we're going to play aggressively and make sure that we make this a fortress.
On Sunday, Ramos played in his first game since sustaining a hamstring injury on June 29.
It was a great feeling to walk out on the field with those guys again. I've been waiting for that moment for the past four months, so it was great.

I tried to do my best. Sometimes it doesn't go the way that you want to, but I fee like, yes, most of the things went the way that I wanted to. So, think I proved my point in that I'm here to the coach.

I'm going confident [this offseason] because the way that the people keep their mind is the way that it ends, and if I end in a good way, I go confident, and I come back confident to the start of the season.
Orlando City will play its final game at Camping World Stadium on Sunday after playing its first two MLS seasons there.
I don't know. I'll only be able to say that after the game because, for now, I'm not even thinking about it. I'm just thinking about the game, and I want to play one more game until the last of the season, and I want it to be a win, to finish the season in a good way.

We want to win the season the best way possible, and we want the last game…so we go with our minds clear to the offseason.

It's very important that we want to win the season the best way possible and show [the fans] that we're still here, and we will try to make the playoffs next year, and if we end the best way possible now, maybe they give us one more chance—they clear what happened.
Kreis was announced as City's new head coach on July 19.
[Kreis] told us that when he arrived at the club, the first meeting he told us what he wanted from us, and I think it will be the same thing for the next year. [He wants] guys that don't their face off to the fight. They want us to react always in a good way because people make mistakes, and it's the way that you react that makes you different.
The last time Ramos played, the team was playing a 4-2-3-1 formation. In his first game back since sustaining an injury on June 29, the Lions played a 4-4-2 formation.
In the [4-2-3-1], the wide midfield—they play a little bit more inside, so there is a lot of space for me. On this tactic, I think I have more help on the outside with [Matías Pérez García]. Mati is close to me, and that's the biggest difference because you have a little more support on the side.
When asked if he was the best right-back for this team, Ramos said that's not for him to decide.
That's the coach that has to say that. I'll try to do my best, and I'll try to prove him that I am, but he decides.
Orlando City has only played D.C. United once so far this season. On Sept. 24, the Lions lost 4-1.
We all really are pleased with our performance. Looking at this last game [against Philadelphia], I think we all went up there looking and thinking that we were going to get the good result, and that's exactly what happened.
In the 4-4-2, forward Cyle Larin and Rivas play at the top.
That's just another option for us to play in. I think it's a good alternative when we need it. I think [Cyle and I] do really well together, and obviously this past game showed that.
Rivas has played 724 minutes this season. Last season, he played 1,372.
I don't necessarily think I did that great mainly because I don't think I played a lot of minutes. I think for next season I just need to keep improving what I'm doing and hope to get those minutes and keep getting good results.