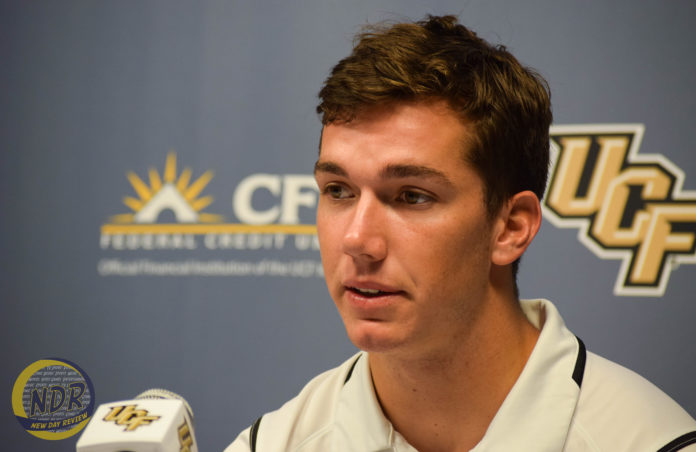 Oct. 18, 2016 at Wayne Densch Sports Complex
Availability: OC/WR coach Troy Walters, DC Erik Chinander, QB coach Mario Verduzco, WR Tre'Quan Smith
OC/WR coach Troy Walters
The University of Central Florida fell to Temple University in the Knights' homecoming game on Saturday 26-25.
[The players have] done a great job. Obviously, Saturday night was disappointing, frustrating, but we've had our best week of practice so far. Guys responded Monday with urgency, with readiness, they were prepared. They had just kind of an upbeat attitude to them which carried over to them today. We've had our best two days, and we gotta put that game behind us, and I told the group that we can't let one loss linger and make us lose another game and another game and another game. It's just one game. I'd like to have it back, but you can't. Gotta get ready for a good UConn game.
Knights offensive coordinator and wide-receivers coach Troy Walters was a fifth-round draft pick of the the Minnesota Vikings in 2000. Before that he played for Stanford University. He's coached offense at Indiana State University, Texas A&M University, North Carolina State University and the University of Colorado Boulder before coming to UCF.
It was [one of the hardest losses I've been a part of]. The guys played their hearts out. To lose it at the end—defense played so well all game and kept us in, and just to lose it in the fashion that we did was heart-wrenching. As a coach, you understand that's the territory, and sometimes those games happen. But we gotta make that make us better and learn from it and not have that feeling ever again.
The Knights suffered 110 penalty yards on 12 flags.
Still too many penalties. We can't have as many penalties as we had and beat a good team. And then when you have a chance to put a team away, you gotta put them away. We were up 25-7, defense intercepted the ball, we got the ball back, and even if we get a field goal in that situation, who knows what they're gonna do? But you give yourself a cushion, and we didn't put them away. We didn't make enough plays at the end to put them away. So, it's all about details, execution, and I think the guys know that, and they practiced hard this week.
UCF only possessed the ball five times in the second half.
One of the things was we didn't get the ball enough… They controlled the clock. When we did have the ball, penalties killed us. We'd drive and then have a penalty or have a turnover—just costly mistakes against a good defense. A team you're trying to put away, you just can't have that. They switched up defense a little bit, they pressured a little more. They made some plays on there, so we just gotta learn from it and get ready to go.
Offensive lineman Tyler Hudanick sustained an injury on Saturday's game against Temple.
They played hard. That's one of the better defensive line we're gonna play. We had an injury; Tyler got hurt, and so we brought some other guys in, and that's a good front seven. I don't think they regressed. Just one of those games where we weren't clicking on all cylinders, and we gotta come out this week and have a better week of practice and get ready for UConn.
The Knights were held to under 100 yards rushing for the first time this season.
[UConn has] a great front seven. I told you that Temple had a great front seven. These guys are just as good. We're gonna have to spread them out, we're gonna have to do some things in the pass game in order to create the running game. I think we got better in the pass game. We can still take it up another notch and another level, but we're definitely gonna have to throw the ball in order to beat these guys.
True freshman starting quarterback McKenzie Milton has thrown for 643 yards, five touchdowns and two interceptions and has also rushed for 44 yards and two touchdowns in his first year of collegiate football.
Just watch the games. He makes passes, he makes throws. He leads the offense. He does everything you ask. He has a lot of confidence, and we have a lot of confidence for him and behind him, and we know that he's a playmaker. And he's only gonna get better with each game, and we're looking forward to UConn and going up there. We know it's going to be a tough task on the road, but I think last week showed a little bit of what we can do in the pass game, and we gotta take the next step.
DC Erik Chinander
The Knights began preseason camp on Aug. 5, holding three scrimmages before ending on Aug. 20.
I thought it was one of the best practices we've had—definitely, in-season. [It] kind of mimics some of those we had in the preseason where we were playing at a high level. Guys have responded to adversity a little bit and came out and worked.
Two of UCF's 12 penalties against Temple were called for unsportsmanlike conduct on Saturday.

The discipline stuff, that's got to get corrected. That falls on me. That falls on the players. That falls on all the coaches. It's the same deal. We're turning around a program—an 0-12 program. You're asking guys to play as hard as they can to have a chip on their shoulder, to be tough guys, to give maximum effort. And, so, some of those things are going to happen. I don't want them to happen. We need to get it cleaned up, but when you're turning around a program, some things happen. But it's got to stop.

We always ask a lot out of them. But this week, the focus is little things add up to big things. If you're one minute late to a meeting, if you're one minute late to class, if you wear the wrong socks, if you miss lunch, if you do those kind of things—in the grand scheme of things, is that a big deal? No, but it all adds up. The same guys it happens to during the week, it happens to in game time. It's one of those amazing coincidences in life, but that thing needs to get fixed.
After Saturday's loss, the Knights (3-3, 1-1 in the American Athletic Conference) rank third in the East Division below Temple at No. 2 (4-3, 2-1 in AAC) and the University of South Florida at No. 1 (6-1, 3-0 in AAC).
No, I wasn't concerned [about any lingering effects after Saturday]. I know the way these guys think. I know their mindset. They were as hurt as could be on Saturday night. They were as hurt as could be on Sunday, as was I, but the sun came up. It's time to go back to work. We've got more work to do. This season is far, far from over. And we got a chance to be really, really good.
On Temple's final drive, senior quarterback P.J. Walker completed three consecutive passes of 20, 16 and 26 yards to press UCF up against their own eight-yard line, freezing the clock at 10 seconds before opting to run a play instead of spiking the football.

I didn't know what they were going to do. We got the call in. I think some of the guys probably thought they were going to spike the ball. We weren't ready to play. We have to be ready to play, no matter what. The thing was is Temple's receivers were moving all around. You watch the tape. They were moving all around when the ball snapped. It probably should have been a penalty, but that's no excuse for us. We've got to be ready to play when the ball is snapped. I don't think we were 100 percent ready, and it cost us.
During his postgame presser, UCF head coach Scott Frost mentioned that he came up to Chinander and asked if he wanted to call a timeout during Temple's final drive.
That's a learning situation. At the point when he asked me for a timeout, I didn't think we needed one. Maybe at the out-of-bounds play when the clock was stopped, maybe. But then you replay in your mind, maybe when they're going to go spike it, maybe call timeout. But if they don't get that play, then the game is over and everybody thinks you're a fool for calling timeout. It's damned if you do, damned if you don't.

Should we have called timeout? Yeah, maybe. Maybe when they went out out of bounds. Maybe we could have gotten some things adjusted. Maybe it wouldn't have hurt us. I don't know. That's a 50-50; hindsight is always 20-20. It would be great if we did and won the game. If we didn't win the game and we called it, then everybody would be saying how dumb we were for calling it.
UCF hits the road again to take on the University of Connecticut (3-4, 1-3 in AAC) for their third AAC game of the season and another Civil Conflict showdown. The Huskies were defeated by USF 42-27 on Saturday.
I don't know about the trophy. I know it's fun to get the trophy. I haven't been a part of this one yet… It's the next game. We need conference wins. We need to play as hard as we can for every conference win. Right now, we're a 3-3 ball club that's a couple plays away from being a 5-1 ball club, but we don't get them back. We need to get to 4-3. That's the main focus on our deal right now.

Huskies senior receiver Noel Thomas leads the team with 758 receiving yards, three touchdowns and an average of 108.3 receiving yards per game.
They've got huge guys up front. They're like 6-foot-5, 6-foot-6 across the board. They have a special receiver [Thomas]… He's caught a lot of balls. He's making things happen. I think their quarterback is a big, tough kid. More like a fullback runner. He wants to run it, but he's a tough runner instead of some of those guys. He's not like Johnny Manziel where he's going to shake and bake everybody. He's going to try to run you over. So I think he's a big, strong kid.

And their running back [junior Arkeel Newsome], he's a little thick guy. He's only 5-foot-8 or something, but he's 190 pounds, so he's a big, thick guy that you've got to get low and make some plays on him.
In the second half, the Owls controlled the time-of-possession statistic with 21:05 of possession (including 11:18 in the third quarter). That was more than double UCF's 8:55.
I don't know. Everybody says that [they were fatigued]. The defense might have been gassed. I don't care about that. We practice hard. We play hard. They did a good job of probably muddying the game up a little bit with big people and keeping us on the field. But we were getting off. I mean, they got a couple field goals; we got off the field. That's how the game goes. If you're going to be happy with three yards and a cloud of dust, you're going to be on the field a long time. We have to accept that. We have to get tough. We have to get physical. We have to stop them and move on.
The Knights held walk-on tryouts at noon on Tuesday inside the Nicholson Fieldhouse.
We're always looking to find a few more guys. The way we practice, we need a few more bodies to get that thing rolling and just take some hits off some of the other guys as we move through the season. Some of those guys, right now, are banged up at a few positions. You don't want to send some of your two and three deeps to the scout team. You'd like to find a couple more bodies to get fresh legs running against our DBs, so those fresh legs are running fast and those kinds of things. We're just trying to find a few more bodies to help us practice and help this program win.
QB coach Mario Verduzco
The Knights are 99th in passing offense this season with 195.3 yards per game. They've scored touchdowns via the pass only seven times.
I feel comfortable with [the passing game]. Obviously, just because we're all new, we're all learning, it's still a work in progress. Going back and thinking about how things were from spring 'til now, the guys have all grown. So, I feel really confident in it. And I'm getting more comfortable with what I know he can do and what he can see as is more importantly Coach Frost and Coach Walters.
Milton has only played in three college games so far.
Every experience for [Milton], every snap is new. There's no memory bank for him. From week to week, from team to team, like if this was his second time playing Temple, so on and so forth. But slowly by slowly, that's getting built up from practice and just the game experience. So, that part of his life is growing as well.
UCF receiver Tre'Quan Smith leads the Knights with 324 yards and four touchdowns through six games so far.
I don't have very much communication with the receivers. They're in great hands with Coach Walters. I don't have really anything to say to him. What I know is that group, and particularly our team as a whole, [not getting a lot of catches] doesn't matter. As long as they're winning football games, as long as we're productive, as long as we're growing as an offense and particularly as a team, they're fine with it. There's not a selfish bone in the whole team.
The Knights have passed for the 96th-most passing touchdowns through six games this season with seven.
[Relying on more of the pass game] was a big thing this week that our coach came in and talked to us about. He said, us as receivers, we really gotta get it going. We really gotta have a big game this Saturday with the passing game. We're looking forward to having a big game with the passing game, and when the passing game going, it's gonna open up the run game. So that's a big emphasis this week to do good on the passing this week.
Milton and Smith connected on a 55-yard touchdown pass on the opening drive of a 26-25 loss to Temple University.
My confidence is very high with [Milton] because he's confident with himself. He knows the offense. He's always calm and collected. He never let anything get to him. So seeing that from a freshman who just came in, you know, very calm, knows what he doing and he don't get rattled, that's very relieving as a receiver. So you know your quarterback just not going to throw the ball without going through his reads.
Smith won the 2015 AAC Rookie of the Year award for his true-freshman performance last season.
To be honest, it doesn't bother me at all because now everyone's coming together. We're winning games, you know. And the games that we did lose this year, it wasn't terrible losses beside for Michigan. They were very close games. As a team, we're just getting better and better each time. I would take the chemistry and the wins over any amount of catches. I'll take the chemistry over my catches.
The Knights are 33rd in rushing offense with 207.7 yards per game.
[Coach Walters] emphasizes [run blocking] a lot because without us blocking on the outside, the cornerback is free to come make a tackle. The running backs need us, and we need the running backs because when the running backs're hitting the hole, like on a play action, the DBs are biting, then we'll be open. And they need us so when we run routes and block, they need us to get past the defensive backs. So it's all a team chemistry. It's not a one-man game. You gotta play with each other and for each other.
Oct. 17, 2016 at Bright House Networks Stadium
Availability: HC Scott Frost, QB McKenzie Milton, LB Chequan Burkett
HC Scott Frost
The University of Central Florida suffered its third loss of the season in a 26-25 loss on homecoming to Temple University.
I think teams get tested all the time. I think this is a test of our character after that game. All the time, character doesn't show up very often when things are going right. Character shows up in times like this. And I like my team's character. I have no doubt how they'll respond. But that's a tough lesson to learn.
All season long, UCF head coach Scott Frost has preached that it's imperative for his team to have a good Monday practice to set the tone for the week of practice.
Today was our best Monday again. These guys hurt after the game. I hurt after the game. But there's no quit in these guys. Typically, this is how it goes when a team's not in the habit of winning. You get close, and you get close, and you don't win those games, and we had 40 chances to put that game away. I mean, I'm guessing, but dozens of chances to put that game away, and we didn't get it done. This team is gonna start figuring those things out and making the plays they have to.
On Saturday, the Knights had 110 penalty yards on 12 flags.
We're maturing all the time. Penalties are just one of the problems, but defensively, played a great game. If we hadn't gotten two unsportsmanlike penalties, maybe they don't score 14 in the first half. We would've had them third and nine on their own 20-something-yard line, and we gave them a first down, they go down and score. After we scored eight, we kicked it out of bounds and gave them 15 more free yards. They basically only had to go half a field to score. Those aren't the only problems. There's dozens of them, but those things need to get fixed, and that's on us as coaches to do it. It's also on the players just to demand out of each other that those things don't happen. Offensively, we had the ball inside their territory four or five more times after we had 25 points, and three of the times, penalties took us out of there and cost us from getting the score that would win the game. We intercepted a pass, ran it back to their 10 or something, got a dumb block in the back, and we didn't get any points off that drive. Those are the little things that championship teams don't do.

We talked about it for a long time this morning. I want these guys to know their effort is great. They've played good enough football to be 5-1 right now. The reason they're 3-3 and not 5-1 is we make too many mistakes that teams that aren't used to winning make. And that comes down to very small margins. This league this year, with me watching it, everybody's close. There's not gonna be a lot of 15-14 games in this league. Everybody is gonna give you a battle. So when the league's that close, the margin of victory is small, and our discipline is the little thing that we can do to close that margin and turn these into winning games.
In 2015, University of Connecticut head coach Bob Diaco created the Civil Conflict rivalry game between the Knights and UConn. UCF was unaware of the announcement and the trophy at the time of its announcement.
Before I came here, I was not aware of whatever they're calling the game. Listen, this is another game to us. Every single one of them is important. We're gonna prepare for this one like we've prepared for every one. I really expect our guys to come out and play a whale of a game.
After seven weeks of play, Temple University has the 54th-best rushing defense, allowing 149.9 yards per game.
It was just a strange game offensively I went back wondering if I could've called something different, done something better in the second half, and there's some things after watching the tape. You always find things that you could have called different. But we were in plenty good enough calls to get it done. It was kind of a strange game that we hit a lot of things early, and we hit on a lot of things that we game-planned. And we hit on some late, just not consecutively. We threw the ball well early. Then we had a couple series where we took a couple sacks in a row. That got me a little gun-shy from just throwing back and throwing. They had really good pass-rushers. Then we popped a couple runs, but we couldn't do that consistently enough to finish some of those drives. So we were kinda caught somewhere in between, and then we just didn't execute well enough on some other things. As well as things went for a quarter and a half, we had some things go against us down the stretch.
UConn has the 26th-best rushing defense, allowing only 129.5 yards per game.
Well the reason our rushing yards weren't over 100, first of all, was we took too many sacks. We had too many negative plays. That goes along with the penalties. UConn's really stout up front. That's kind of what they're built around. They have three really big guys on the D-line. The two-gap try not to give you too much room. Their backers fill fast. They got a lot of eyes on the football so they can get a lot of hats there when you run the football. Watching tape, it's tough sledding. Not a lot of people do damage to them right up the middle. So you gotta get a little creative to get it done.
True freshman quarterback McKenzie Milton finished with 210 passing yards, two touchdowns and an interception on 13-for-22 passing. He also ran for a 63-yard touchdown run in the second quarter.
McKenzie's healthy. Thought he played a good game. Couple little mistakes here and there that are inevitable when a guy is learning the position. Thought he did some really good things too. He'll be our going forward at UConn.
Though Milton notched a 63-yard scoring run, he finished with only nine rushing yards, as he was sacked seven times.
Listen, there's lessons our whole team is learning every single day. We've learned a lot of them already this year. Some were easy lessons to learn, some were really hard to swallow. Gotta remember, McKenzie's 18 years old, and a year ago, he was playing football at Mililani on Oahu. He's already doing great things at his age. Look forward to more great things. Said this before, when you've got a guy that's as creative as him and that's as good a playmaker as him, it's gotta be a gradual learning process because we don't want to stifle what makes him special. For every time that he tries to scramble around and make a play and gets sacked, there's one where he scrambles around and hits Tre'Quan [Smith] down field for a 40-yard gain. There's gotta be a balance there, and it's gonna be a continual learning process of when to try to be a superhero and when to be smart.
Knights linebackers coach Jovan Dewitt said his defensive leaders are linebacker Demeitre Brim and Mark Rucker.
The key for us is developing horizontal leadership. Guys on the team that hold everyone else accountable; guys on the team that get everybody else going, that get guys going focused at the right times. It can't all come from me. If you have a completely top-down approach to your leadership, then it's one voice, and when that guy's not around, whatever happens happens. I talked to the guys a long time about the culture they're developing here, and I want guys to hold each other accountable. If there's something wrong on the team, our team needs to fix it. That's when you empower a football team and players. We're getting there. We're not there yet. If I'm in the middle of calling plays, and somebody's doing something wrong or needs to have somebody fix what they're doing, I can't do it. That's when it needs to come from our leadership. And we got guys that are learning how to do that, but this whole thing is a process.
The Knights are now .500 again after starting the season 1-2.
There's a lot of lessons to learn from that game. I wish we could've learned them having won. If we win the game, score one more time or hold them at the end, there's still lessons we can learn. Defensively, I think we played hard the entire game. We just need to be smarter. Offensively, we need to be smarter. I think there might have been a little bit of a let-up when we were up 25-7. Not a big one; it's not like they quit playing. I've been on teams—when you get up like that, and the chance is there to squash them, you finish it. And it's over early. I know how long it's been since the players on this team have been up by 18 points in any game, much less that early—that's a lesson that we need to learn. When you get a chance to finish somebody off, you gotta do it.

I always go back and look what I could've done different. And, you know, we were calling the same stuff. We made adjustments like we always did. The second-to-last drive we had—when I went to bed Saturday night, I was wondering if I couldn't have taken a little more time off the clock there. But there was six minutes-plus left, we had eight and a half yards on a first down, and I tried to run a tempo play to get the first down and keep the drive rolling 'cus I figured we needed a few of them to run out the clock. In hindsight, we need only nine more seconds off the clock. That would've been an easy decision to make. But at the time, I think that was a good decision. More than anything, our leadership, our coaches, everything, we need to demand out of everybody in this organization the level of detail and attention to detail that's gonna make the little bit of difference to get us over the hump in a couple of these games.
On UCF's first drive, Milton found Smith for a 55-yard touchdown pass to open the game.
We've clicked on offense, at times, in the run game; we've clicked on offense, at times, in the pass game. Did a great job at certain points in that game with the pass game. And there's other ones we're so close on. Need one more second to throw, missed a guy in the end zone on a touchdown that would have put it away by an inch. I want everyone on my team to be team-first. And receivers can be a challenge with that. If you're not getting the ball as many times as you want to, that can be a challenge. It's gonna come. We're gonna throw for a lot of yards around here as we can continue to develop and get better, but that's one thing I need to do as a coach is not allow anybody to put any of their personal interests ahead of team interests. And we got a great team as far as that goes. If anybody is standing out in the opposite direction, then we're going to deal with it.
Temple defeated the Knights 26-25 on a last-second play.
After a win or loss, you take the weekend, soak it in, come back Monday. Gonna get ready for UConn now.
Milton was sacked seven times in Saturday's loss to the Owls.
 I think I need to stay a little more relaxed in the pocket, step up into it. I mean, their D-ends were rushing pretty high. That might have led to a couple of sacks. And I think penalties, we gotta minimize. I think just tightening up little things, and our ball club will go through the roof when we tighten up our little things.

[The internal clock] is one thing, but I'm not gonna take anything away from Temple. They played a great game. They have two really good D-ends—I'm not really sure of their names—but No. 7 and No. 5, they were coming off the edge pretty fast. But yeah, absolutely, you gotta burn the ball. Sometimes the defense is gonna beat you on a play, and you'd rather throw the ball away than take a sack.
UCF lost its second game at home on a last-second play. The Knights also lost a double-overtime thriller at home to the University of Maryland.
You think about [being 5-1], but you can't dwell on it. You gotta move on. You gotta take it week by week, and at the end of the week, you wanna be 1-0. So, we got UConn this week. We can't dwell on Maryland, we can't dwell on Temple, we can't dwell on losing to Michigan. It is what it is. As a team, we gotta move forward. We can't dwell on the past.
The Knights are 72nd in total offense with 403 yards per game through seven weeks of play.
It's critical to stay healthy, and I really feel like we're on the brink of clicking. We've shown signs of big plays and getting the offense really going. But I feel like it's just the little things that are shooting ourselves in the foot. When we got a third-and-two, when we get a false start, it's now a third-and-seven, which is much harder to convert than the third-and-two. It's just little things. I think if we just minimize the little things on defense and offense that on defense, keeping the offense field when we get a personal foul, on offense, getting ourselves off the field with penalties and stuff like that, I think once we do that, our ball club is going to go through the roof. We'll be great.
UCF was held to under 100 rushing yards (86) for the first time this season on Saturday.
We want to have a pretty good balance of both, but it's whatever the coaches call is what we're going to do. And we gotta be able to execute both run and pass no matter what the defense presents.
The Knights gave up their fourth 20-plus-point game this season with a 26-25 loss to Temple on Saturday.
The situation that happened. They got the final drive. We wasn't expecting it. We were hoping to come out with a victory, but we're over it now. We're just trying to focus on UConn and get that victory this Saturday.

We [the seniors] all came together and just told everyone that we gotta tighten up on the little things. We know the game plan, we have the athletes, we have the talent. We just gotta fine-tune the little details, and we'll be a great team. No one will expect how great we can be.
UCF is 33rd in total defense so far, allowing only 352.8 yards per game through seven weeks.
 We still got room to improve. We're still got to improve in every aspect of the game. We got a long ways to go. Just keep climbing the ladder and get better.

Of course, you can look at it [as] Temple's in the West, we're in the East. So, we still can win our division, of course, and meet them again in the championship. Hopefully they do well on their side. But our main goal is just to take it game by game. We focused on UConn right now. One-game championships. Hopefully our long-term goal comes out in the end.
The Knights are 115th in the nation in penalty yards per game with 72.3 yards.
[The coaches] touched on the little things, not only penalties, but, on and off the field, little things we can come together and work on as a team. Just fine-tuning those things, it'll build up to the great things, and we'll rise even further as a team.