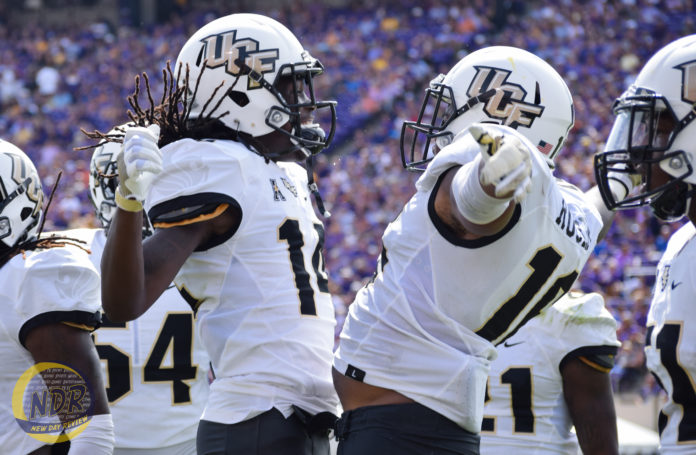 At 5-foot-9, the leading tackler on the University of Central Florida's defense lacks the size of a prototypical linebacker.
However, those who know him best would agree there's no way to measure the heart of redshirt senior Mark Rucker.
"Out of everybody on the team, he's our heart," redshirt junior linebacker Shaquem Griffin said. "He doesn't care about [his] size. He doesn't care if you're big or not. He's going to go head-first at you."
In his first year as a starter, Rucker is following a four-year trend of UCF's leading tacklers being relatively undersized middle linebackers. On pace to rack up more than 90 tackles, the South Florida native would join the company of former Minnesota Vikings linebacker Terrance Plummer, 6-foot-1, who led the team in 2013 and 2014, and Domenic Spencer, 5-foot-10, who led the team in 2015.
But the road to where he is now was an arduous one. The fifth-year senior has now reached a point where UCF defensive coordinator Erik Chinander trusts his and redshirt senior linebacker Demeitre Brim's input to make defensive-alignment changes on a defense that has improved from 114th last season to 34th through five weeks this season.
"I just have a chip on my shoulder just to play the game hard and give it everything I got 'cus you never know when you'll have this chance again," Rucker said.
That's been the arc of Rucker's life. In a game where size, speed and strength are everything, he found it hard to get the recognition by college coaches to earn a scholarship offer despite his on-field production, leadership and winning pedigree.
It began when the 2012 National Signing Day ended without a signed letter of intent even though Rucker helped lead Miramar High School in Miramar, Fla., to two state-championship appearances as a team captain, winning in 2009 and placing as the runner-ups in 2011.
As a senior at Miramar, Rucker notched more than 120 tackles, two interceptions, three forced fumbles and three sacks on a defense that boasted seven Division-I commits. He also won defensive-MVP honors at the third-annual Public/Private All-Star Game in Hollywood, Fla., an exhibition game showcasing Broward and Miami-Dade counties' standout high-school athletes.
But it was former UCF head coach George O'Leary who became Rucker's saving grace by gifting him his only scholarship offer. A late enrollee, Rucker spent his freshman year out of position at safety while retaining a role on special teams through his first four seasons.
"I know it got tough on him because, at times, our older coaching staff probably didn't put him in when one of us got hurt," Plummer said. "I always told him, 'Keep doing what you're doing. Stay loving this game, be passionate, because, eventually, this will be your team.'"
And Plummer's word is one that always held true for Rucker.
"Being here for a long time and learning from Terrance Plummer, he's [been] one of the guys I used to look up to playing the game," Rucker said.
Rucker began showing his never-back-down mentality in his freshman year, as he was undeterred by towering offensive playmakers. Plummer remembers when Rucker went head-to-head with Oakland Raiders running back and former Knight Latavius Murray, 6-foot-3, during a hitting drill at practice, steamrolling him so hard that he knocked his helmet off.
Oddly enough, though, Rucker didn't like the outdoors when he was a kid.
"[W]hen I was younger, I didn't like football," he said. "I did not like outside… But just growing up, I just got used to it when I saw that I was getting better and better, [then] I just started to love the game even more."
Rucker's love for the game is embodied even more through UCF football culture.
"This kid has something in him," Plummer said. "He has what many of us at UCF like to talk about. He has that dog in him… He's easily one of the best football players, pound-for-pound, that I've ever played with. Sometimes you have to break through your physical limitations and let your play speak for itself."
And break through that wall, he did.
While the chances of playing in previous seasons seemed far and few between, this past preseason camp opened up a unique opportunity for a more prominent role within the Knights' new 3-4 scheme.
"His short-space quickness—his burst, his ability to make things happen—even when he's wrong, he makes it happen so fast," Chinander said. "He gets into the backfield and causes problems.
"We saw it all camp. Our [offensive] line coach, Greg Austin, [was] like, 'Man, I can't even see that guy. He's ducking behind people, making plays.'"
Because of his compact, 217-pound body, Rucker's given Austin and his unit fits in practice—so much so that he's earned himself a couple nicknames.
"Coach Austin, he always gets on me. He calls me a little mouse, a little squirrel on the field. They can't get to me. I'm too fast," Rucker said jokingly. "But I just want to make my O-line better. I just want to make my whole defense, just everybody better by the way I play and the way I bring energy to the game."
In the Knights' 47-29 win over East Carolina University, Rucker played a major part, as he recorded a team-high 10 tackles, a sack and helped force a safety, too. That was all only after three quarters before being ejected on a targeting call.
"You try to block Mark Rucker in space, and that's a recipe for disaster," Knights linebackers coach Jovan Dewitt said. "Just ask our offense."
And it was only fitting that Rucker and Brim met each other in the end zone; after all, they're roommates.
"When we get in the game, we can trust each other," Brim said. "If I go to make a play, and I miss it, I know [Rucker] is going to be right behind me making that play, and that's the kind of relationship that we have."
In their dorm room, the two are constantly thinking of new ways to bring better leadership, something Brim said was lacking last season. Together, they form the perfect balance to lead this Knights defense as the No. 1 and No. 3 tacklers.
"As dramatic a difference as there is…in physical stature, there's much of a difference in leadership, as well," Dewitt said. "Brim is the kid we have out there running the show, and Rucker is the good echo guy."
Rucker's story has become a source of inspiration for his teammates who also battle setbacks of their own. Griffin, who is also a first-year starter, has overcome his own limitations, playing with one hand due to amniotic band syndrome.
"He kinda brought a light to me, like, 'Okay, if he can do it, I know I can do it. If he can keep his mind right, stay positive, always smiling, why not me? Why can't I do it?'" Griffin said. "I'm glad that it's finally here for him."
Like Griffin, Rucker stood patiently and waited for his turn—a necessary learning curve for the two before they could flourish on the starting unit.
"That's why I'm so proud of him," Plummer said. "He's like my little brother. And when you see a little brother succeed, you can't help but be so joyous and happy."
Rucker has followed in Plummer's and Spencer's footsteps, emerging as a big-time talent on the Knights defense. But it's his heart, not his size, that continues to separate him.
"Ruck's got a heart a lot bigger than he is," UCF head coach Scott Frost said. "He's hard to block. He's quick. He's savvy. He understands how to get to the football. He's hard for people to get on because of his quickness and agility. He's got great instincts. So all those things allow him to make plays."