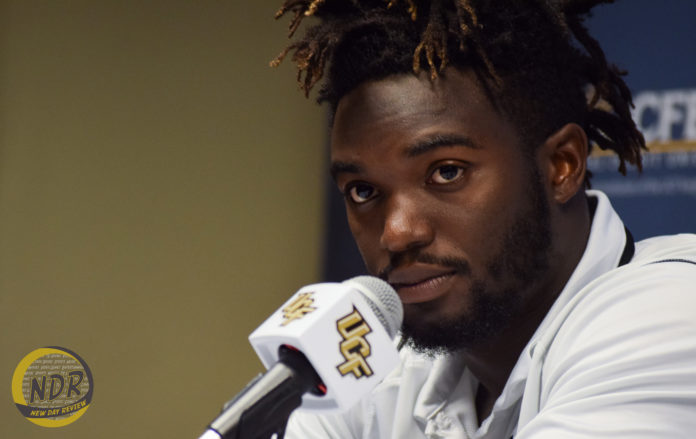 Oct. 4, 2016 at Wayne Densch Sports Complex
Availability: DC Erik Chinander, LB/ST coach Jovan Dewitt
DC Erik Chinander
The University of Central Florida is tied for 32nd in the country in turnovers gained with five fumble recoveries and four interceptions.
It was really nice to see us score on defense with both the safety and a touchdown. We created a lot of turnovers, which we've been focusing on. We got to clean up on a few things. Obviously, we missed a couple tackles, miscommunication. But overall, I thought it was really good.

It's a great feeling for the kids to know that we're preaching it, they're practicing it, they're working it off, and it's finally starting to pay off for them. It's hard when you do drills and you preach something, and it doesn't happen. It's hard for those guys to stay locked in. But when it happens, I think they buy in even more and they really want to go out and work those turnover drills.
Through the first five games of the season, Tulane University has averaged 246.6 yards per game and 4.69 yards per carry on 52 rushing plays.
They have a great system. It's triple-option football. Everybody has to be 100 percent assignment sound. I think the challenge for our guys is do your job, No. 1. But also, you can't get lulled to sleep. Those [defensive backs] can't watch triple, triple, handoff, pitch, handoff, pitch, bomb over their head. Everybody's eyes have to be right all the time, and that's the challenge. Can you stay focused for 90 plays or 60 plays, or however many we play?
A batted ball by redshirt freshman defensive lineman Brendon Hayes led to an interception returned for a touchdown.
We throw them balls in interception drill, and [defensive line coach Mike] Dawson does a great job with those guys. He calls those guys "screenologists." They've been doing a great job screening all camp, and I just told them, "If you keep playing the screen like you're playing it, you keep running like you're running, you're gonna get one sooner or later.' Guess I was right. You're lucky every once in a while.
East Carolina University ran a total of 102 plays (70 passing, 32 rushing) en route to 521 combined yards against UCF.
Very physical. I thought our guys were hitting, were physical at the line of attack. I thought the [defensive] line did a great job stopping the rush, and that was because of their physical play. T.J. Mutcherson is flying around and hitting people. Drico [Johnson] is hitting people. The linebackers were hitting people. It was a great physical test for us, great test for endurance. We have to come back and recover. Tough on a short week, but that's life.
As of Wednesday, UCF and Tulane have cancelled their game on Friday and rescheduled the bout for Saturday, Nov. 5.
I don't care when we play. They tell me when to play, we go play. If it's Friday, great. If it's Saturday, great. If it's moved to the bye week, we play then.
Senior linebacker Mark Rucker leads the Knights with 38 total tackles (24 solo tackles, 14 assisted).
I think he's undersized, absolutely. But his short-space quickness—his burst, his ability to make things happen—even when he's wrong, he makes it happen so fast. He gets in the backfield and causes problems. We saw it all camp. Our [offensive] line coach, Greg Austin, is like, "Man, I can't even see that guy. He's ducking behind people, making plays." Sometimes you just got to make plays. Obviously, we'd love everybody to be in their gap all the time, but sometimes when you know it's going to happen, you know how to make that play, and you just gotta go do it.

Ruck's vocal, but he's more of a guy that wants to get a fix on the sideline. He wants to come over [and ask], "This is what happened to me. What should I have done? This is the look I saw. What's that guy going to do?" He wants to get things fixed. He's not necessarily a hoot and holler; he just wants to get things fixed and get everybody on the same page.
The Knights linebacker corps is predominantly filled with upperclassmen, especially in the starting unit (three redshirt seniors, one redshirt junior).
Everybody kind of looks up to Demeitre Brim because of the way he practices, the way he handles himself day to day. And he'll take a guy aside and kind of get him right. He's a calming voice. Drico is a calming voice. T.J. and Errol [Clarke] are kind of hype guys a little bit. They wear their emotion on their sleeve, which is good when they do it the right way, and guys rally behind those guys.

The [defensive] line doesn't say a whole lot, but everybody knows how hard they're working. So I think everybody is leading in their own capacity right now, which is really good so you don't have 85 guys that are hoot and hollering at everybody. You don't have 85 guys trying to fix a problem. You have a couple guys who are fixing the problem like everybody's dad, and the guy on the street corner that's the hype man. It's been a good mix right now.
The Knights are ranked No. 7 out in the American Athletic Conference football power rankings, according to a report by the Orlando Sentinel's Shannon Green.
I think the kids should be recognized for the effort they're playing with and just their love of the game, and how they're going about their business. It's hard. In college football, you're going to give up yards. That game, we gave up more yards than we should have, but when you're up three scores, you play some zone defense, you don't give up big plays. And that's helps our team more than going after somebody. If you give up a quick-hitter that doesn't help our team. Stats and all that kind of stuff is great, but I think the kids should be getting recognized for how hard they play.
LB/ST coach Jovan Dewitt
Over the past four seasons, UCF's leading tacklers have been relatively undersized middle linebackers. Terrance Plummer, 6-foot-1, led the team in 2013 and 2014, Dominic Spencer, 5-foot-10, led the team in 2015, and Rucker, 5-foot-9, currently leads the team in tackles.
I think if you look at the combination of Rucker and Brim, [Demeitre] is a really large human being. And then you've got Rucker. Probably the biggest disparity in college linebackers that there is in all of NCAA football. But I think what works for Rucker is No. 1, he's one of the most explosive kids we have on the team. And No. 2, I would say he's one of the most instinctual kids we have on the team… You try to block Mark Rucker in space, and that's a recipe for disaster. Just ask our offense.

The blitz that we ran where he got the safety is a rep we've done over and over through camp. And our [offensive] line coach, Greg Austin, said, "Well, at least someone else feels my pain now." That just exemplifies who Rucker is. There's plays you'd say there's no way he's going to make, and then he's out in space and makes it. It's not a surprise for us. He's been doing it since spring. A kid you can't keep off the field.
Rucker, the redshirt senior from Miramar, Fla., led the Knights with 10 tackles, a sack, three tackles for loss and a safety against ECU.
As dramatic of a difference as there is in between Brim and Rucker in physical stature, there's much of a difference in leadership [skills], as well. Whereas Brim is a very cerebral kid who understands that he can probably teach you what everybody on the defense is doing, Rucker is a kid that's going to lead through action and not through words. Brim is the kid we have out there running the show, and Rucker is the good echo guy… They're as bipolar as they can get in that standpoint.
Since being frazzled by the Michigan Wolverines in Week 2 into four blocked kicks, UCF's special-teams unit has limited their opponents' chances at good field position.
Anytime you introduce a new system, it takes a little bit of an adjustment period, similar to a receiver's timing with quarterbacks. You've got to find the right grouping of personnel. Also, we try to keep our schematics on special teams as simple as possible, so that you can plug and play new guys in without missing a beat. I think that's finally started to click a little bit for some of the guys. They understand what it takes to be successful on a special unit… [With] some of the skill set that we have here in this locale and that we're able to recruit, special teams should be an advantage for us against some of the other teams we're playing.
Knights running back and kick returner Adrian Killins' 100-yard kickoff return for a touchdown matched a school record and was the first time a kick return went back 100 yards for UCF since 1994 by Todd Cleveland.
I don't remember [the last time I saw someone return a 100-yard kickoff return]. You don't get many of those in life, so you've got to relish the ones that you do get. I was in the booth losing my mind. Those are fun when those happen… There were some really subtle techniques that were bought into on the unit, and we were able to show our guys that in the meeting room—about understanding double teams and kickout blocks. Every one of those came to fruition on that play. That kind of reemphasizes in the minds of our players, "Let's just do this little thing right, and everything else will take care of itself."
Killins is the third Knight to accomplish that feat joining Cleveland and Ted Wilson.
It's the first couple weeks of his college career. And when you're catching kicks as a true freshman in some of the first big games of the year, that is a nerve-wracking environment. So I don't think you want to put too much pressure and onus on a kid too early because he's got a legitimate skill set to be a dangerous returner over and over again. And if you expose him to the fire early, you have a chance to ruin his ability for later. Then you got to start over.

I think what you do is you get them reps and practice [and] get his feet wet in the game… But if you throw him out there too early, too soon, and something bad happens—whether it's not even his fault. Maybe somebody missed a block, or maybe the wind kicked off the wrong way and took the ball on a funny way. Now, all of a sudden, his confidence—he's always looking over his shoulder [saying], "What's gonna happen next?" Whereas, if you put him in a situation after he's had a body of reps to rely on, now he's comfortable, he's back there, and there's no surprises for him.
Oct. 3, 2016 at Bright House Networks Stadium
Availability: HC Scott Frost, DB T.J. Mutcherson, RB Adrian Killins, P Caleb Houston
HC Scott Frost
University of Central Florida head coach Scott Frost made a game-time decision to start senior quarterback Justin Holman in place of true freshman quarterback McKenzie Milton, who is nursing an ankle injury that was sustained in a 53-14 win over Florida International University in Week 4.
We just wanted to make sure that if we put somebody out on the field, they were healthy and ready to go. Justin was coming back off his small injury, and McKenzie was iffy, and we were going to make a decision pregame as to who was healthy and who could go… The challenging thing was getting everybody that we thought might play enough reps to really be prepared for the game.

Everybody was doing a good job last week preparing and we knew we weren't going to be able to make a decision until before the game… My preference is always to play one quarterback. I want to pick a guy and go with him, but it's great when you have more than one guy that you feel like can win a football game.
Holman threw for 156 yards and two interceptions on 11-for-29 passing and added another 31 yards on the ground.
Justin did enough to win us a game. I think we missed a few opportunities, made some good plays. Like I said Saturday, the defense kept us in it. The special-teams made some big plays. And the offense made plays when it needed to.
Tulane University has controlled the time-of-possession statistic through three of their first five games. On Saturday, the Green Wave had the upper hand in possession against the University of Massachusetts, calling 64 rushing attempts in 40:30 of possession—more than double the University of Massachusetts' 19:30.
I've coached in games where the other team likes to take their time. I think that's what we're going to see Saturday, if I was guessing. There could be polar opposites—them letting the play clock run all the way down before they snap, and us trying to speed the game up. It really comes down to who can get stops. If we're getting stops, then the game ends up being played at a fast tempo. If they're getting stops, [then] they can hold the ball for a long time. So you put a lot of emphasis on your defense in those types of games and hope you can get their offense off the field.
The Green Wave are 17th in the country in yards allowed per game (309 yards per game).
I think they do a good job coaching. They're sound. Their front on defense, their defensive line is physical and does a good job getting off the ball. Got a couple really good players up there. We've got our hands full again. I think ECU's defense was talented and really good up front. This is a similar defense. And we're looking forward to hosting them, but we know we have our hands full.
Redshirt senior punter Caleb Houston has an unorthodox method of punting that's akin to a rugby style.
He's capable of kicking the ball a number of different ways, and I'm sure we'll continue to mix it up. In that game, that helped get our coverage get down field and eliminated a little bit of a return. He did a wonderful job with it, downing the ball inside the two, led to the safety, and we got a touchdown right after the safety. That was a big turning point in the game. Really since the Michigan game, our special teams has done a really good job.
UCF is ranked 25th in the nation in rushing defense, allowing 112.6 yards per game. They recorded five sacks, nine tackles for a loss, seven pass break-ups and three forced fumbles against ECU.
[Defensive coordinator Erik] Chinander and the defensive staff have done an unbelievable job. If you look at how far that defense has come and what they're doing on the field every Saturday, I couldn't be more excited about the job that they've done, the players and the coaches. The great thing is when players have input; that means they're understanding the system. They're understanding the answers within the system, and there's a good relationship between coaches and players. The more we can communicate with the players on the field with what's going on, the better we'll be.
Tulane is tied for 14th in the nation in turnovers, surrendering only two interceptions and two fumbles.
We talked to them for the last couple weeks, ever since the Maryland game, on turnover margin. We turned it over too much in the Maryland game and didn't get any back. Since then, defense has really been going after people and trying to get the ball from them. Tulane does a good job not turning it over. We have to really create some chances to get the ball away from them. Any time you win the turnover margin like we did Saturday, that's a big statistic.
Senior linebacker Mark Rucker is suspended for the first half against Tulane after being called for targeting. Rucker helped force a safety during UCF's 47-29 victory over East Carolina University.
Ruck's got a heart a lot bigger than he is. He's hard to block. He's quick. He's savvy. He understands how to get to the football. He's hard for people to get on because of his quickness and agility. He's got great instincts. So all those things allow him to make plays. Tulane's got a guy very similar. Marley, No. 2, is a very similar type player. It's going to be fun to watch those two on Saturday… We've got some guys at linebacker we feel good about. Demeitre Brim has been playing well. Pat Jasinksi has been playing well. [Chequan] Burkett has been playing well. So those three are going to have to survive inside until we get Ruck back.
The Knights have had two players ejected for targeting so far this season. Brim was ejected in Week 2 against the University of Michigan, and then Rucker against ECU on Saturday.
Those decisions about targeting are above my pay grade. I think sometimes the emotion of the moment can affect the call and maybe affect the review of it. Every case is different. Like I've said before, I'm 100 percent in favor of player safety. I feel terrible for East Carolina's quarterback. Hope he's going to be all right. In this situation, our guy was trying to avoid him. He got hit into our guy, which I don't think is the purpose for why they put in the targeting penalty. We're going to live with the ruling.
Since Week 1's game-week press conference on Monday, Aug. 29, Frost has continued to emphasize the importance of having good practices on Monday and Tuesday to prepare for game day, especially on a short week.
We're not going to change what we do, ever. We're going to stick with what we know. We're going to stick with our process. Our process is just looking forward to nothing except this game and focusing on today and this game… We're never going to change our process. I think guys' ideas of what we can accomplish might get bigger, but I've seen teams that talk about winning championships and fall flat on their face. That's not how you improve. We talk about measuring greatness against our own standard and being a better version of ourselves every day. We had a great Monday practice coming off a short weekend and very little rest. We had a longer practice today than we usually have on Monday because of the quick turnaround. We were a better team than we were last Monday and that's what we're going to focus on.
UCF is tied for first in the East Division of the American Athletic Conference alongside the University of South Florida and Temple University through the first week of conference play.
We'll talk to them about the importance of this game. I think this is a pretty good team coming in here. I think they're largely in the same boat we're in. They're trying to make some big improvements from last year, and they're doing that. They're 3-2, we're 3-2. I'm not worried about our guys overlooking anybody. We're a team coming off an 0-12 season last year.

We went out and had our best Monday practice ever. That's not the mark of a team that's going to have a letdown. I expect tomorrow to be just as good. If our guys can keep this focus all week then we'll be just fine.
The University of Central Florida was chosen as the last-place team in the East division of the AAC, the second-to-last overall team in the conference, according to the conference's 2016 preseason media poll.
With them picking us last in the conference, I think the whole team has a chip on our shoulders. I think, as a defense, I think we've been playing good, but I don't think we're at where we want to be at, and I think we can do better.
UCF is ranked 32nd in the nation in yards per game allowed with 350.6 yards per game after five weeks of play.
I think, together, this summer, we came together as a unit, and we got closer as a brotherhood. We were in meeting rooms together, we were out in the indoor [facility] together, running routes together, doing things like that. So I think, over the summer, we got closer as a unit, so that's making us play better on Saturdays.
Knights defensive backs T.J. Mutcherson, Shaquill Griffin and defensive lineman Brendon Hayes all recorded interceptions in the team's 47-29 victory over ECU on Saturday.
It's very satisfying. We've been preaching [turnovers] for the last two weeks. I mean, we've been flying around and everything, but Coach Chin been talking about forcing turnovers, and I think he got to us this weekend. I think we forced a lot of turnovers this week. Like I said, defense is playing good, but we're not at our full peak yet, and I believe we will get there by the end of the season. We've been playing good every game, but it's going to get better.
Tulane has rushed for 246.6 yards per game, which is good enough for 19th-best in the country through five weeks of play.
Well, this week is all going to be about assignment football. Everybody do their job. If you have the quarterback, you have to be on the quarterback. If you have the pitch guy, you have to be on the pitch guy. It's not about who's better. It's about assignment football this week. So we all just got to be in our right gaps, and everything will work out.
Chinander joined Frost when Frost was hired in December 2015. Prior to UCF, Chinander was a linebackers coach at the University of Oregon where Frost coached quarterbacks and was the offensive coordinator.
Coach Chin is a great guy. He loves us like we're his kids. He tells us [he loves us]. We love him. And he shows a lot of passion. Any time you have a coach that asks a player, 'Are you okay with this call? Do you want to change it up?' He get our opinion. So he'll coach us, and then he'll get our opinion on it, and if we don't like it, he'll take it out. He can just see eye to eye just like we can. He's a great coach.

For example, if we see something that's not right on the game field, we'll come to the sideline, we'll talk about it, and if we need to switch it up, he'll be all on board to switch it up, so I think he's a great coach.
P Caleb Houston
UCF recorded their first AAC win on Saturday since defeating the Pirates on Dec. 4, 2014.
Well it's very important. Obviously having wins is what we play for. So going out there, starting strong, it just bumps up the morale of the team.
Houston was instrumental in helping his team record a safety, as his punt was stopped on ECU's two-yard line.
Yeah, I got a pretty good roll on that one, huh? No, I mean I couldn't have done it, honestly, without my coverage team getting down there. I mean, that thing would've rolled in the end zone if Gage [Marsil] didn't make a sliding stop, and Hayden [Jones] was right there too. So, I mean, it's nice to be able to put the defense in position to make a big play like that. So, I'm more proud that our defense got it done afterwards.
Last season, Houston was 28th in the country in punts per game with 5.4.
I love watching my team do good. That's the whole reason I'm out there. Do my part to help us get a win, and when we can do that whether I play a lot or whether I play a little, I mean, that's our main goal.
UCF running back Adrian Killins won the AAC's Week 5 Special Teams Player of the Week award. In the Knights' 47-29 win over ECU, he ran back a 100-yard kick return for a touchdown.
It means a lot. I didn't know about it until Coach Frost approached it today in front of the team. It's a team effort. Without the kick-return unit making their blocks and sealing the deal for me, I wouldn't have ever gotten that kick return. So, it's a great accomplishment, and I look forward to having many more this season.

First off, I depend on the brother to my left and my right to know that they're going to get the job done for me to even get in the end zone. And once that hole opens up, I just hit it and make sure I don't get caught by anyone, and I just get into the end zone and celebrate with my teammates.
Killins has returned three kickoffs in five games played. He averages 49.67 yards per return.
It's something I greatly enjoy because special teams is as important as offense and defense. So you have to execute that phase of the game as well to win games. You can't take a play off on special teams. You have to be all in, and everyone else around you has to be all in, as well, to help your team win games.
The Knights play Tulane on Friday, Oct. 7.
It's very important to not have a letup because you never want to take any team lightly. You want to treat every game like it's a championship mindset and just make sure your team, everyone's on the same page going into each game and take one game at a time in making sure we get out of that game with a win.