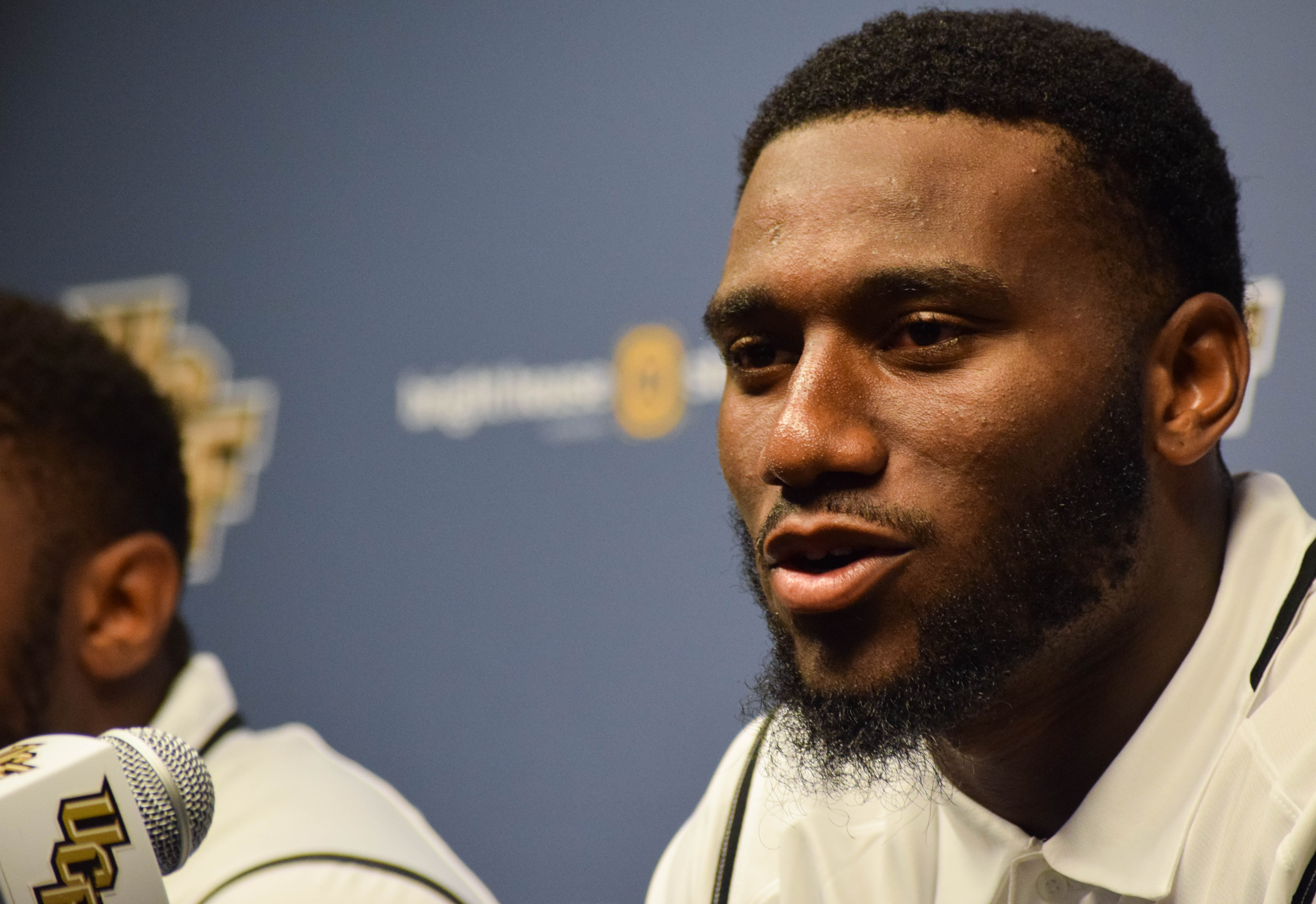 Sept. 21, 2016 at Wayne Densch Sports Complex
Availability: OL coach Greg Austin
OL coach Greg Austin
An inexperienced offensive line, which relied heavily on freshmen, was one of the team's sore spots last season. On Saturday, UCF totaled 455 yards on offense despite Maryland sacking true freshman quarterback McKenzie Milton three times and hurrying him four other times.
Consistency. Above and beyond any techniques, no scheme is designed to fail. However, [sometimes] the players that are running it don't execute it the right way. It's not the plays that you execute perfect, it's the learning plays, so to speak. I'm trying to cut down on the learning plays, but I'm trying to help my guys understand that you have to execute the best technique every single play. First and foremost, it takes the mindset, and it takes knowing your cues and clues as to what's going to happen in front of you, and being able to execute your technique.

I don't know what they were last season. The only thing I know is where they were in spring, so I could only guess where they were last season. They have gotten better. I'm not one to overproportionate things. They have gotten better and will continue to get better if they want to. But yeah, they have gotten better; they've gotten to be more of a cohesive unit. They've gelled better than they were in the spring. They didn't really communicate well. They hang out outside of this building a heck of a lot more than they did in the spring. All of that stuff from what I know and from when I played and [been] coached makes a good offensive line. If you can communicate off the field, you can bridge the gap of communication on the field because you know somebody. And you know you have trust that they're going to be where they need to be and execute the whole nine yards. So yes, if you want to ask me if they've gotten better, you're damn right they've gotten better. But we have a long way to go, and I'll probably say that when we have a lot of production as well because we've never arrived.
True freshman offensive guard Jordan Johnson was a four-star recruit coming out of Jacksonville Ed White, according to ESPN. He was listed as the nation's No. 24 offensive guard.
He's going to get a hell of a lot better. Jordan is as mature as they come when you talk about playing as a true freshman. I had the opportunity to play in Nebraska as a true freshman and what I saw in Jordan is kind of what I saw in myself when I was very young. I was very serious about my craft. I put myself in the position when my name was called to go out there and put out as good of a production as I could. Jordan is a good football player. We knew it in high school recruiting him. And out there, Boman Swanson and all of those guys are good football players. In terms of maturity, it takes a mature guy to play as a true freshman, especially on the offensive line. He still needs to get more mature, don't get me wrong. But he has that level in order to play and be productive.
Johnson climbed up the depth chart and earned his first start against the University of Michigan in Week 2, which the Knights lost 51-14.
These guys lean on me in a non-verbal way. And when I say that, I have to watch every single move I make because they're always watching me. They're always trying to pick up this, pick up that. Get this little tidbit, get that little tidbit. In terms of Johnson, in the mindset of playing as a true freshman, he's asked me from time to time, but it hasn't been like, "Hey, I want to be just like you." I give him some advice, here, there, wherever. But at the end of the day, whether you're a true freshman or you're a redshirt senior, you just got a job to do. But I check on him from time to time because I know it's a lot.
Johnson earned Student of the Week honors last week.
That's the maturity aspect of it. You can have a healthy balance between your football duties and obviously the classroom. You're here for the classroom first. He leans on me from time to time, but not as much as being in my hip-pocket, "Like when this happens, what do you do right here?" I guess I'm just a little bit different from him from that standpoint. I don't know if I would lean on anybody as a true freshman; I would try to feel it out myself. You got the guys in your own class that you feel disconnected from, so to speak, because you're already playing, and then you're trying to get accepted by the upperclassmen. So, you're in that little, unique place that I can't really give advice on it because I kind of had to deal with it myself. It's kind of one of those rites of passage. I don't really tell them too much about it; I just let them figure it out. He'll be fine.
Coach Austin was an understudy of Jeff Stoutland, offensive line coach for the Philadelphia Eagles and Steve Greatwood, offensive line coach at the University of Oregon. Them, as well as Chip Kelly, head coach of the San Francisco 49ers, and James Harris, former chief of staff of Eagles, are his mentors.
I just come into work and try to put in the best effort and coach my guys with the most detail that they can be coached with. Sometimes we win, sometimes we lose. Sometimes we make a block, sometimes we miss a block. From a tangibility standpoint, I've been around it for seven to eight years now, and I know the ins and outs of how this deal works. So that's the only reason why I can say that people probably think that I'm a mastermind.
Sept. 19, 2016 at Bright House Networks Stadium
Availability: HC Scott Frost, WR Tre'Quan Smith
HC Scott Frost
True freshman quarterback McKenzie Milton played in his first collegiate game on Saturday against the University of Maryland when he made his first start. He finished with four total touchdowns and 260 yards passing.
We're going to play whatever player we think gives us the best chance to win. Sometimes that has to do with health, sometimes it's performance; whatever it is, we're excited to have all our quarterbacks back up and completely healthy. But I think McKenzie gives us the best chance to win this week.
In addition to his positives, Milton had his fair share of shortcomings, too. He turned the ball over four times on three fumbles and an interception.
He did some phenomenal things. Moved the team, thought he was really calm and handled the pressure, the whole thing really well. Made some big plays. We got to eliminate the bad plays. We shot ourselves in the foot so many times in that game, and winning teams don't do that. Winning teams find a way to win instead of making mistakes. I love the momentum we have. We just got to capitalize and get a win and start to roll headed into conference [play].
WR Tre'Quan Smith
In the 2015 season, the Knights lost to Florida International University by a score of 16-15 following a game-winning field goal attempt in UCF's season- and home-opener.
I remember the loss at the end on the blocked field goal, very heartbreaking. Wanted to get it back, but great thing about football, you can't go back, you can only go forward. I think about it to today, you know. Think about the loss, but we got a chance to redeem ourself this Saturday, and hopefully we do so.