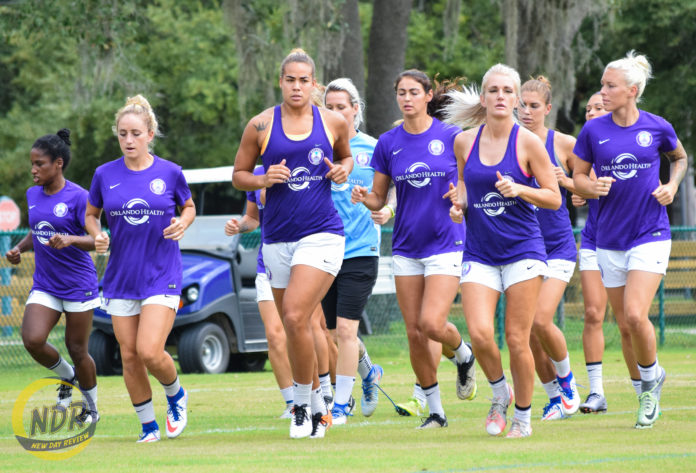 Sept. 9, 2016 at Sylvan Lake Park
Availability: HC Tom Sermanni, F Lisa De Vanna
HC Tom Sermanni
The Orlando Pride play Sky Blue FC and FC Kansas City at home in their final two regular-season matches.
Well, just continue to improve the team and win a couple of games. We gave the players a little target with four games to go that we wanted seven points, so we need to win those last two games to get those seven points. And if we can do that, then I think we can walk away and say we had a decent season.
On Wednesday, the Pride tied Sky Blue 1-1 in New Jersey.
[Sky Blue FC] played as we thought they'd play. And I'm assuming they'll do something similar tomorrow. I don't see them making a lot of changes from what they've been doing up to now. And we'll probably make a couple of changes to freshen the team up, as in having three games in seven days. I thought how we planned for them tactically and how we set up was good for us. And we did enough to probably win the game. I thought we had enough chances to win the game.

I don't know [if playing them is a disadvantage or an advantage]. Apart from the short time frame, it does make life easier because you're only looking at one video. So, in the sense of the preparation, it's probably a little easier. In the sense of playing a team back to back, you don't really know. I honestly don't know the answer to that.
New Pride addition
Lisa De Vanna
made her first appearance for Orlando in the 88th minute of Wednesday's draw with Sky Blue.
It's been a nightmare journey. It's been a nightmare five weeks, to be fair. We were hoping get her here for the game against Washington, and we felt she could give us a real boost and push for the top four, and, unfortunately, bureaucracy, as it does these days, made it difficult. She then came in, got a delayed flight, which took her even longer to get here, she's had a bit of a stomach upset, and then she's been straight on a plane to New Jersey. So considering all that, and she came on and played probably for 10 minutes and got her legs up and running, and hopefully she'll be ready to go tomorrow.
These days, the female game is such a worldwide game. Lisa knows most of the players anyway, have played with quite a few of them. And she's somebody that kind of comes in and plays her game, so she tends to fit in anyway.
I don't know. It's a difficult one with McKenzie because she's unfortunately come in at a time where we've had a run of games, so we haven't really had what I call a solid, proper training session since she's come in. So it's been hard to judge kind of where she's a,t both match-fitness wise and how she'll fit in the team. So it's a little more complicated with her. Ideally, we'd love to be able to give her a run before the end of the season; practically, I'm not sure if we'll be able to do that.
Pride forward
Alex Morgan
, goalkeeper
Ashlyn Harris
and defender
Monica Hickmann Alves
were called up to their national teams for international friendlies during the team's bye week starting Sept. 12. In light of former United States women's national team goalkeeper Hope Solo's contract termination and suspension, Harris may have an opportunity to start.
I think she's got a great chance to start now. A great chance that I would hope she would get at least one game. I mean, I'm assuming, and I'm making a big assumption—it's thankfully not my job—but with the goalkeeping situation now, I'd be surprised if Alyssa Naer and Ashlyn maybe don't get a game apiece. I would assume that would be the protocol for these games, but I don't know.
F Lisa De Vanna
De Vanna saw her first minutes with the Pride in New Jersey on Wednesday.
Well I haven't really spent much time in Orlando. It's been pretty jet-setting for me, coming from Australia. Back on a plane to New Jersey and now back here. So far, with the club side of things, it's very professional. It's probably one of the most professional clubs I've actually been to. That aspect is very good.
The Australian national-team player began her National Women's Soccer League career with Sky Blue in 2013.
Yeah, I have some interesting characters. Obviously Kaylyn [Kyle] who I've played with before. She's put me under her wing the last couple of days. You know, good relationship, and obviously Toni [Pressley], who I played with in D.C., and there's a few other players that I had played before with. But I just want to get out there and actually play. So I'm looking forward to it tomorrow.
Pride head coach Tom Sermanni managed the Australian women's national team from 2005 to 2012.
I've known Tom [Sermanni] for eight years. He's been part of the best part of my football career and also the lows, and when he gave me the opportunity, asked if I wanted to come play, there was no hesitation because I know that he knows my character as a player and my character as a person, and he always puts me first as in my well-being, so it was kind of nice for him to ask and ask my thoughts about playing for Orlando, so it was a no-brainer for me.
In addition to De Vanna, left-back Steph Catley and defender Laura Alleway are also members of the Matildas.
It's definitely an Australian/American team, isn't it? Obviously I've played with Steph [Catley], and I've obviously played with Laura [Alleway], as well, and having Kaylyn and Toni. There's a lot of players I know in this team, so it made it very easy for me to walk in with open arms. Tom is a great coach, and he's got a lot of character as well.
De Vanna has notched 70 goals in club play.
I've played for a lot of NWSL teams, haven't I? So, I think I'm more experienced now. I haven't played in the league for two years. A lot has changed for me as a person in those two years. I've sort of stepped up in the national team, became a captain, a leader, a role model, and hopefully I can apply those things through the young girls here. Hopefully in the next couple of games show a bit of leadership and help Alex [Morgan] and the senior players, [Ashlyn Harris], a top player on this team.
The Pride will host Sky Blue on Saturday at 7:30 p.m.
I was hoping to play more than two games. I was originally meant to play about five or six, but that's out of your control. But the next couple of games, it's at home. You want to win at home. Me, personally, I want to show the Orlando Pride fans what they've come to see. I'm an exciting player when I'm on the ball, so hopefully they'll get to see a lot of that, and my teammates get to see how I play, as well. So, hopefully, the next two games, we get six points.
The Crown is the official supporters' group of the Pride.
I didn't know too much [about the Pride fans], and when I came back from New Jersey, and a few of them are at the airport with gifts and stuff, and I'm all like, "What's going on here?" And I didn't know if I should walk to them or walk away, and I'm trying to look for my teammates and ask them, "What's going on here?" And they go, "The fans here are nuts. They just love football, and they support the men and women very much." To have that, it's fantastic. It's a good foundation to have in the club.
(Featured photo by Victor Tan / New Day Review)