ORLANDO, Fla. –  It's been about two years in the making, but the University of Central Florida finally lifted their 13-game losing streak. On Saturday night at Bright House Networks Stadium, the Knights (1-0) defeated the South Carolina State Bulldogs (0-1) 38-0 in new UCF head coach Scott Frost's first game.
Senior quarterback Justin Holman threw for two touchdowns and ran in another. Redshirt sophomore kicker Matthew Wright accounted for 12 of the Knights 18 points in the first half.
UCF, which only punted three times, had its most decisive win since beating Southern Methodist University by 46 points on Nov. 22, 2014.
"That is a huge first start and kind of a monkey off everybody's back to get the first win," Frost said."
Holman finished 14-for-28 for 193 yards and picked up another 40 on the ground, including a 10-yard keeper down the middle for the game's first touchdown.
"It was like slow motion. Just looking up at the student section going wild, that kind of slowed everything down for me," Holman said, who went 5-for-15 for 22 yards passing in the first half. "I let everything out, and I was like, 'We here, we home.'" After that I calmed down and started executing."
In the third quarter, Holman broke free, launching a 24-yard pass to sophomore receiver Tristan Payton, which was followed by a 37-yard touchdown grab by redshirt sophomore Tre'Quan Smith.
Senior running back Dontravious Wilson later punched in a touchdown from the one-yard line, and Payton secured the Knights' final score on a five-yard touchdown catch in the fourth quarter.
The Knights defense kept South Carolina State's beleaguered offense to just 222 yards in the game.
"I congratulate the defense. It's hard to get a shutout in college football, and that's a neat deal," Frost said.
The Griffin twins, cornerback Shaquill and outside linebacker Shaquem, combined for two turnovers. Shaquill picked off SCSU quarterback Caleb York for one of three Bulldog turnovers. Shaquem, who made the position change from cornerback, totaled six tackles, one sack and a forced fumble.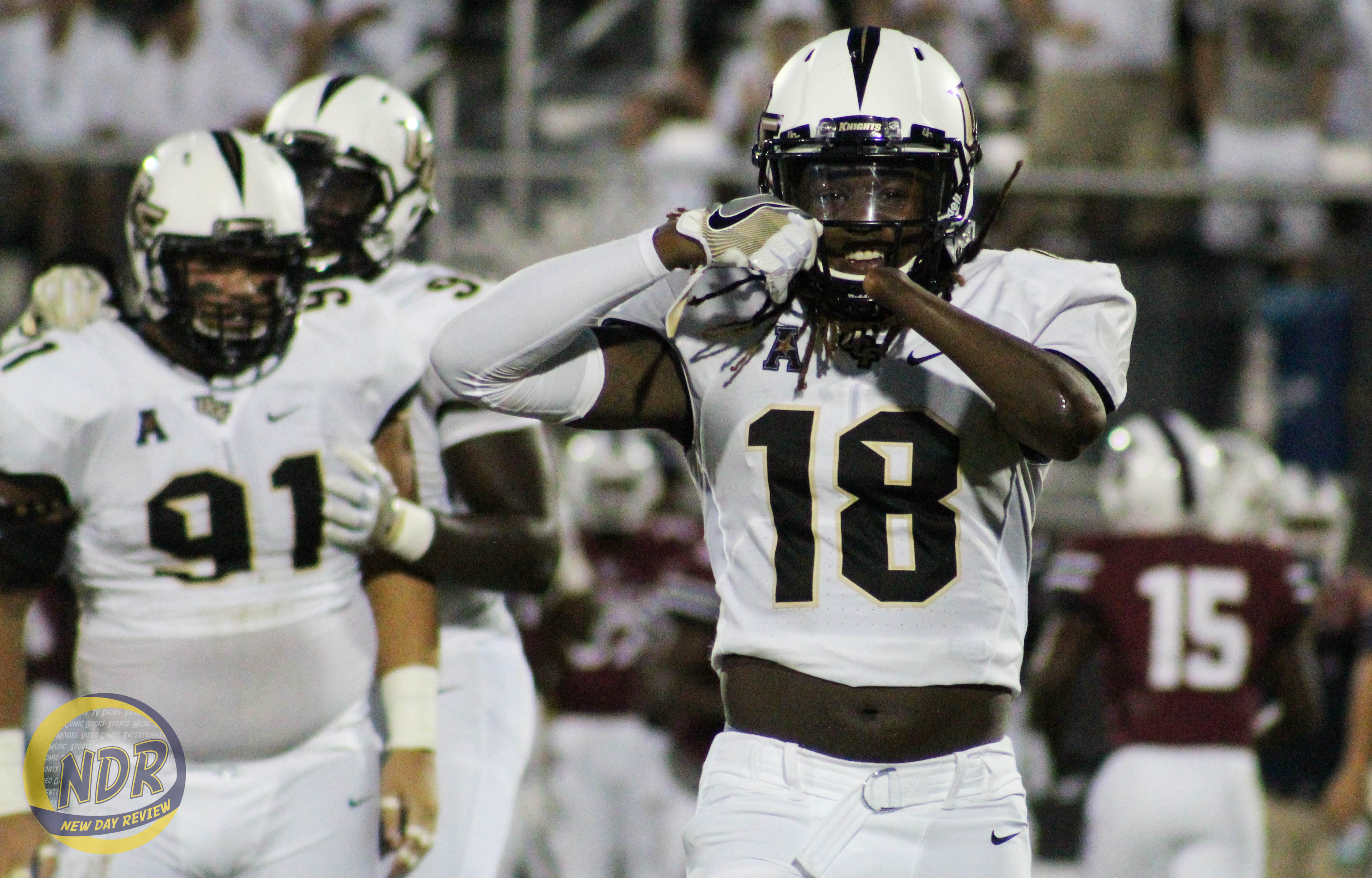 "I think those two are kind of indicative of where we are on defense," Frost said. "The kids flew around. They looked like they were having fun out there. They were running to the ball, making things happen."
True freshman running back Jawon Hamilton, who is making his first career start, ran for 53 yards on 14 carries. He also fumbled once.
The Knights secured their first shutout since defeating the University of South Florida in 2014.
"You should have seen me on the sideline. I was running around saying, 'We broke the curse,'" Shaquill said. "We got our first goose egg; it's just the beginning. It doesn't stop here."
Player of the Game: Justin Holman
Holman's three-touchdown performance was his first triple-touchdown game since the Bitcoin St. Petersburg Bowl in 2014. The co-captain fought through early struggles as the Knights scored their first 12 points off of four Wright field goals.
In the second half, Holman turned it around, exploding for 165 yards and two touchdowns on 8-for-11 passing. Second-string quarterback Nick Patti substituted in for Holman midway through the fourth quarter after the game was well in hand. His 40 yards of rushing on Saturday were a career-high.
Keeping Pace
For Frost, his rebuilding job at UCF will be predicated on how well he can establish his spread offense. While the Knights had the upper hand in possession, calling 91 plays in 32:22 of possession, there's greater expectations on the run game to create explosive plays.
"I honestly would rather have it a few less, but that would mean we broke some more long plays," Frost said.
The Knights combined for 197 yards rushing on 55 rushing attempts (3.6 yards per carry). Holman had the team's longest run, fighting his way for 17 yards on a scramble in the first quarter.
"I thought one of those runs was going to pop in the first half. We were close on a bunch of them," Frost added.
A decent first step was taken, as UCF is already halfway toward matching their season rushing touchdown total from 2015, four. But for the Knights to elevate themselves back into American Athletic Conference contention, it will take more than the sputtered offensive struggles in the first half.
"When we're ahead of the game, we got to be able to step on people and finish the game," he said. "I thought we did that in the second and third quarter, but not the first."
What's next?
The Knights travel to take on the University Michigan in their first away game of the season. Michigan defeated the University of Hawaii 63-3 on Saturday. The last time the Knights faced a Big Ten team was in 2014 in Ireland in a 26-24 loss to Pennsylvania State University.
Scoring
| | | | | |
| --- | --- | --- | --- | --- |
| Time | Team | Play | PAT | Score |
| Q1, 11:19 | University of Central Florida | Matthew Wright, 46-yard FG | n/a | 3-0, UCF |
| Q1, 3:42 | University of Central Florida | Matthew Wright, 34-yard FG | n/a | 6-0, UCF |
| Q2, 12:48 | University of Central Florida | Matthew Wright, 45-yard FG | n/a | 9-0, UCF |
| Q2, 10:07 | University of Central Florida | Matthew Wright, 37-yard FG | n/a | 12-0, UCF |
| Q2, 1:45 | University of Central Florida | Justin Holman, 10-yard run | 2-point, FAILED | 18-0, UCF |
| Q3, 4:55 | University of Central Florida | Dontravious Wilson, 1-yard run | GOOD | 25-0, UCF |
| Q3, 0:50 | University of Central Florida | Justin Holman to Tre'Quan Smith, 37-yard pass | FAILED | 31-0, UCF |
| Q4, 12:18 | University of Central Florida | Justin Holman to Tristan Payton, 5-yard pass | GOOD | 38-0, UCF |
Statistics
Passing
| | | | | | | |
| --- | --- | --- | --- | --- | --- | --- |
| Player | Team | Completed | Attempts | Yards | TDs | INTs |
| Justin Holman | University of Central Florida | 14 | 28 | 193 | 2 | 0 |
| Caleb York | South Carolina State University | 15 | 35 | 134 | 0 | 1 |
Rushing
| | | | | | | |
| --- | --- | --- | --- | --- | --- | --- |
| Player | Team | Carries | Yards | Average | TDs | Long |
| Jawon Hamilton | University of Central Florida | 14 | 53 | 3.8 | 0 | 15 |
| Taj McGowan | University of Central Florida | 11 | 48 | 4.4 | 0 | 14 |
| Justin Holman | University of Central Florida | 12 | 40 | 3.3 | 1 | 17 |
| Caleb York | South Carolina State University | 10 | 38 | 3.8 | 0 | 11 |
Receiving
| | | | | | | |
| --- | --- | --- | --- | --- | --- | --- |
| Player | Team | Receptions | Yards | Average | TDs | Long |
| Tre'Quan Smith | University of Central Florida | 4 | 65 | 16.3 | 1 | 37 |
| Tristan Payton | University of Central Florida | 3 | 34 | 11.3 | 1 | 16 |
| Kanome Mcintosh | South Carolina State University | 4 | 37 | 9.3 | 0 | 24 |
| Adrian Kollock Jr. | South Carolina State University | 3 | 28 | 9.3 | 0 | 19 |
(Featured photo by Christopher Bobo / New Day Review)