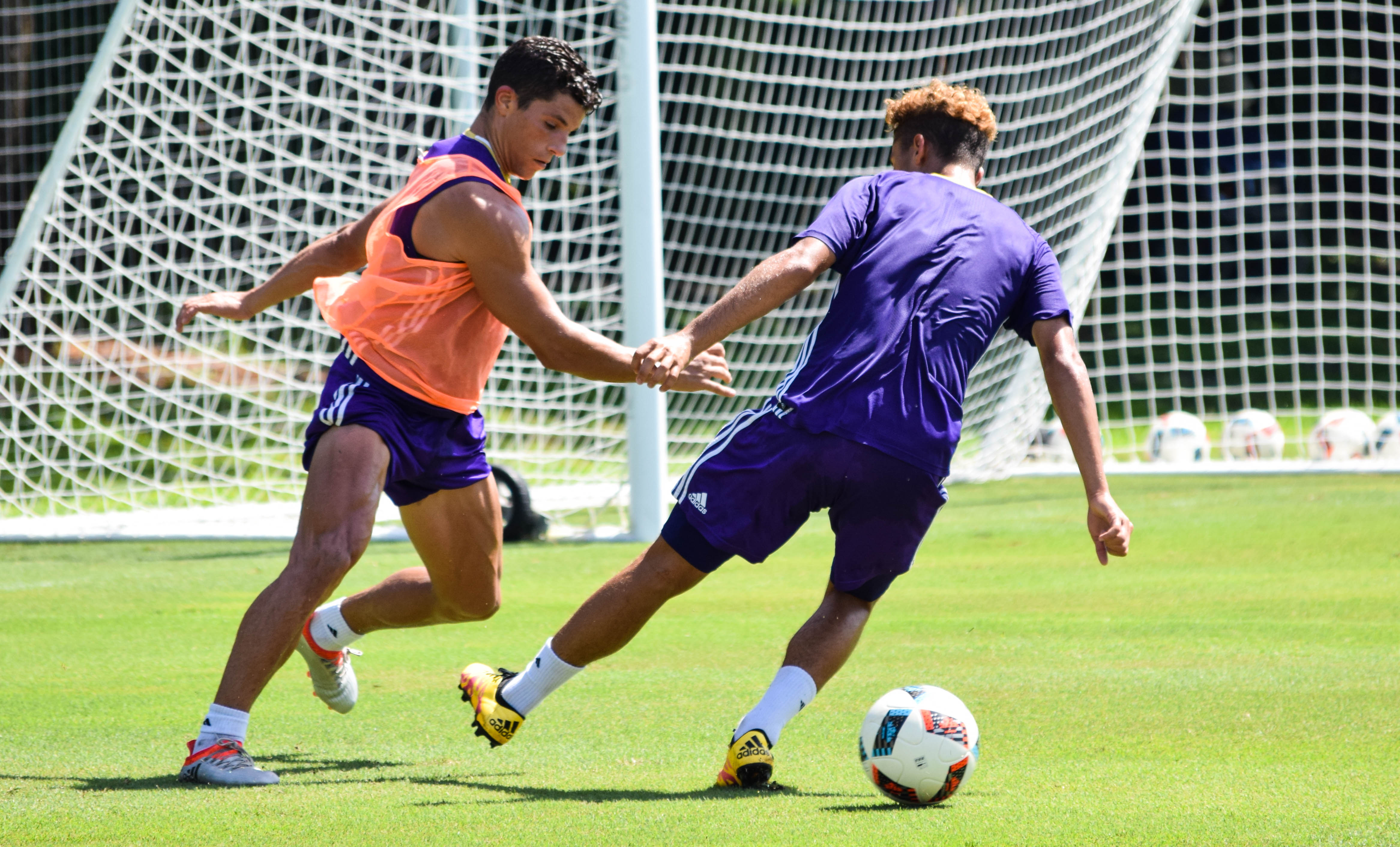 Aug. 25, 2016 at Sylvan Lake Park
Availability: HC Jason Kreis, D Brek Shea
HC Jason Kreis
Jason Kreis was fired as head coach after only one season with then-first-year club New York City FC. He led the Big Apple club to a 10-17-7 record and an eighth-place spot in the Eastern Conference table last year.
No, there's not [any extra motivation to beat New York City FC]. I mean, regardless, if there is extra motivation on my part, [it] doesn't necessarily mean I can motivate the players to be aligned with my motivations. So, for me, it has to just be another game. It happens to be a game against a very good opponent. Another home match for us in which we're looking to improve. And so, from my point of view, it's another opportunity to show improvement and to hopefully get three points in a critical time in our season. It's not about me, and it's not about the opponent.
Right-back Rafael Ramos injured his hamstring in a 2-1 win over the Montreal Impact on May 21, 2016. He subsequently missed four Major League Soccer matches before he returned to play 38 minutes in a U.S. Open Cup loss to Fort Lauderdale on June 29. On July 10, the Orlando Sentinel's Alicia DelGallo reported he would be out for another four to six weeks.
He's doing well… He's just now—I think he's just completing his second week of training, one and a half weeks of training. It'll be a question mark as to whether or not he'll be ready for the game.
Of NYCFC's 26-man roster, 15 players played under Kreis when he was the head coach a season ago, including David Villa, Andrea Pirlo, Frank Lampard and Thomas McNamara.
You know, I have some ideas about tendencies of individual players, but they're playing a different system this year under a different manager. They're doing a fantastic job. We know it's a dangerous opponent with dangerous players on the field that can hurt you at any moment. So, we need to prepare for the team, not so much the individuals.
Villa is currently tied for most goals in MLS with Toronto FC's Sebastian Giovinco with 16.
Well, as we know, they've got a guy that happens to be [one of] the leading goal-scorer in the league right now. So, he's somebody that we need to be aware of, just as we were last night with Giovinco who's right there with him. I thought we did a good job individually against Giovinco. Obviously, he didn't score against us, but [it was] another game where we allowed two goals. So we're looking to continue to shore up our defensive work and be a little sharper in the attacking half of the field.

Talented, talented player. Technique, tactically, his positioning where he puts himself all the time, his ability to score the goals that he gets. I feel like he scores a pretty high percentage of his chances, and he's always in and around things. So, we've got to be aware of him. We've also got to get the right amount of pressure to guys like Pirlo and Lampard so that the service isn't there.
NYCFC is No. 2 in MLS's Eastern Conference with 41 points after being jumped by Toronto (43 points) following the Canadian team's 2-1 victory over the Lions. They also boast the second-most goals for in MLS, trailing only the No. 3 Philadelphia Union and No. 4 New York Red Bulls (45).
Good team, good team. I think [they're] very well organized. Patrick's [Vieira] done a terrific job with the group this year. They've been together, now, for a good amount of time. Their designated players, their most important players, have transitioned to the league now, and, so, we know it's a team that likes to build out of the back. We know it's a team that likes to pressure the ball when they lose it. And, so, we'll be prepared for those things and hopefully be able to break that down.
In both teams' inaugural seasons last year, Orlando City finished 1-1-1 against NYCFC in the regular season. In 2016, Orlando City is so far 1-0-1 against NYCFC.
From my point of view, they've always been close matches. Last year, I felt like all of the games we played against each other could have gone one way or the other. But I'll say this: I think that's typical of every game in MLS. You know, last night, we were playing Toronto, who's now the first place in the Eastern Conference and a lot of talk about Supporters' Shield contenders. And from my point of view, if it wasn't for a bounce that goes strangely off of our wall and into their throw-in person's hands, we probably don't suffer that goal. Literally, the ball went from [Tommy] Redding's head to off the stadium wall into their player's hands who then throws it in behind Redding. So that's just an odd occurrence. And then the second goal is a quick free kick where if we're a little bit sharper, we stop that. The person that has the ball in their hands gives it to them to play. And so with a little more intelligence, I'd say, a little bit more experience, we win that game.
In the seventh minute of the 2-1 loss to Toronto Wednesday night, center-back Tommy Redding deflected a ball out of bounds to the right sideline. The following throw-in found Tosaint Ricketts streaking down the field for the eventual first goal of the match.
I think in probably almost every other stadium, it doesn't bounce right off the wall [like that]. It went right from the wall into his hands. That turnaround that happened doesn't happen in most places. That quick of a turnaround for a throw-in just doesn't happen. I think it was a great defensive play that he read it and he was able to stop the counter break with his positioning with his heading the ball out of bounds, and, then, from what happened there, was really unlucky. And the second goal was actually offside. I can complain quite a bit about that. I can complain quite about the quick free kick before it happens, but [Jozy] Altidore is offside. And so, a different night with a referee that's a little sharper there, we walk out of there with a draw.
Toronto head coach Greg Vanney called Wednesday night's match a "very tactical" one, saying he thought the Lions did a god job on their right side. He said his players didn't handle that shift well. Nick Hagglund, Drew Moor and Josh Williams started on the back-line.
Well, I thought there was an opportunity for us there on the right side because I thought their left center-back of their three center-backs was pinched in really tight with [Kevin] Molino. A little bit had to do with Molino's spacing, which meant that there was a big gap in the right wing. So we tried to improve upon that in the second half. I don't know that we quite got the job done, but it's something we'll continue to work on our guys with about their spacing and about the spaces we're trying to punish.
At Sylvan Lake Park on Thursday, Brek Shea, Servando Carrasco, David Mateos, Ramos, Hadji Barry, Earl Edwards Jr. and Carlos Rivas were among the most notable of the men's senior team participating in training.
Typically on a day after a match, we want to get our players that didn't play 45 minutes or more—we want to get those guys a really good work out. We want to get both of the groups aligned so that the next day we can take off, and then the following day we're back in fully at work. I've always felt that if we're not training, the rest of the guys hard, then they're losing fitness as the season goes on.This is a day that they're out, they're competing. They're very intense sessions. Usually, you have smaller numbers that you're working with, but we still try to stick to playing some small sides of the game with the philosophies that we're trying to teach.
D Brek Shea
Following the 2-1 loss to Toronto Wednesday night, Kreis said he still saw improvements and positive signs.
We created chances, and I think their chances are things that are easily preventable. Obviously, the throw-in and stuff like that—you probably already heard it—and maybe offside on the second one. Comes from a quick restart. Things we can easily prevent and we've worked on before. I mean, you learn at a young age to stop [it].
Brek Shea entered Wednesday night's match in the 75th minute for Molino.
I'm enjoying it. I just enjoy being back out in midfield. It's good. Left-back is alright, just, I don't know, I like to attack, so this is a chance I get to attack more.
Orlando City is No. 7 in the Eastern Conference with 28 points with only one point between them and the No. 6 D.C. United. To make MLS playoffs, a team must be in the top six in its conference.
We're excited to play them. Sure, it's a big game. I mean, it's a huge game for us but a bigger game for the coaching staff maybe. So, there's a lot around it, and it's a game that we want to win really bad. And if we do it, four points is good [against] three really good teams. I think we'll be proud.
In Week 3, the Lions defeated NYCFC 1-0 in Yankee Stadium after a seventh-minute goal by Cyle Larin.
Yeah, I remember that game. It was 60 minutes of defending, but we did it really well. It just showed how much heart we had and how compact we were and didn't let them score… We could have won the game 4-0. I mean, we had three chances late in the game and kind of just blew them, but it doesn't matter if we win by one or 10.
Kreis faces his former team for the first time since being fired by them after one season.
Yeah, I think there's already enough motivation just because, I mean, we need three points, we need to keep pushing. We've already played two games this week. Third game and then we kind of get a couple days to rest before our next game next Wednesday. So, there's a lot riding on this game.