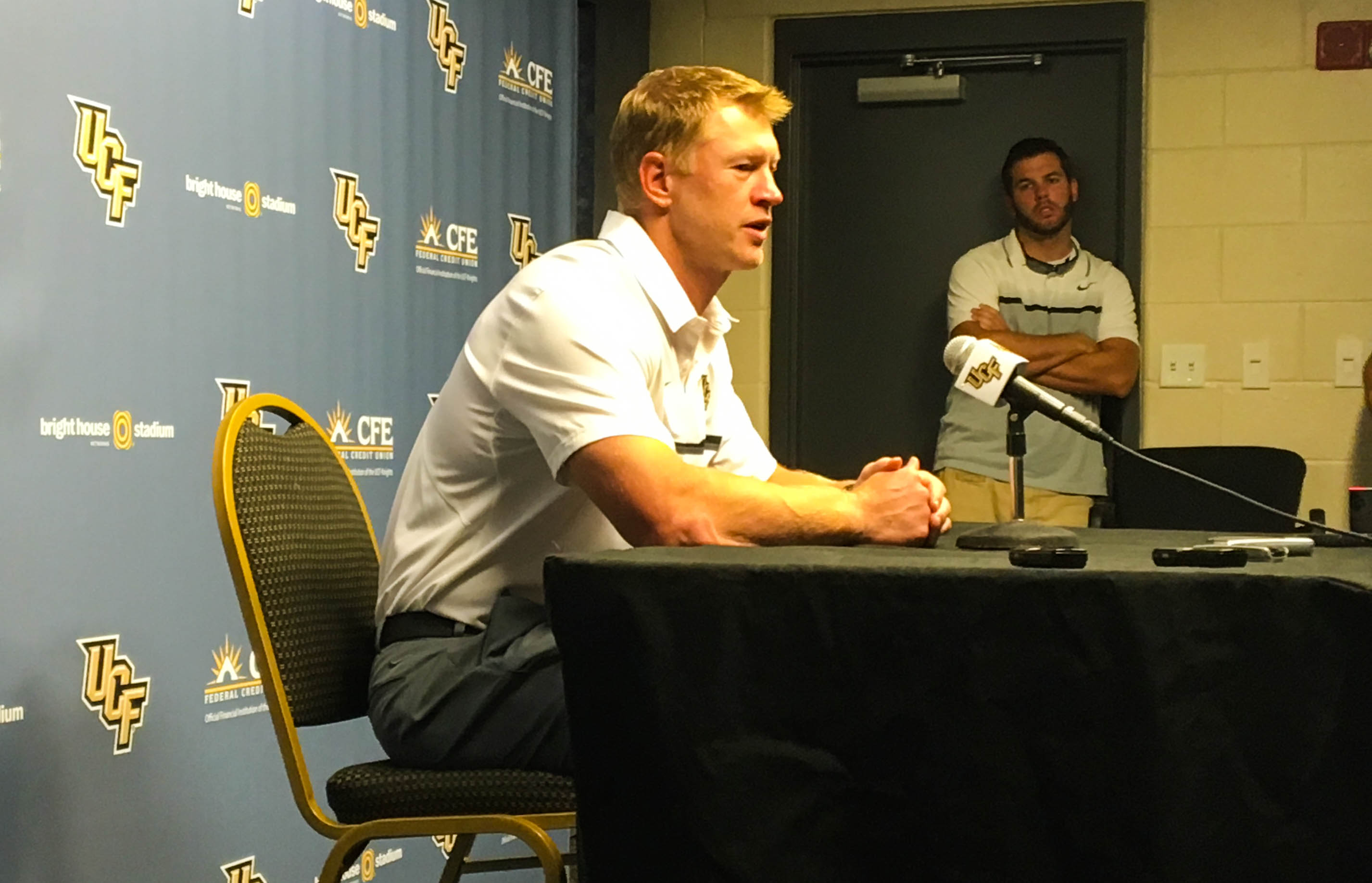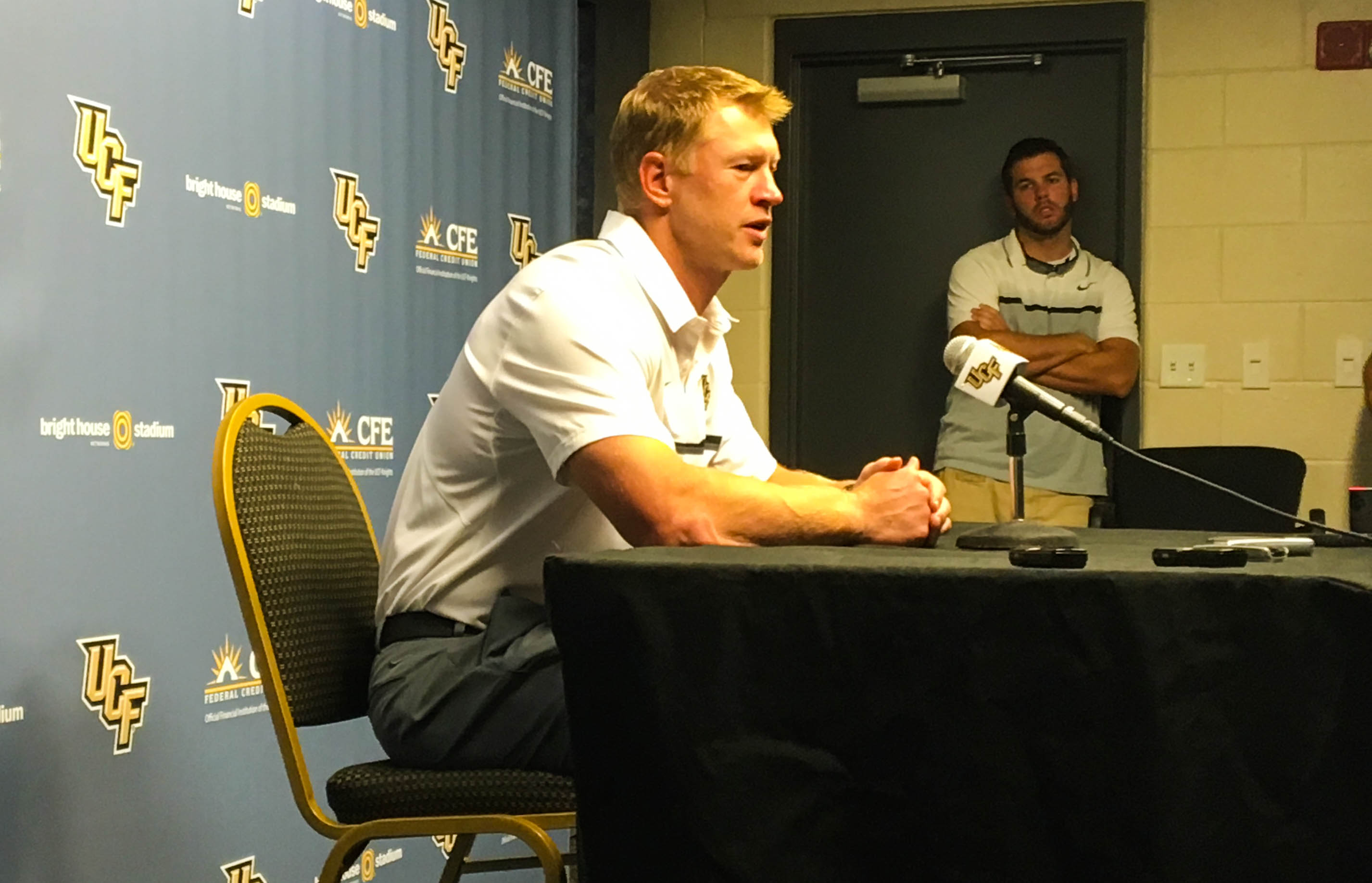 ORLANDO, Fla. — It comes as no surprise that the University of Central Florida football team will be seen as an underdog entering this season. Following a winless campaign last year, new UCF head coach Scott Frost is looking to resurrect the Knights back into relevancy in his inaugural year as head coach.
After leaving the offensive coordinator position at the University of Oregon, there has been a constant aura of mystery surrounding the overhaul of Frost's new high-tempo offense during preseason camp. "Execution" has been the common descriptor between players and coaches, who have both emphasized that the fast-paced offense will flourish if all 11 players stay in sync.
Their first test came in a closed scrimmage inside Bright House Networks Stadium Tuesday, which Frost has been critical of, calling the offense "sloppy."
"Our scrimmage the other day was way more difficult than a game," Frost said during his media-day press conference. "I haven't shared this with our players, but our practices are over-training. I want these guys to embrace winning."
"On defense, we had one guy who busted his assignment in about 15 plays that cost him," he added. "Offensively, there was dozens of times where we had nine or 10 guys do the right thing and one guy still trying to figure it out, and that will kill a play and kill a drive."
Frost noted the transition to his Oregon-based system will take a toll on the running game, which finished last season as the only Division I program to not record 1,000 yards in rushing and ranked 126th out of 127 FBS teams in yards per game (81.25).
"This offense is going to start and finish with the run game," said Frost, whose Oregon program ranked top 10 in explosive plays. "I'm used to being able to run the ball a lot. Last year, we had one game where we ran for 520 [yards], so it's imperative that we establish a run game because it'll open up everything on the outside."
An inexperienced offensive line was one of the team's sore spots last season, which relied heavily on freshmen. However, Frost gave credit to new offensive-line coach Greg Austin, calling him "the best offensive line coach" for his scheme.
"He's very detailed, very intentional, very purposeful in whatever he tells us. It's fast-paced. We're pulling, we're going downhill. It's a toughness mindset we want," said Aaron Evans, a redshirt junior left tackle. "I think it's something Coach Frost hasn't had as much at Oregon because Coach Austin is very ground-and-pound too. I think we're meshing the best of both worlds: speed and aggressiveness."
Running backs Taj McGowan, C.J. Jones and Dontravious Wilson will lead a committee that Jones is proclaiming to be the No. 1 rushing team in the country.
"That doesn't go for just the running backs," Jones said. "It takes a lot of people to achieve that goal, and we're really unselfish. In order to achieve that goal, we need all on hands on deck."
Said Frost about those expectations: "It's probably unrealistic to think we'll go from last to first, but I know when people watch our team, they're going to see a different product out there."
Frost also spoke about the quarterback position, mentioning there hasn't been a named starter, but one will be made by the middle of next week.
"We all know we're going to get opportunities presented to us," redshirt senior quarterback Nick Patti said. "It's not a personal thing. You get an opportunity, and you make it happen. We're going to understand that. There's no dissension within our group."
"The biggest thing is executing at a game tempo," senior quarterback Justin Holman said. "In practice you kind of get into a rhythm. Sometimes you want to revert to your old ways in a game but going out there and just doing what we've been coached all along in camp and spring. If we do that, then we'll be fine."
UCF has four remaining practices this week, which caps off with their annual fan fest Saturday from 6 to 8 p.m. at Bright House Networks Stadium. The Knights kick off their season at home in less than three weeks against the South Carolina State Bulldogs on Saturday, Sept. 3 at 7 p.m.
(Featured photo by Brian Goins / New Day Review)
(All statistics via Sports-Reference.com, CFBStats.com)